<![if !vml]>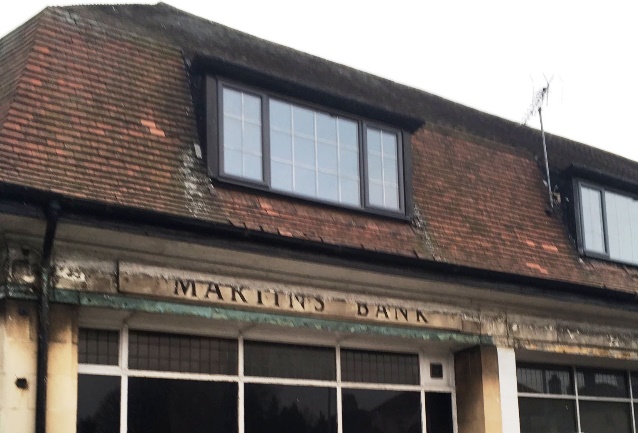 <![endif]>On 1 November 1968 Martins Bank Limited becomes one of the Barclays Group of Companies – a status maintained until close of Business on Friday 12 December 1969.  The following Monday, 730 branches of the bank will open their doors under the name of Barclays.  As we find ourselves in times tinged with the sadness of the closure of hundreds of Bank Branches, including those that are former Martins Bank Branches,  we really  do appreciate the continued support of our ever increasing band of loyal visitors and contributors.   There are now fewer than 80 Branches of Martins Bank still open, and to mark their passing, our Branch Watch feature now includes a separate page featuring details of  THE LAST 64 BRANCHES . Our most recent news stories are shown below, and you can catch up with some previous stories in-depth, by downloading our half-yearly Newsletters (see above).   Don't forget to visit our sister site - Lewis's Bank Archive - which tells the story of Britain's department store bank for the nine years that it was a subsidiary of Martins Bank.  Click HERE to visit the Lewis's Bank Archive web site (opens in a new window).  
<![if !vml]>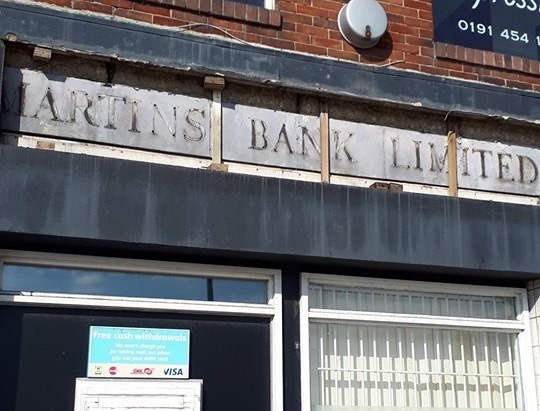 <![endif]>
<![if !vml]>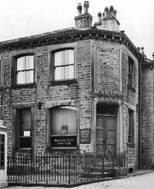 <![endif]>
<![if !vml]>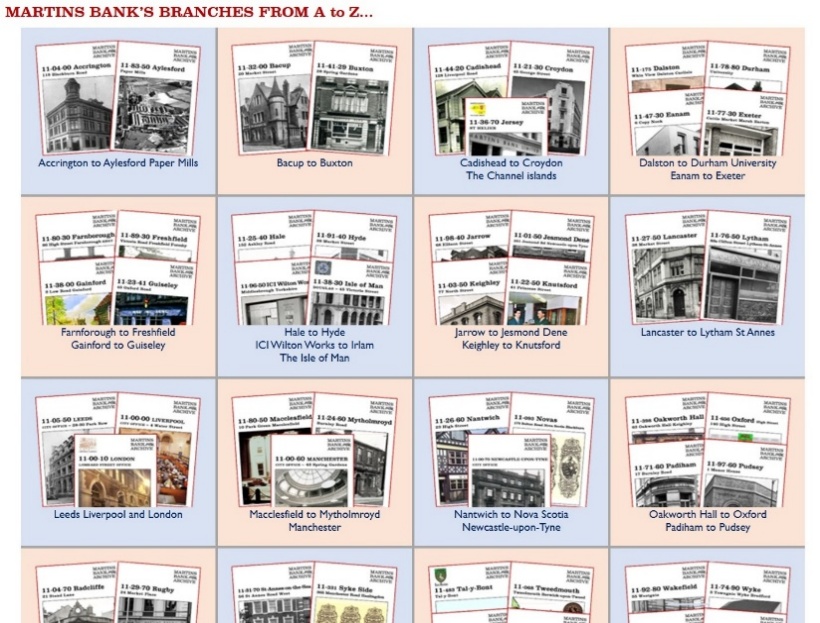 <![endif]><![if !vml]>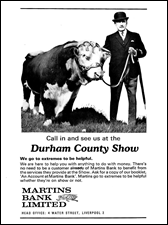 <![endif]>By establishing a sub-branch at the Centre Court of the All England Club at Wimbledon in 1930, Martins Bank shows that despite being what some disdainfully referred to as a "regional bank", it can still pack a punch in the heartland of many a "national bank".  The prestige of being able to offer a full banking service each year to players and visitors, is something in which Martins unboubtedly revels.  Advertising a service which is only available in one place for just two weeks out of every year is largely confined to the Official Programme of the All England Club.  Alongside advertisements for the latest tennis equipment and clothing, alcohol and smoking paraphernalia, the Bank takes out half a page – that's approximately 9 by 6 inches' worth of space to remind Wimbledon staff players and spectators that they can have access to money each day from 12 noon (11:30 am in later years) until close of play on each day of the tournament.  By the time of the merger with Barclays, the importance of the Wimbledon sub-branch to the bank is such that a joint Barclays/Martins advert appears in the 1969 Programme.  Although a few advertisements are produced with Centre Court imagery, many are themed simply using the Bank's latest campaign, with the addition of a small text box which provides details of the specific service available during the tournament. For the first time, we are able to bring together a set of Centre Court sub-Branch adverts which broadly covers the period 1952 to 1969. The 1959 advert, featuring the holiday choice of "Miss Travers" actually bears NO Wimbledon-specific wording at all, yet it is printed in the Official Programme…
<![if !vml]>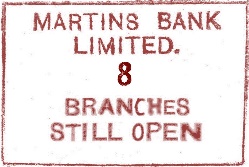 <![endif]>
<![if !vml]><![endif]>

1952 –the Stagecoach Era campaign

<![if !vml]><![endif]>

1954–the Stagecoach Era campaign

<![if !vml]><![endif]>

1956 – the Decentralised nature of the Bank Campaign

<![if !vml]><![endif]>

1958 – Martins Makes me feel like a Millionnaire campaign

<![if !vml]><![endif]>

1959 – Thinking about Money Campaign

<![if !vml]><![endif]>

The final use of a short-lived Martins Bank logo - 1960

<![if !vml]><![endif]>

1961, 1962, 1963, 1964

<![if !vml]><![endif]>

1965 – the liver Bird is dropped in favour of the grasshopper only logo

<![if !vml]><![endif]>

A slight variation in wording – 1966, 1967, 1968

<![if !vml]><![endif]>

1969 – Barclays is able to get in on the act
Looking back a little further…
<![if !vml]>

<![endif]>The latest Martins Bank Archive newsletter is now available, and for our Autumn/Winter 2020 edition we have chosen to focus on the constiuent bank that brought about the change of name to Martins Bank Limited in 1928.  On 3 January 1928 the amalgamation of the Bank of Liverpool and Martins with the Lancashire and Yorkshire Bank created the largest clearing bank outside London, but with a catch. The directors of the Lancashire and Yorkshire were not too pleased at having to lose the name of their bank entirely, and insisted on a compromise – if the words Lancashire and Yorkshire were to go, so too must the word Liverpool. The rest as they is history, and the resulting "Martins Bank Ltd" was a neat compromise, and gave us the bank that we celebrate here within the 1200 pages of the online Archive.  Over the last thirty years, our Archive has collected around 2000 "physical" items – what is referred to these days as memorabilia, and inevitably some of these items relate to the banks that came together in the origin and growth of Martins Bank.  The legacy of Lancashire and Yorkshire Bank includes many fine buildings across the north of England, and in spirit, the ethos of Martins Bank Magazine came in a large part from the Lancashire and Yorkshire Bank Club Magazine.  Our newsletter shows many of our archived items that relate to the L and Y Bank, and we think they demonstrate the modern outlook that was continued in Martins Bank.  You can download the newsletter by clicking on the image above.
<![if !vml]>

<![endif]>
Dinner, anyone?
<![if !vml]>

<![endif]>The various dinners that were held in 2019 to commemorate the fiftieth anniversary of the merger of Martins Bank's Branches with those of Barclays, continue a long tradition that once put a "firm date" in the social calendar of just about every bank clerk in the land.  Once a year, the staff of the nine districts of Martins Bank would get together for a formal dinner, or dance or sometimes both.  The Archive contains a wealth of information about these events, but surprisingly few photographs.  Thanks to the donation of a large number of menu cards, and a few photographs, we have at last been able to add a new page to the web site, which recalls MARTINS BANK'S DISTRICT DINNERS AND DANCES from their establishment at the end of World War Two, up to the late 1960s and the merger with Barclays.  There are however still many, gaps in the records, with very few photographs of events in the Northern, Craven and South Western Districts. If you can help with memories, menus, tickets or photographs of Martins Bank's District dinners and/or dances, please do get in touch with us at the usual address – gutinfo@btinternet.com or leave a message on our Facebook® page.
More Branch closures…
Of the many BRANCH CLOSURES announced by Barclays up to 7 June 2020, TEN are Martins Branches, which have or will disappear from the high street between mid-April and mid-June. Those deemed no longer viable are LIVERPOOL Speke and hunts Cross, closing 17 April, MORECAMBE Euston Road, 7 May, CLECKHEATON and also HYDE on 29 May, BRIGHOUSE on 5 June, FOREST HALL, HALIFAX King Cross and SWINTON on 12 June, and JARROW and SUNDERLAND CHESTER ROAD on 19 June  You can use the branch closures link above to see lists of all Martins Branches closed since 2007, and then you can click on any of them to visit the relevant pages of the Archive for those branches.As ever, our thanks go to those members of the staff of Martins and Barclays Banks past and present, who have served these communities down the years.
<![if !vml]>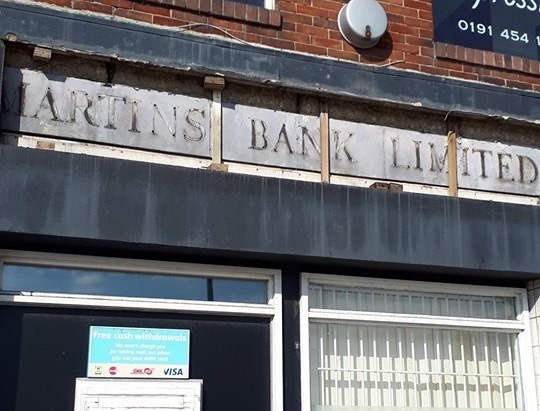 <![endif]>
From World War to Pandemic…
<![if !vml]>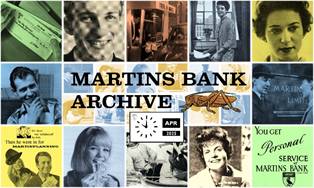 <![endif]>
<![if !vml]>

<![endif]>Much of the World is still working round the clock to beat the effects of the Covid 19 virus, and to bring it under some kind of control. We wish good health and happiness to all our visitors, and to the many hundreds of thousands of health workers, carers, volunteers and key workers, we offer admiration and gratitude.  May 2020 marks the seventy-fifth anniversary of Victory in Europe, and despite the people of Britain once more having to show restraint, courage, resolve and fortitude in the face of an invisible enemy, people of all ages and from all over this country showed their respect and gratitude to the generation that fought so hard to bring peace to Europe.  For our spring/Summer Newsletter, we have selected a number of stories which represent the involvement of Martins Bank and its predecessors, and the roles of the Bank's staff in wartime. 
<![if !vml]>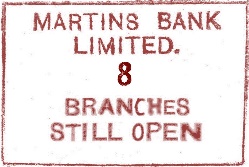 <![endif]>
The First World War brings us stories of courage and promotion, a member of staff wounded but safe in hospital, and the sadness and poignancy of a letter of condolence following the loss of a young soldier. From records of the Second World War, we look again at the key role played by the Bank in looking after some of Britain's reserves of gold, and we look at two patriotic advertisements for the Bank, aimed at re-starting trade with the rest of the World.  We take a trip to the Lake District where a very special building is equipped as a kind of "haven" for staff who need a break from the horrors of war – the Ambleside Rest House, an asset prized by Staff and their families.  Using information held within the Martins Bank Staff Database, we examine the Bank's decision to employ a large number of its female staff to be Managers (in all but name) of Branches whilst the male staff were away fighting for King and Country.  We look at the Branches which were damaged, or destroyed by enemy acgtion, including the devastation at Exeter – a branch that had only been open for three years – bombed in the infamous Baedecker Air Raids of April 1942. We meet a polymath with a top-secret role, and glimpse the Bank's preparations for "business as usual".  We pause to reflect on the efforts of some who worked for, or fought and died to create, a better future for us all, and finally as the World picks up the pieces, the Bank looks to a new future and the prospect of the 1948 London Olympic Games.  Click on the image shown here (right) to read and/or download the newsletter.
<![if !vml]>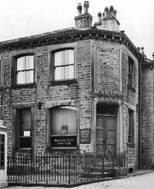 <![endif]>
I liked the Bank so much, I bought it!
<![if !vml]>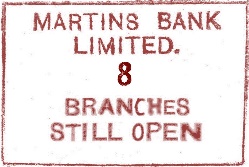 <![endif]>
<![if !vml]>
<![endif]><![if !vml]>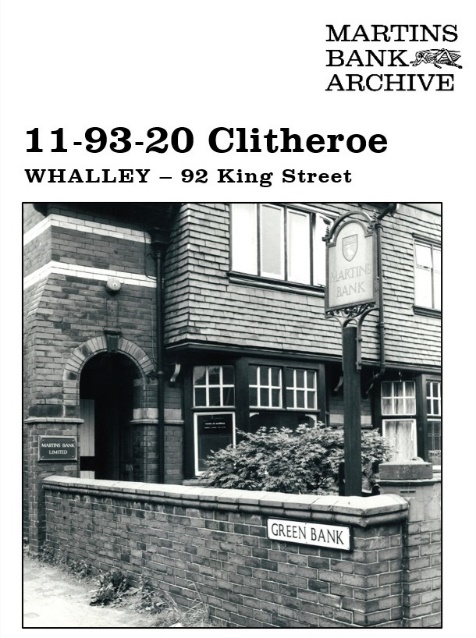 <![endif]>At a time when so many former bank branch buildings are standing empty and neglected, it is wonderful to see that our branch at GRANGE OVER SANDS has one new extremely happy owner, David Phelan.  David contacted us having successfully bid at auction for this fabulous old building, which he is keen both to sympathetically restore and to re-purpose as living space.  The original business at Grange was transacted in 1876 by the Kendal Bank, who often used agents to act on their behalf to run a banking service in return for a commission of some kind. Such arrangements were not without risk, and the bank had to choose an Agent-Manager very carefully in order to prevent losses from the more "unscrupulous types" making off with the money. This was indeed a real threat - in 1929, a little further down the Furness Peninsula at Dalton in Furness, the Manager William Griffin was dismissed on FIFTY counts of forgery. Business having grown nicely at Grange, the Bank of Liverpool – which absorbed the Kendal Bank in 1893 decided that permanent premises would be taken at Grange over Sands, and banking continued there until May 2019. We would like to wish David Phelan every success with his enviable project, and look forward to updates as work progresses.
<![if !vml]>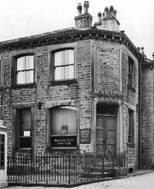 <![endif]>
Treasure trove!
<![if !vml]>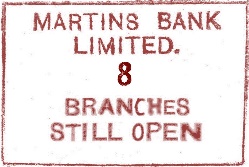 <![endif]>
<![if !vml]>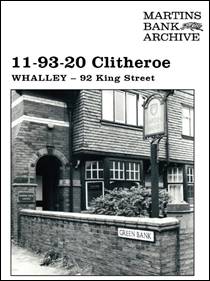 <![endif]>We are indebted to Brian Brown who has uncovered "buried <![if !vml]>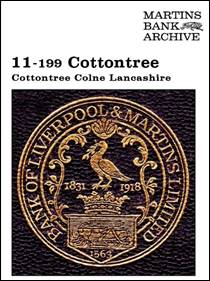 <![endif]>treasure" in his late father's papers – not one, but TWO photographs of the tiny Martins Bank front room sub Branch at KIRKBY IN FURNESS, which was closed in 1956.  Photographs of most of the smaller sub branches are not held in the collection of branch photographs inherited from Martins Bank by Barclays at the time of the merger in 1969.  Suddenly, within a period of less than twelve months, photographs of THREE of these small offices (AND an internal photo of a larger branch – ELLESMERE PORT Station Road – with no previous images being held) have been found.  The sub Branch at OTFORD Kent, and DALSTON Carlisle, were featured here last year, and in each of those photographs a member of the staff was also featured. In the case of Kirkby in Furness, we have a true link with "Dad's Army", as the gentleman in home guard uniform in the middle of the picture also ran the sub branch himself!  There is added historical interest to the Kirkby in furness images, as they feature between them four members of the family, who lived in the same house, a house that doubled as a branch of the Bank.  After finding the images, Brian Brown told us: 
<![if !vml]>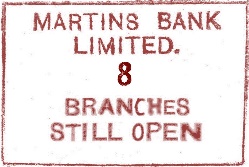 <![endif]>
"I am using the spare time I have at the moment to go through old paperwork and came across these old photos belonging to my late Dad. The two photos are of the house he grew up in. All of the four people in the photos are my family. The young man on the left in uniform is Ben Wilson, my nana's younger brother. He went off to the Far East to fight eventually. In the middle is Fred Wilson, my great granddad alongside his wife Ellen Wilson (nee Woodend). He fought in the Great War and was in the Home Guard in WWII.  My mother remembers it was Mrs Wilson who looked after the sub Branch, and that Fred Wilson was the village cobbler. She says that Ellen used to sit at a table with a ledger, doing the books at No 2 Herschell Terrace, Kirkby in Furness, Lancashire (now Cumbria).  The toddler in the bottom right corner is my dad, Fred Brown. He was born in 1939, so I would guess this photo was taken in 1941. They all lived in the one small house, which was also a bank! I can remember visiting this house to visit my nanna and great grandparents. The house was just a house at this stage (late 1960s). The smaller sign was still there when my nana moved out in the 70s, but has since disappeared."
<![if !vml]>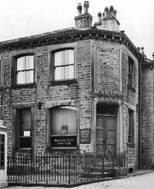 <![endif]>
Another mystery to solve…
<![if !vml]>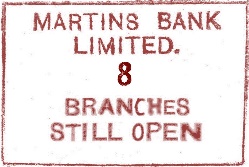 <![endif]>
<![if !vml]><![endif]>

A mystery branch – but where is it?

Once again we have stumbled across a mystery branch of Martins Bank.  This recently acquired photograph (LEFT) which appears to have been taken in the 1940s or 50s shows quite clearly that a temporary branch has been opened on this busy looking street of shops, but that it just about all we have to go on. It was of course common for Martins either to arrive in a new town with a temporary branch, whilst permanent premises were being finalised, built or altered for the purpose of banking. Temporary branches were also used when an existing branch needed to be given a complete makeover or demolished and rebuilt.

<![if !vml]><![endif]>

56 Fawcett St Sunderland 1963

The smaller photograph here (RIGHT) shows such a branch, emblazened with the words "Temporary Premises" at Sunderland Fawcett Street in the early 1960s. Our mystery branch appears to have a tobacconist shop on one side and some kind of clothing shop on the other. That's all we know for now, so if you can help us track down the location, please do get in touch at the usual address: gutinfo@btinternet.com
<![if !vml]>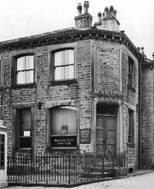 <![endif]>
Signing Off in Style…
<![if !vml]>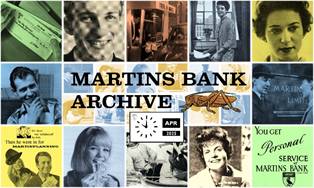 <![endif]>
We never cease to be amazed at the lengths of service that some Martins Bank employees achieved. Even by 1969 some were retiring with more than FORTY-FIVE years under their belt. One or two even achieved FIFTY or more years.  In recent decades we have become used to people in the workplace being "portable" – that is they take their skills from job to job, staying for a few years before moving on, building their knowledge and experience accordingly.  Martins Bank employees however, really knew the meaning of "a job for life".  The Archive holds a number of the special retirement souvenir books that were given to some colleagues when they hung up their banking clothes for the last time.  Typically, these books are specially bound and great trouble was taken to show the love and respect colleagues had for one another.
<![if !vml]>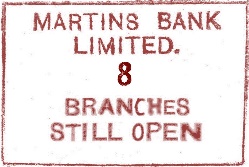 <![endif]>
 <![if !vml]>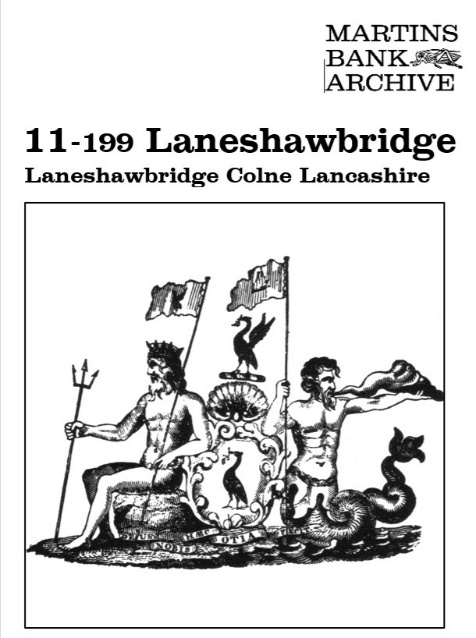 <![endif]>
Inside, the pages are filled with the autographs of just about everyone that the retiring colleague worked with during a long career.  It seems something of a lost opportunity, that messages and memories were not also recorded alongside the signatures.  Perhaps with the Bank's mantra of "going to extremes" in mind, one book even has everyone signing in ALPHABETICAL ORDER!  What makes these retirement books of extra interest to the Archive, is that they provide the opportunity to enrich the detail held in the Martins Bank Staff Database. Many of the autographs include forenames, and this is especially good news for records of the female staff, for whom we are always working hard to find information about their careers in order to produce a more meaningful career summary.  Once again it is the attention to detail inherant in Martins Bank's Staff which has yielded dividends today for those who want to research the lives and careers of relatives who worked for the bank.  Martins Staff Databasa is not held online. If you would like details of your own career, or that of a relative, please contact Martins Bank Archive at the usual address – gutinfo@btinternet.com .
<![if !vml]>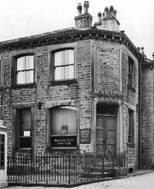 <![endif]>
The Anniversary Lunches…

<![if !vml]><![endif]>As 2020 arrived, we noted with pride that although FIFTY years have passed since the merger of Martins with Barclays Bank, at the end of 2019 literally HUNDREDS of former Martins Colleagues attended one or more of the many anniversary lunches arranged in the former districts of the Bank – Birmingham, Craven/Leeds (Ilkley), Liverpool, London Manchester and Preston. The Grasshopper Club has published these special newsletters, covering the various lunches, those who attended, and messages from those who could not attend.  The first of these is the Club's Spring 2020 Newsletter, which has extensive coverage of the Liverpool and London lunches, complete with photos and comment.  The second is a supplementary newsletter issued to mark the other regional lunches, and the memories of merger day itself from some of the staff who were there.

LIVERPOOL AND LONDON LUNCHES

REGIONAL LUNCHES SUPPLEMENT

There has also been a surge of interest in membership of the Grasshopper Pensioners' Club, especially from guests at the lunches where a special display of items from the Archive was provided. The Club is now a NATIONAL body, recognised by Barclays, and application for lifetime membership can be made from the Grasshoppers' Club News page HERE. At, and in the period leading up to the Anniversary Lunches, the Club's commemorative fundraising items were also eagerly anticipated and purchased, the cocktail coasters made from ancient Welsh Slate being particularly well received.  On 16 December 2019, the atmosphere across two floors of the Racquet Club Hotel Liverpool was certainly convivial, amongst the large number of colleagues who were able to make it to the dinner whose setting was, poignantly, a mere stone's throw away from Martins Bank's fabulous HEAD OFFICE Building.
<![if !vml]>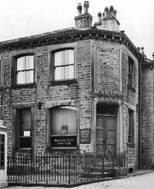 <![endif]>
Buyer Beware…
We have left the following article here once again for reference, to help explain the position regarding the theft of copyrighted images for the purposes of re-sale. There is a common misconception that if you can Google an image, then it is "in the public domain" and you can do what you want with it. Even some staff at eBay® believed this until they were recently put right – if you take or copy someone else's work or property without their permission or acknowledgement, and sell it on to make even a penny out of it, this is breach of copyright, and the real owner can take legal recourse to stop further theft and misuse of their property. There are currently on eBay® a number of listings of photographs for sale, showing scenes from the past and old buildings including these four (and many more) Branches of Martins Bank.  These images originated on our web site.  As you can see, under our agreement with the owner, we prominently display copyright. These images have been copied and printed onto cheap photographic paper. The seller even has the gall to add their own watermark to the displayed images to prevent others from stealing them!!!
<![if !vml]>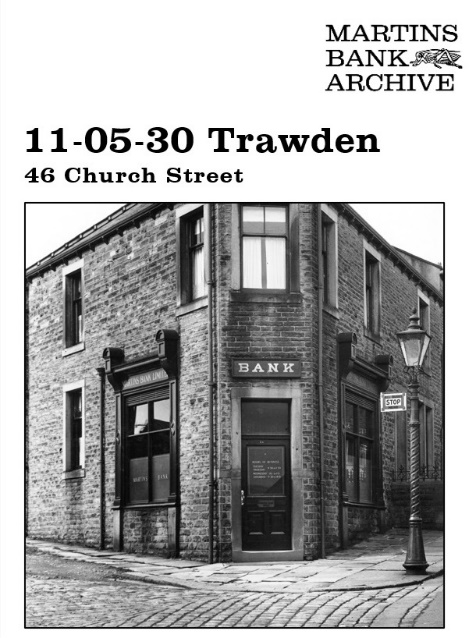 <![endif]>
<![if !vml]><![endif]>

<![if !vml]><![endif]>

<![if !vml]><![endif]>

<![if !vml]><![endif]>

STAINLAND

Image © Barclays

SITTINGBOURNE

Image created by Martins Bank

Archive and © Barclays

BURTON UPON TRENT

Image © Barclays

WALLASEY

Image © Barclays
<![if !vml]>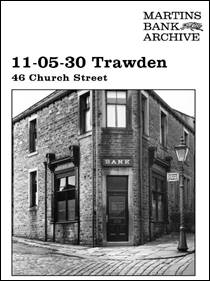 <![endif]>
As well as being against copyright law, these items are worthless, having little more than sentimental value – you will often find that collections and archives will make images available free of charge for private use, but you MUST check with them first. You should always check the seller's right to copy the image – reputable sites such as eBay® do now allow you to report copyright infringement. For ANY item of memorabilia, the best thing to do is shop around and compare prices – in the case of Martins Bank there are often up to twenty different items for sale on eBay® alone on any given day. For printed material which looks as if it has been copied, or actually claims to be a copy, ALWAYS question the seller about copyright.
<![if !vml]>

<![endif]>
Best Regards, Jonathan.
Westmorland, Thursday 01 October 2020
<![if !vml]>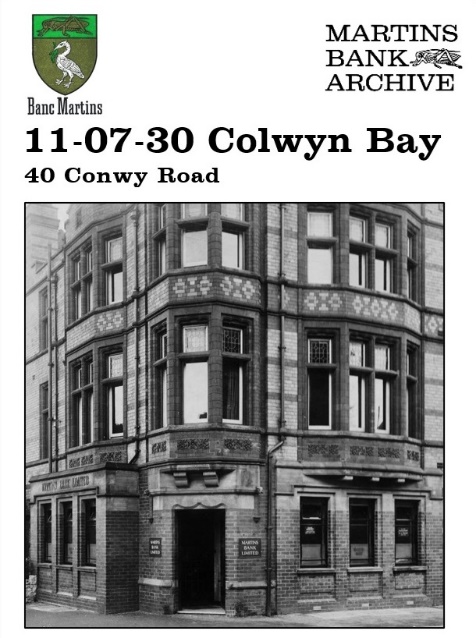 <![endif]>
<![if !vml]>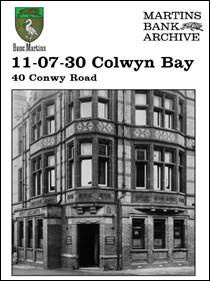 <![endif]>
WHILST MARTINS BANK ARCHIVE HAS NO CONNECTION WITH THE DAY TO DAY TRADING ACTIVITIES OF THE
BARCLAYS GROUP OF COMPANIES, WE ARE GRATEFUL FOR THE CONTINUED GENEROUS GUIDANCE, ADVICE
AND SUPPORT OF BARCLAYS GROUP ARCHIVES IN THE BUILDING AND SHAPING OF THIS ONLINE SOCIAL HISTORY.
                                                                                                                                                                                                                                                                                                                                                                                                                                                                      <![if !vml]>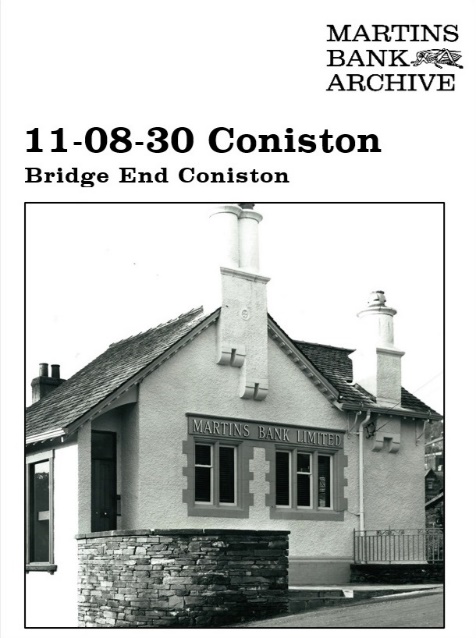 <![endif]>                                                                                                                                             
<![if !vml]>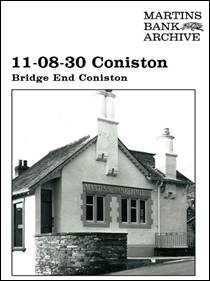 <![endif]>
<![if !vml]>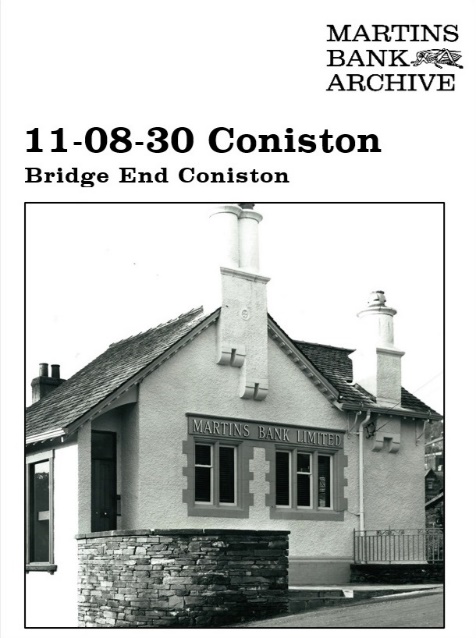 <![endif]>
<![if !vml]>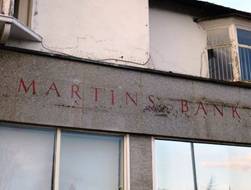 <![endif]>R