<![if !vml]>

<![endif]>50 Years of Cash…
<![if !vml]>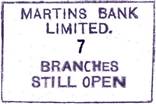 <![endif]><![if !vml]>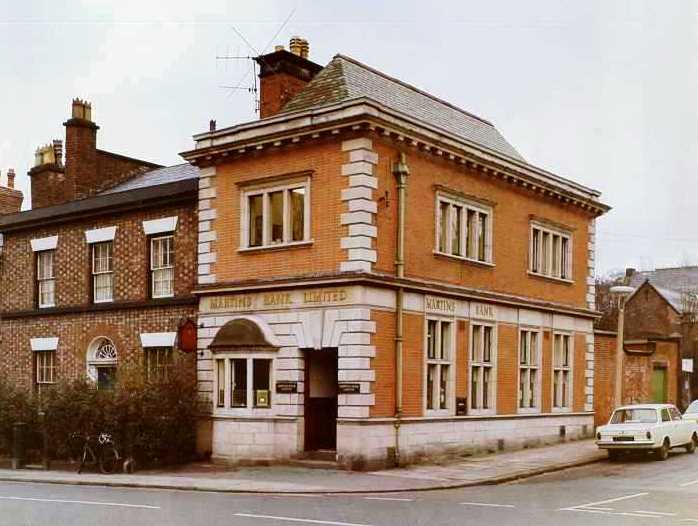 <![endif]>
Whilst a number of banks can claim to be instrumental in the introduction to the World of the "hole in the wall", the honour of being first rests with Barclays by exactly eighteen weeks. Like so many other originally simple ideas, the notion of using a bank when it was closed was irresistible, and sparked a race, which fifty years on leaves us with a device that is taken for granted and used all over the World millions of times each day. Martins Bank was never one for resting on its laurels, and like Barclays, it enjoyed being "first" with many banking ideas and technologies. Its fingers were burned when in 1958 a rival bank opened a Drive-In Branch on Martins' home turf of Liverpool.
<![if !vml]>

<![endif]>
As a result, Martins <![if !vml]>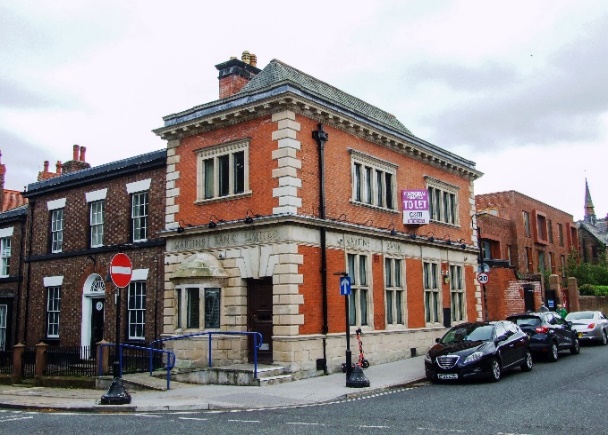 <![endif]>became the first UK bank to successfully demonstrate the use of a computer to record and process the day to day transactions of its customers' current accounts, and went swiftly on to open its own Drive-In Branch at Leicester. Martins Auto Cashier, the first type of cash machine to use a plastic card, followed hot on the heels of Barclays' machine, and was unveiled as "the first cash dispenser in the North of England". At this point, neither bank was able to connect their machine to the computer, and rather like today's pre-paid debit cards, the customer either paid up front and withdrew the cash later (Martins), or used and waited for a special cheque to debit their account (Barclays). You can read more about the introduction of the cash dispenser in our technology section under MARTINS AUTO CASHIER, and in Issue 3 of the Martins Bank Archive Newsletter, which is out now, and can be downloaded HERE.
<![if !vml]>

<![endif]><![if !vml]>

<![endif]>
A landmark year for a landmark building!
<![if !vml]>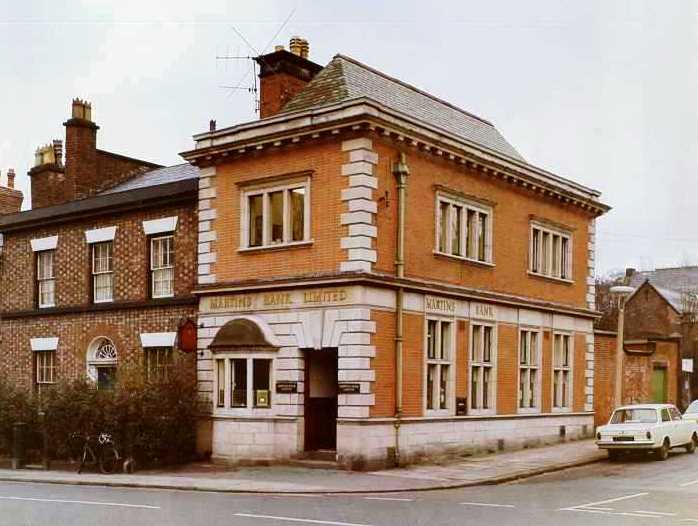 <![endif]>
<![if !vml]>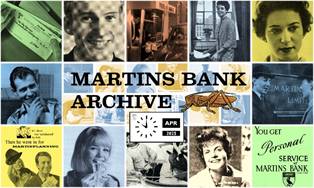 <![endif]><![if !vml]>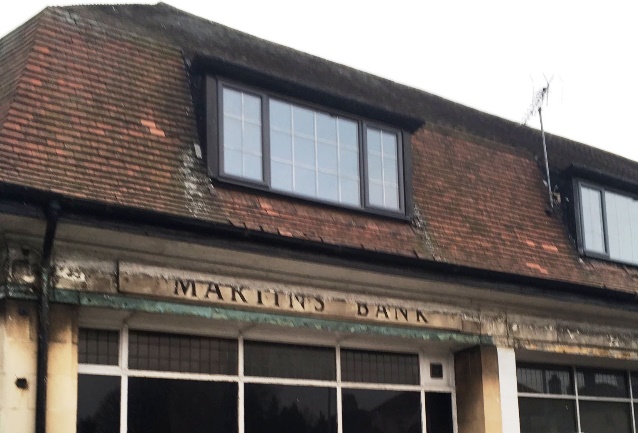 <![endif]>2017 sees the eighty-fifth anniversary of the opening of Martins Bank's Head Office at 4 Water Street Liverpool. Whilst this iconic structure is no longer a bank, it is still being appreciated by audiences who see it featured in everything from blockbuster films to TV dramas. The latest of these was Stephen Poliakoff's "Close to the Enemy" BBC2, November-December 2016. During 2017 we would like to feature memories of staff and customers, both of Martins Bank and Barclays Bank, for whom this building has a special place in their lives. You can message our Facebook page, tweet @archivebank or email us at the usual address gutinfo@btinternet.com.
<![if !vml]>

<![endif]>
Painting the Forth Bridge again…
<![if !vml]>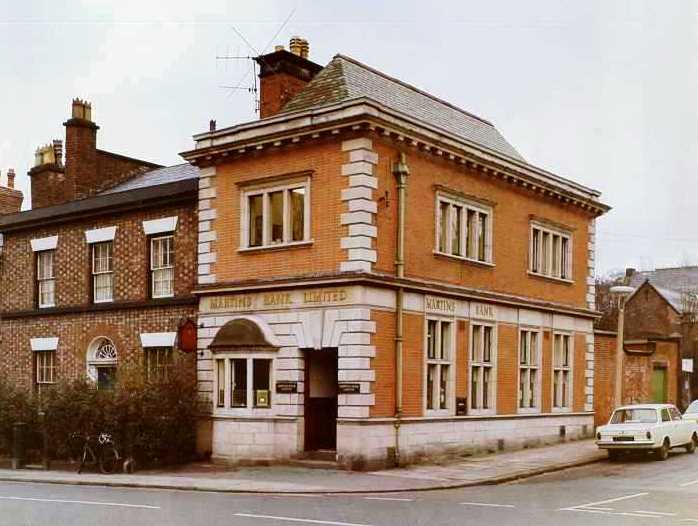 <![endif]>
<![if !vml]>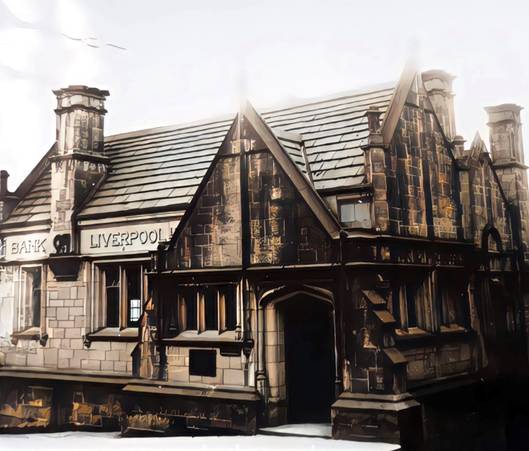 <![endif]><![if !vml]>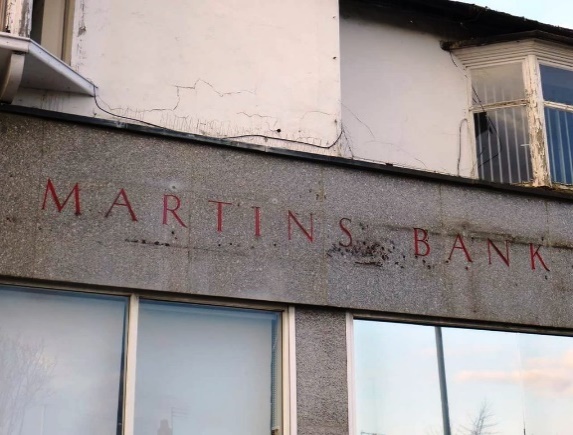 <![endif]>The annual overhaul of our 1200 pages is now complete. This year we have been adapting the 980+ BRANCH PAGES to the same width as our feature pages and sections, and all Branch pages have been resized. Many have re-written text, some have new articles and photographs, and there are a number of new contemporary images of Branches. There will be one final phase in which links will be added at the bottom of each Branch page to enable our visitors go page forward to the next or back to the previous Branch.
<![if !vml]>

<![endif]>
Disability Documented
Attitudes towards people at work who have disabilities, have changed radically for the better in recent decades, with a great deal of legislation and a great effort to work towards equality for employees and for everyone to realise and respect disability. Barclays Group Archives and Martins Bank Archive are interested in documenting the experiences of disabled colleagues who worked at Martins and Barclays from the 1950s and earlier, up to the late 1990s. Until very recently, this is something that does not appear in the official written records, and we are keen to plug the gap with personal testimony. Did you have a disability yourself, or did you work with someone who did? We would be interested in hearing from you about your experience – how were people with disabilities treated, and did either Bank make any adjustments to help? We are hoping to create a record of how disability was provided for, set against what is available today. If you would like to be involved please contact us at grouparchives@barclays.com (Maria) or gutinfo@btinternet.com (Jonathan)
<![if !vml]>

<![endif]>
Who's in the picture?
<![if !vml]>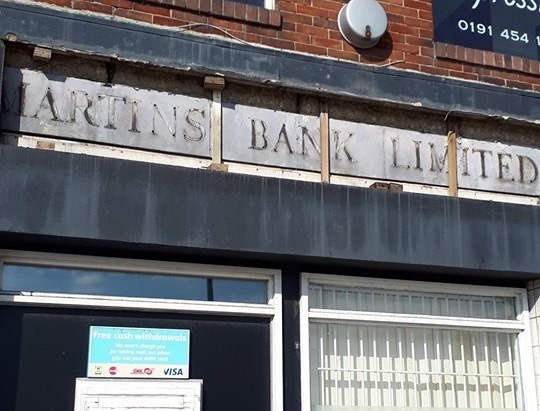 <![endif]>Here's a request for some detective work – this original 1949 photograph (below) has found its way to us, and depicts a large number of the male staff of Blackpool, Clifton Street Branch along with one of the female staff. Along with accalimed cameraman Bill Robson, Marsh of Hoylake were engaged by the Bank to photograph Branches, staff and events all over the country, from the 1940s to the merger with Barclays in 1969. This photo is reproduced in the Winter 1949 edition of Martins Bank Magazine, but the names of the individuals featured are not published. (It was only in the mid 1950s that the Magazine began to offer such detail!) usually only the Manager was named and his position in the photo given. If one of this bunch rings a bell with you, and it turns out to be your uncle, father or grandfather, we'd love to hear from you at the usual address – gutinfo@btinternet.com Some names have been identified already and are displayed on the photo. The full front row has now been identified thanks to former Martins Blackpool Staff Member Mike Brown sho spotted Mr C W Aked, Clerk in Charge of Bispham sub-Branch. Mr Aked served the bank for an amazing FORTY-SEVEN years!
<![if !vml]>

<![endif]>
<![if !vml]>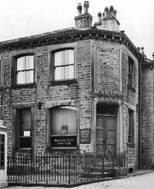 <![endif]>
Image © Martins Bank Archive Collection – Marsh of Hoylake and Successors 1949 to date
<![if !vml]>

<![endif]>
Buyer Beware….
We have left the following article here once again for reference, to help explain the position regarding the theft of copyrighted images for the purposes of re-sale. There is a common misconception that if you can Google an image, then it is "in the public domain" and you can do what you want with it. Even some staff at eBay® believed this until they were recently put right – if you take or copy someone else's work or property without their permission or acknowledgement, and sell it on to make even a penny out of it, this is breach of copyright, and the real owner can take legal recourse to stop further theft and misuse of their property. There are currently on eBay® a number of listings for photographs, showing scenes from the past and old buildings including these four Branches of Martins Bank. These images originated on our web site. As you can see, under our agreement with the owner, we prominently display copyright. These images have been copied and printed onto cheap photographic paper. The seller even has the gall to add their own watermark to the displayed images to prevent others from stealing them!!!
<![if !vml]>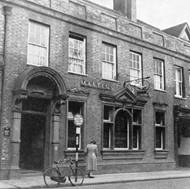 <![endif]>
<![if !vml]><![endif]>

<![if !vml]><![endif]>

<![if !vml]><![endif]>

<![if !vml]><![endif]>

STAINLAND

Image © Barclays

SITTINGBOURNE

Image created by Martins Bank Archive and © Barclays

BURTON UPON TRENT

Image © Barclays

WALLASEY

Image © Barclays
<![if !vml]>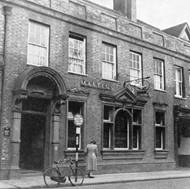 <![endif]>
As well as being against copyright law, these items are worthless, having little more than sentimental value – you will often find that collections and archives will make images available free of charge for private use, but you MUST check with them first. You should always check the seller's right to copy the image – reputable sites such as eBay® do allow you to report copyright infringement. For ANY item of memorabilia, the best thing to do is shop around and compare prices – in the case of Martins Bank there are often up to twenty different items for sale on eBay® alone on any given day. For printed material which looks as if it has been copied, or actually claims to be a copy, ALWAYS question the seller about copyright.
<![if !vml]>

<![endif]><![if !vml]>

<![endif]>
<![if !vml]>

<![endif]>
Best Regards, Jonathan.
Westmorland, Sunday 30TH April 2017
<![if !vml]>

<![endif]>
<![if !vml]>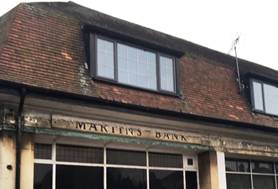 <![endif]>
WHILST MARTINS BANK ARCHIVE HAS NO CONNECTION WITH THE DAY TO DAY TRADING ACTIVITIES OF THE
BARCLAYS GROUP OF COMPANIES, WE ARE GRATEFUL FOR THE CONTINUED GENEROUS GUIDANCE, ADVICE
AND SUPPORT OF BARCLAYS GROUP ARCHIVES IN THE BUILDING AND SHAPING OF THIS ONLINE SOCIAL HISTORY.
                                                                                                                                                                                                                                                                                                                                                                                                                                                                      <![if !vml]>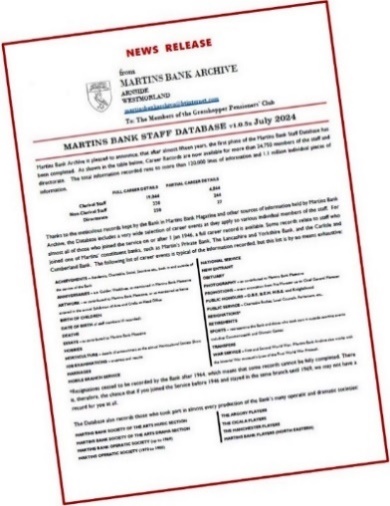 <![endif]>                                                                                                                                             
<![if !vml]>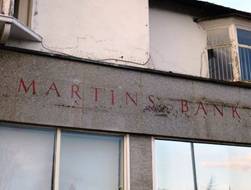 <![endif]>
<![if !vml]>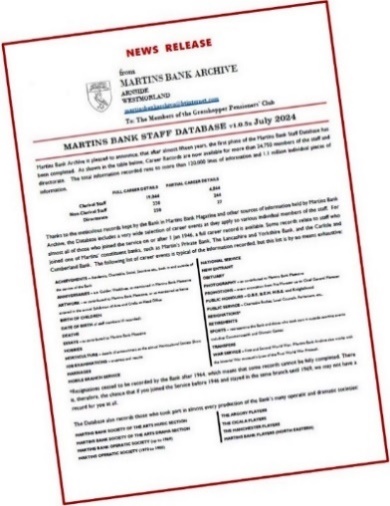 <![endif]>
<![if !vml]>

<![endif]>R