<![if !vml]>

<![endif]>
The Grasshopper Pensionersí Club is an official social organisation - supported† by Barclays - for the benefit of Members of Staff of Martins Bank Limited.†† Members meet several times a year and keep in touch through the clubís Newsletter, for which Martins Bank Archive carries the most recent two editions.† If you are a member of Martins Bank Staff and would like to contribute to the newsletter, if you would like to find out about joining our Club, or if you would like a hard copy of the latest newsletter, please email Club Secretary, Ros Edwards:
<![if !vml]>

<![endif]>
<![if !vml]>

<![endif]>
<![if !vml]>

<![endif]>
GRASSHOPPER PENSIONERSí CLUB
<![if !vml]>

<![endif]>
<![if !vml]>

<![endif]>
<![if !vml]>

<![endif]>
WHILST MARTINS BANK ARCHIVE HAS NO CONNECTION WITH THE DAY TO DAY TRADING ACTIVITIES OF THE BARCLAYS GROUP OF COMPANIES, WE ARE GRATEFUL FOR THE CONTINUED GENEROUS GUIDANCE, ADVICE AND SUPPORT OF BARCLAYS GROUP
ARCHIVES IN THE BUILDING AND SHAPING OF THIS ONLINE SOCIAL HISTORY.
<![if !vml]>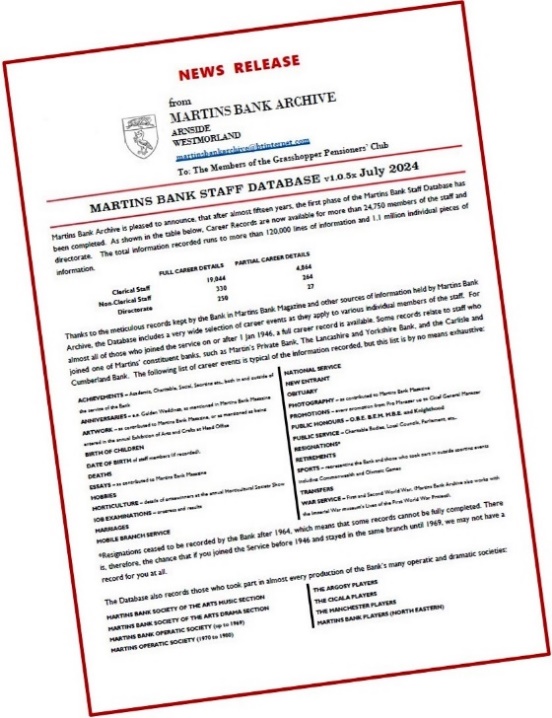 <![endif]>
<![if !vml]>

<![endif]>

<![if !supportMisalignedColumns]>