You can catch up with events by using our Newsletter archive.
The latest three issues can be accessed here, and each can be downloaded as a PDF file to print, or keep on your phone, tablet or PC…
| | | | | | | | |
| --- | --- | --- | --- | --- | --- | --- | --- |
| | <![if !vml]><![endif]> | | <![if !vml]><![endif]> | | <![if !vml]><![endif]> | | |
As Martins Bank Archive is available to everyone who visits it, those who have worked for Martins Bank but are not members of the Grasshopper Club are invited to contribute their news items and memories of the Bank to our future Newsletters.  It is an unfortunate fact of life that death is inevitable, but it is nice to be remembered by your family, friends and former work colleagues.  With this in mind, can I ask everyone whether or not you are already a Member of the Grasshopper Club to advise me should one of your former Martins colleagues die, so that they can be remembered? Dave Baldwin, Secretary, Grasshopper Pensioners' club. e-mail grasshoppers@btinternet.com.
<![if !vml]>

<![endif]>
<![if !vml]>

<![endif]>
50th Anniversary of the merger of Martins Bank Limited with Barclays Bank Limited.
<![if !vml]>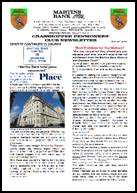 <![endif]>50th Anniversary Lunches Update
8th April 2019
I am pleased to be able to report that the numbers of former members of staff who have expressed their intention to attend the December Lunches planned for London and Liverpool continue to increase.
At the time of writing, we have London standing at 107 and Liverpool at a magnificent 148.
Maximum numbers for the two locations are:
London: 130
Liverpool: 180 (approximately)
The venues are:
London; The Union Jack Club on Thursday 12th December 2019.
and
Liverpool; The Racquet Club on Monday 16th December 2019.
If you are interested in attending then please do not hesitate to contact me to register your interest.
The actual reservation slip, which will need to be returned to Kenneth Quirk with your remittance, will be published in the Autumn Newsletter in late August/early September. Cheques will not be presented until the final deadline has been reached by which time we will need to have paid for the events.
These numbers simply go to illustrate the continued affection that we all hold for our former employer. There are many more who have stated that they wish that they would be able to attend but their health precludes them from doing so.
My thanks to everyone who has responded to date.
David Baldwin
Secretary,
The Grasshopper Pensioners' Club