The Grasshopper Pensioners' Club is an official social organisation - supported  by Barclays - for the benefit of Members of Staff of Martins Bank Limited.   Members meet several times a year and keep in touch through the club's Newsletter, for which Martins Bank Archive carries the most recent editions.  If you are a member of Martins Bank Staff and would like to contribute to the newsletter, if you would like to find out about joining our Club, or if you would like a hard copy of the latest newsletter, please email Club Secretary, Dave Baldwin at the following address:
<![if !vml]>

<![endif]>
<![if !vml]>

<![endif]>
You can catch up with events by using our Newsletter archive.
The latest three issues can be accessed below, and each can be downloaded as a PDF file, to keep on your phone, tablet or PC…
<![if !vml]>

<![endif]>
<![if !vml]>

<![endif]><![if !vml]>

<![endif]>December 2019 sees the fiftieth anniversary of the day that more than 700 branches of the Bank that had closed for the weekend as Martins Bank Limited, opened up again on the Monday as Barclays. The Grasshopper Pensioners Club wants to help ALL former staff of Martins Bank to be able mark this day, and special lunches have been organised in Liverpool and London. Places are going fast, and if you would like to be included and meet with your former colleagues at one of these lunches, please contact Grasshopper Club Secretary Dave Baldwin at: grasshoppers@btinternet.com . Then click on the poster (left) to read the updated fable of "the Eagle and the Grasshopper"! 
Your memories of merger day will also be important in the coming months.  Here on the Archive Web Site we will be marking the anniversary by summarising the huge pile of pink merger circulars that were issued to enable the systems of the two banks to be merged with one another.  Fifty years on, when we now have more technology at our fingertips than we know what to do with, your memories of this major merger are important documents of social history.  Therefore. WHATEVER you were doing, from answering the phone with the wrong bank name to coping with merging daily processes, in branch or department, or at Martins' computer centre, we would love to hear from you.
<![if !vml]>

<![endif]>
<![if !vml]>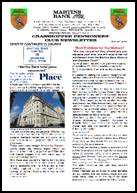 <![endif]>
<![if !vml]>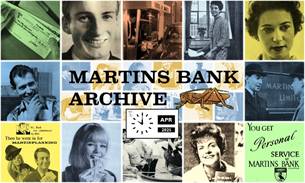 <![endif]>
WHILST MARTINS BANK ARCHIVE HAS NO CONNECTION WITH THE DAY TO DAY TRADING ACTIVITIES OF THE BARCLAYS GROUP OF COMPANIES, WE ARE GRATEFUL FOR THE CONTINUED GENEROUS GUIDANCE, ADVICE AND SUPPORT OF BARCLAYS GROUP
ARCHIVES IN THE BUILDING AND SHAPING OF THIS ONLINE SOCIAL HISTORY.
<![if !vml]>

<![endif]>
<![if !vml]>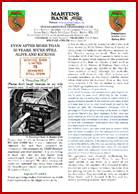 <![endif]>