<![if !vml]>

<![endif]>
<![if !vml]>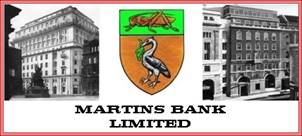 <![endif]>
<![if !vml]>

<![endif]>
Pulling the wool over the eyes?
<![if !vml]>

<![endif]>
<![if !vml]>

<![endif]>It's the mid 1960s, and Martins Bank is particularly keen to expand across the South of England once more, setting up shop in any and every conceivable outlet.  The Bank even takes over the old Police Station at Epsom to turn it into a second drive-in branch, but this is actually only so that the wife of one of the Bank's directors doesn't embarrass herself by having to cash her cheques at Barclays! 
<![if !vml]>

<![endif]>
<![if !vml]>
<![endif]>
Kew Bridge House – Image © Barclays Ref 0033/0301
<![if !vml]>

<![endif]>
Martins Bank's support to the employees of certain VITAL industries through the provision of special branches is well documented – farmers auction marts, paper factories, hospitals, universities, chemical works, industrial estates, the list goes on.  But the British Wool Marketing Board? – Really?  We conclude this is not even a disguised attempt to chase money in a well to do area, a snobbery that is shown by all the Banks as they establish themselves in parts of the country they have not yet conquered!  So, in 1966 The Bank takes space in the BWMB building at Kew Bridge Surrey to provide the vital service of – well – WHAT exactly?  Our good friend Clinton Anderson must surely know, as he is given the job of Clerk in Charge.  This is how HE sees things at Kew Bridge in 1967…
<![if !vml]>

<![endif]>                                                                                                                                                                                                                                                                       
<![if !vml]>

<![endif]>The "human cash machine"…
I was sent to Richmond as the Clerk-in-charge of the Kew Bridge sub-branch. A grandiose title for a non-job as the staff consists of a cashier who does all the work and me! As you come over Kew Bridge from Richmond, there is an office block of approx 6 floors, tucked in tight in a dip on the left beside the bridge. This is the office of the British Wool Marketing Board, an important customer of Lombard Street branch, and we are there solely to service the BWMB and its staff (although the majority of staff prefer to have their accounts at Barclays, Kew Bridge as it is a full branch and provides the full range of services whereas we solely cash cheques).
<![if !vml]>

<![endif]>
<![if !vml]>

<![endif]>
We have two rooms in the foyer of the building. There are a couple of local businesses that use us and a few locals. However, the only sign that the BWMB lets us hang outside is by the front door of the building and this is not visible from the road, so very few people know we are here.  On a busy day we might have as many as a dozen customers but this volume is rare!!  Security is largely wishful thinking. There is a commissionaire at a desk in the foyer. There is no counter screen and our alarm rings by the BWMB switchboard but as this is usually manned by temps it could well ring all day without anyone knowing what it was. As there are only two of us we cannot leave during the day so are paid an allowance instead of a lunch hour. We also have no toilet so if we need to go we have to ask the Commissionaire to stand guard so one of us can nip out and use the BWMB loo. Whilst we do have a safe it has a very low overnight limit so we have to transfer cash to and from the main branch on the bus using a leather bag that couldn't really be  anything other than a cash bag.  How times have changed. Not surprisingly Kew Bridge sub branch is closed very soon after the merger!
<![if !vml]>

<![endif]>
Title:
Type:
Address:
Index Number and District:
Hours:
Telephone:
Services:
Manager:
11-17-70 Kew Bridge
Sub to 11-17-70 Richmond
Kew Bridge House Kew Bridge Road Brentford Middlesex
446 London
Mon to Fri 1000-1500
Saturday 0900-1130
01 560 3439
Nightsafe Installed
J G Potter TD Manager
1965
15 December 1969
30 June 1970
2007
Opened by Martins Bank Limited
Barclays Bank Limited 20-45-91 Kew Bridge
Closed
Kew Bridge House Demolished