<![if !vml]>

<![endif]>
<![if !vml]>

<![endif]>
<![if !vml]>

<![endif]>
Grace and favour…
<![if !vml]>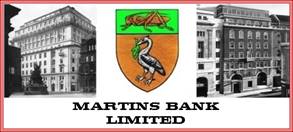 <![endif]>The 1960s sees a large university building programme in England, and Martins is amongst the first to experiment in this new market for banking customers when it opens LIVERPOOL UNIVERSITY BRANCH in 1958. 
<![if !vml]>

<![endif]>
The Bank's reputation for pioneering comes not least from its ability to quickly source new sites (however unusual) for new branches, in order that they might just beat the competition to it and be first in a particular town.  Sometimes this means temporary premises, so that the Bank can capture every drop of of valuable business, whilst a permanent branch is being built. 
<![if !vml]>

<![endif]>
<![if !vml]>

<![endif]>
Image © Barclays Ref 0030/3334
<![if !vml]>

<![endif]>
Crucial to these plans is our old friend the MOBILE BRANCH – Martins Bank's fleet of caravans that has represented the Bank at shows and events and housing estates all over the country since 1948.  In 1965, when Martins needs somewhere to pitch a temporary Branch at York University, it is the Lady of the Manor herself who steps in to help…
<![if !vml]>

<![endif]>
<![if !vml]>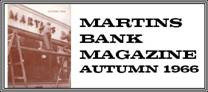 <![endif]>Sub branch at the manor
York Civic Authority, on receiving permis­sion to establish a university, decided to purchase a substantial site 11 miles from the city in the small village of Heslington. The estate was purchased from a customer, Lord Deramore, who has since died leaving a widow, Nina Lady Deramore. The family had lived for many years at Heslington Hall, evacuating the building on the outbreak of the last war, when it became a group operations room for 20 Bomber Group R.A.F., his Lordship serving with the Group at his old home. He and Lady Deramore moved to the other end of Heslington village and occupied the Manor House where Lady Deramore still lives, the Hall being now the Senate House and main administrative building of the University.
<![if !vml]>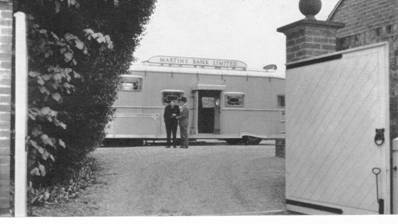 <![endif]>When the Bank decided to establish a sub branch for the University, a site was purchased in the main street and outline planning permission obtained for re-build­ing. The old cottages were demolished, the site levelled, and one of the Bank's caravans was installed on the site where it served from the beginning of the university year in October 1965. When we were ready to start building operations in the spring of 1966 an alterna­tive site was out of the question, but Lady Deramore graciously gave approval for the caravan to be placed in the forecourt of the Manor House. The site is 100 yards from our new site, being separated only by one of the local inns, The De Yarborough Arms, itself owned by the Deramore family.
Once building work is complete the Bank is able to move into purpose built premises at Nos 26 and 27 Main Street Heslington.  York University Sub Branch opens every day of the banking week and for full banking hours, too.  The branch is kitted out in Martins' new mid-sixties style, and all looks rosy until the merger with Barclays, when once again, their own arrangements take precedence over Martins, and York University Branch shuts its doors after only four years…
<![if !vml]>

<![endif]>
Title:
Type:
Address:
Index Number and District:
Hours:
Telephone:
Services:
Manager:
11-77-90 York University
Sub to 11-77-90 York
26 & 27 Main Street Heslington York Yorkshire
615 Leeds
Mon to Fri 1000-1500
Saturday 0900-1130
York 58280
Nightsafe Installed
Mr D M Douglas Manager (York)
 October 1965
1966
12 December 1969
Opened in temporary premises by Martins Bank Limited
Moved into 26/7 Main Street
Closed and moved to Barclays 11/12 Main Street