<![if !vml]>

<![endif]>
<![if !vml]>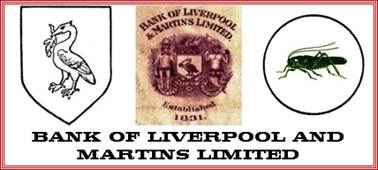 <![endif]>
<![if !vml]>

<![endif]>
This is Martins Bank's Canning Place Branch, opened in 1927 by the Bank of Liverpool and Martins. However, the business of this Branch begins a little earlier – in 1900 – as Liverpool Custom House Branch at 21 Park Lane, opened by the Bank of Liverpool.
<![if !vml]>

<![endif]>
You can see a separate page for LIVERPOOL CUSTOM HOUSE Branch, and although no photos of the original building have so far surfaced, there are some pictures of the staff. 
<![if !vml]>

<![endif]>
Meanwhile, back at Canning Place Branch, it is February 1964, and Mr F W Cowan is about to retire after what are described as forty-five extremely happy years with the bank.  As usual on these occasions, Martins Bank Magazine is there to record the gossip…
<![if !vml]>

<![endif]>
In Service: 1900 until 20 February 1984
<![if !vml]>

<![endif]>
<![if !vml]>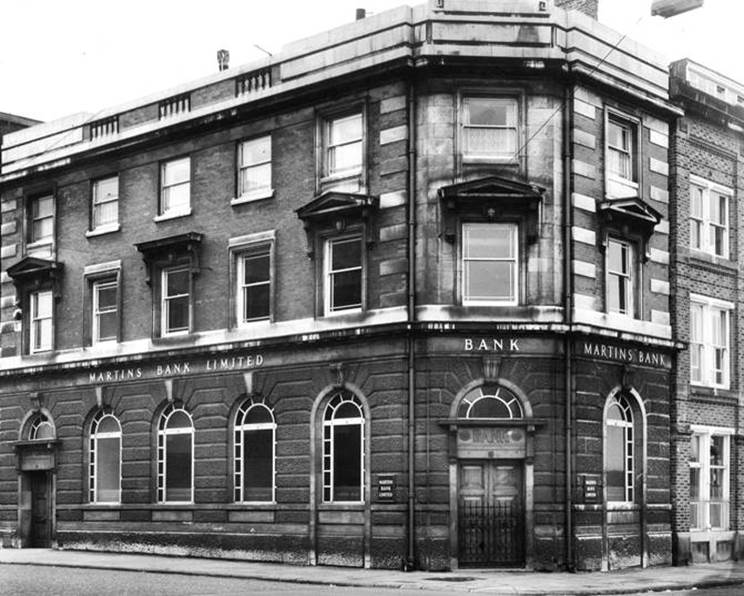 <![endif]>
Image © Barclays Ref 0030-1660
<![if !vml]>

<![endif]>
<![if !vml]>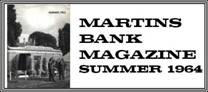 <![endif]><![if !vml]>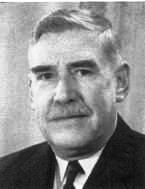 <![endif]>on his retirement as Manager of Canning Place branch at the end of February, Mr F. W. Cowan asked that formalities should be kept to a minimum and so it was that only a small gathering of present and past members of his staff were at the branch when Mr I. Buchanan (Liverpool District General Manager), on behalf of many sub­scribers, presented Mr Cowan with a cheque and thanked him for all he had done within the Bank and outside it; as an active supporter of the Operatic Society and founder of the Managers' Club he had made and kept many friends and the same could be said of his Toe H and National Savings Committee interests and of his connection with the Club Ship Landfall. Mr Buchanan, reminding his listeners that Mr Cowan had already worked for more than his allotted span, concluded by wishing him and his wife every happiness. Mrs Cowan was presented with a bouquet by Miss V. L. Ceilings. Mr Cowan responded with sincere thanks to his branch colleagues in particular and to all those who had enabled him to enjoy 45 extremely happy years in the Bank. The cheque would enable him to buy a bureau, as henceforth he would have to write all his letters, and later in the evening when Mr and Mrs Cowan with their daughter Susan entertained a large gathering of old friends on c/s Landfall he was heard to tell them that he had been presented with 'a desk in an envelope'. Mr Cowan entered the Bank in 1919 at Liverpool Foreign branch and his career took him to Walton branch and Secretary's Department before he became Clerk-in-Charge at Booker Avenue in 1939. Afterfour years in H.M. Forces he returned in 1946 to Booker Avenue and was appointed Manager of Scotland Road branch the following year. He took over the management of Canning Place branch in 1954.
<![if !vml]>
<![endif]>
Title:
Type:
Address:
Index Number and District:
Hours:
Telephone:
Services:
Manager:
11-48-20 Liverpool Canning Place
Full Branch
32 Canning Place Liverpool L1 8EU
13 Liverpool
Mon to Fri 1000-1500
Saturday 0900-1130
051 709 6966
Nightsafe Installed
Mr J D Home TD Manager