<![if !vml]>

<![endif]>
This was just as important as having your premises exude grandeur and style. The latter would without doubt seduce those with money to invest, but the former was key to confidence being maintained – the "run" on the Northern Rock Bank, in the early part of the twenty-first century, was in fact the first such event of its kind for well over a hundred years. Perhaps bronze gates and ornate buildings might restore confidence in today's banks, at a time when loan companies allowed to charge four figure percentages of interest appear attractive to the traditional bank customer. At the very least it would make a change from all that concrete and glass.  We are indebted to Beryl Creer – who as Beryl Evans was Martins Bank's first appointed female Assistant Manager in 1963 – for access to her huge personal archive of Martins Bank memorabilia. Amongst this is the following concise description of the meaning of the intricately manufactured bronze gates at Castle Street:
<![if !vml]>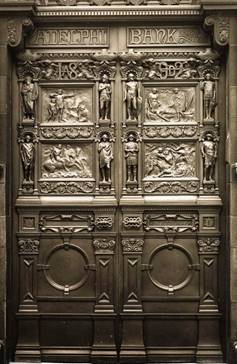 <![endif]>DESCRIPTION OF ADELPHI BANK BRONZE GATES
"The beautiful doorway with its bronze gates was designed by the architect, Mr W D Caroo M.A. In special reference to the Bank's name, the subjects were chosen to illustrate representative incidents of brotherhood from great historic periods:-
1. Jonathan's stratagem to aid the escape of David.
2. The Dioscuri (as clouds) guarding and guiding the Argonauts.
3. Achilles mourning Patroclus.
4. Orlando (Roland) rescuing Oliver.
Upon either side of each of these low- relief panels are statuettes of the subject figures. These are in niches somewhat freely worked into the face of the pilasters which form the chief architectural motif of the design. A frieze of Putti – used decoratively in other parts of the building in playful reference to the name "Adelphi" – completes the decorative treatment of the doors, which are surmounted by a rich grille, also in bronze. The design and details of the doors were given by Mr W D Caroo, M.A., the figures and panels being finely executed by Mr Stirling Lee. With the exception of the figure subjects, which were cast by the cire perdue process by Mr Buhrer of Chelsea, the doors and grille were admirably executed by Mr Starkie Gardner, the well-known metal worker of Lambeth"
<![if !vml]>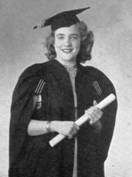 <![endif]>On now to our Castle Street features, which concern a musical reward for Miss Jean Tanner (pictured, right), and the retirement of the extraordinary Mr wattleworth, whose diverse knowledge of languages ranges from Manx to Portugese…
<![if !vml]>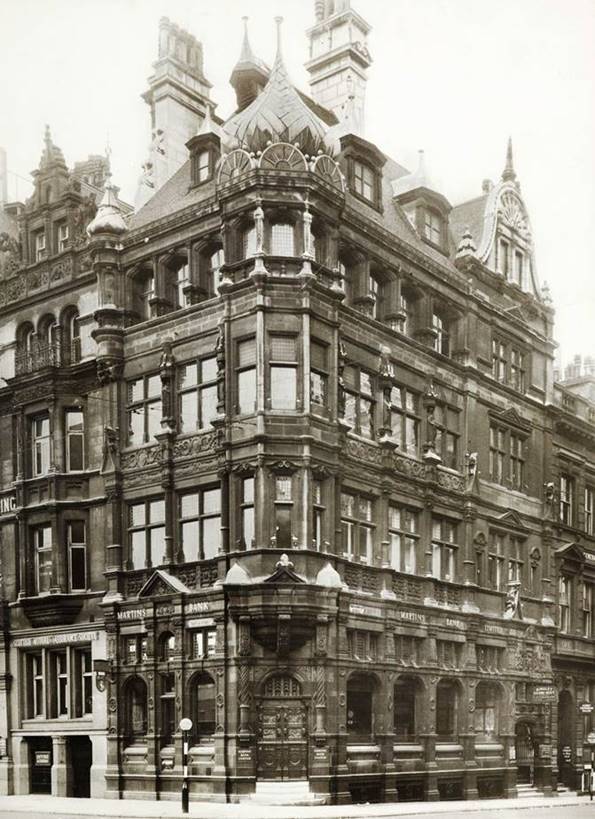 <![endif]>
<![if !vml]>

<![endif]>We were very pleased to learn at the end of August of the success of Jean Tanner, who passed the examinations of the London College of Music and became an associate.  Jean has been in the Bank since 1949, and is at present on the staff of our Castle Street Branch, Liverpool. She is twenty years of age and served at higher Tranmere Branch before being transferred to Liverpool. She comes of a musical family and both her father and her mother are keen musicians.
<![if !vml]>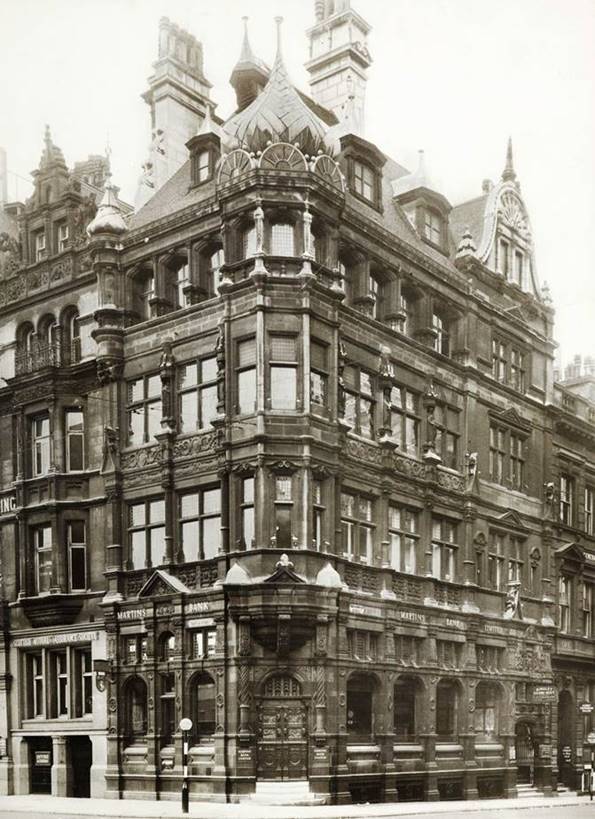 <![endif]>
<![if !vml]>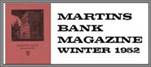 <![endif]><![if !vml]>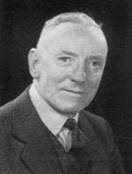 <![endif]>A gathering of friends, colleagues and former colleagues took place at Castle Street branch, Liverpool, on January 31st, to bid farewell to Mr. R. A. Wattleworth, Pro Manager, on his retirement after nearly 44 years' service. Mr. Wattleworth, or "wattie" as he is affectionately known, is a Manxman and entered the Lancashire & Yorkshire Bank's service at Ramsey in 1913, later transferring to Douglas. His term of service reveals an unusual pattern. Apart from three years' army experience from 1917-1919, oddly enough with the Royal Welch Fusiliers, he spent the first half in "The Island", the second on "The Mainland" and the whole within the walls of "L. & Y." branches. There cannot be many in the Liverpool District who can claim such singularity of allegiance. Since 1939, "R.A.W." has been at Castle Street and many a customer has been thankful to avail himself of his comprehensive know­ledge of foreign business and the more diverse intricacies of the Exchange Control Act. Mr. Wattleworth has maintained his interest in his native heath, having been a member of the Wirral Manx Society since its inception. It is not actually established that he speaks Manx but it is known that he is something of an authority on Portuguese! He also grows prize chrysanthemums. At a cheerful ceremony (in English), Mr. H. P. Meadows, Manager at Castle Street, paid tribute to Mr. Wattleworth's loyal and valued service when presenting him, on behalf of many subscribers, with a Rolex gold wrist watch. Mrs. Wattleworth, whom all were delighted to see, received a large bouquet of flowers from the musical hands of Miss J. M. Tanner. With time to use as he wills, a new car, a house on the Island and a home on the mainland it would seem that Mr. Wattleworth's years of retirement will not lack variety. But he has two greater assets than these—a charming wife and his own philo­sophical disposition. Our best wishes go with them both.
<![if !vml]>

<![endif]>
102 not out!
<![if !vml]>

<![endif]>
We were delighted to be contacted at the end of 2012 by Jim Gummerson, whose father Mr J H Gummerson retired from the Bank in 1971, and is still going strong at the age of 102. Jim sent us this picture of the staff of Castle Street Branch from 1937. Although there are a number of signatures written round the outside of the original photo, many are difficult to read, so we would like to throw this particular ID parade open to our visitors in an attempt to identify as many of the staff as possible… The notice in the background reads – "Please take lift to Deposits and Savings Department".
<![if !vml]>

<![endif]>
<![if !vml]><![endif]>

Image © 1937 Martins Bank Archive Collections -  J H Gummerson

A little before this photograph was taken – March 1936 in fact - the cheque below was prepared by the Bank for one of Castle Street's Business Customers. We are grateful to Stephen Walker, for another lovely image from his personal collection:

<![if !vml]><![endif]>

<![if !vml]><![endif]>

Image © Stephen Walker

<![if !vml]><![endif]>
<![if !vml]>

<![endif]>
<![if !vml]>

<![endif]>
<![if !vml]>

<![endif]><![if !vml]>

<![endif]>In the early 1960s, Castle Street is one of two branches in Liverpool chosen to have its daily work put onto the Pegasus II Computer. This, and a parallel experiment with two London Branches, paves the way for the computerisation of the Branch Network. Whilst this is successfully achieved in London, it becomes clear that different methods are needed, and the full networking of Martins Branches begins after the merger with Barclays. Even though Martins may not have chosen the right equipment, it does have the internal know-how amongst the Bank's Staff to be abnle to design and write a program for Branch Accounting, some part of which will continue to be used by Barclays for decades after the 1969 Merger. - See also our feature pages for Martins Bank's LIVERPOOL COMPUTER CENTRE and LONDON COMPUTER CENTRE.
<![if !vml]>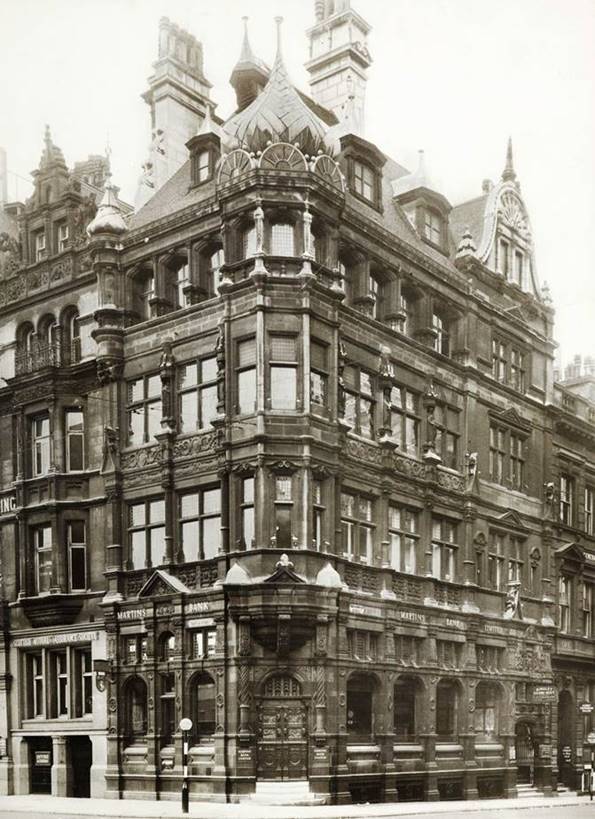 <![endif]>