<![if !vml]>

<![endif]>
The three-legged Crown Dependency…
<![if !vml]>

<![endif]>
The Latin motto of the Isle of Man is "Quocunque Jeceris Stabit", which translates as "Whichever way you throw it, it will stand".  This actually refers to the shape of the island somewhat vaguely representing the "three legs" of Man.
<![if !vml]>

<![endif]>
This motto would seem to be quite appropriate for Martins' Isle of Man Branches themselves, given the number of times they have changed hands but remained in service over the years. Today there are branches still operating in Castletown, Douglas and Ramsey, although Douglas and Port Erin have both been moved to new premises.
<![if !vml]>

<![endif]>
<![if !vml]>

<![endif]> 
Our image shows staff standing
outside Castletown Branch in 1950.
Image © Martins Bank Archive Collection
<![if !vml]>

<![endif]>
Of the original Martins Bank Branches, only Castletown Market Square, and Ramsey Parliament Street are still open today. Douglas Branch was moved to new premises in the 1980s, and the rest were closed by early 2000.
<![if !vml]>

<![endif]>
The issue of money…
<![if !vml]>

<![endif]>
<![if !vml]>

<![endif]>
£1 note issued by the Manx Bank around 1895
<![if !vml]>

<![endif]>
<![if !vml]>

<![endif]>
£1 Note issued by the Lancashire and Yorkshire Bank
between 1904 and 1928
<![if !vml]>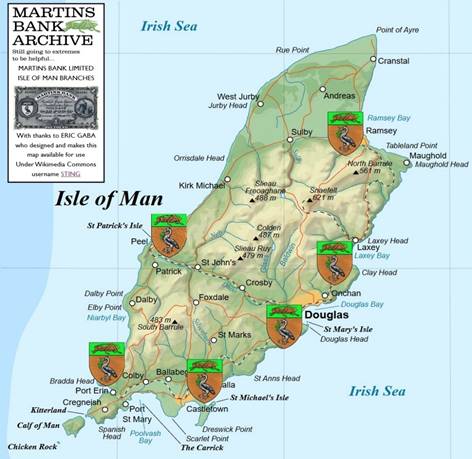 <![endif]>
£1 note issued by the Mercantile Bank of Lancashire around 1900
<![if !vml]>

<![endif]>
<![if !vml]>

<![endif]>
Martins Bank's £1 note issue (this example from 1957) lasts until a change in Manx Law in 1961