National Productivity Year and beyond…
<![if !vml]>

<![endif]>
<![if !vml]>

<![endif]>1963 is an exciting year for Martins Bank and its Staff. Not only does the Bank celebrate 400 years of banking activity in Lombard Street, it opens a number of new branches, and continues to demonstrate its commitment to the automation of Branch accounting.   The British Economy is flagging a little in 1963, and the Government conjures up "National Productivity Year", an initiative that sounds as if it would be more at home in Soviet Russia than in a major Western capitalist economy.  We should remember that at this time there are many more nationalised concerns than we have in the twenty-first century, electricity, gas, car production, telephone services and rail travel are all "provided" by the British Government. National Productivity Year is therefore something of a novelty, as entrepreneurs big and small are encouraged to establish trade at home and abroad and thereby boost Britain's financial standing.  Martins Bank seizes the opportunity to sell its services to business, and this is nowhere more apparent than in its newspaper advertising.  The Bank never quite shakes off the preferred image it has for someone setting up a business – a MAN (of course) in a suit and tie (naturally), and sporting a bowler hat (this was a time when most men wore hats in the street to define their social status).  Martins policy is not intentionally misogynistic, and former Member of Parliament Teresa Gorman recalls in her autobiography that it was a 1966 Martins advertisement (shown here, right) depicting a man wearing a bowler hat and climbing a ladder, that attracted her to the Bank, where she successfully raised the funds she needed to set up her own business.
1966: Bowler Hats!
<![if !vml]>

<![endif]>
<![if !vml]>

<![endif]>

Image © Martins Bank Archive Collection

<![if !supportMisalignedRows]>
<![endif]>
<![if !vml]>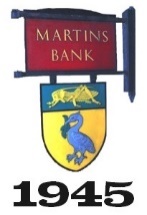 <![endif]>
Image © Martins Bank Archive Collection <![if !vml]>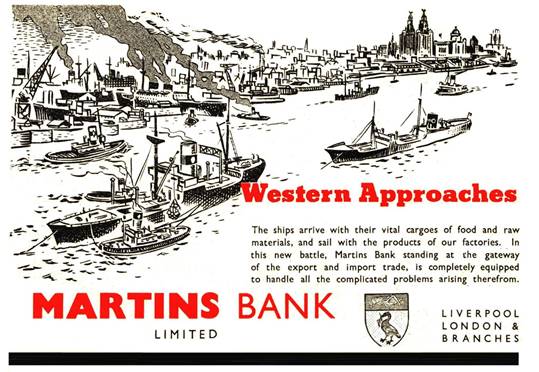 <![endif]>
Image © Barclays Ref 0025/0658/0005
The introduction by the eleven clearing Banks of the Credit Clearing system in 1962 paves the way for smoother business transactions, and the ability to pay employees directly into their own Bank Accounts. Martins Bank's Advertising is based around the success of its Information Department, whose perhaps unrivalled collective knowledge produces literature that is of practical help to those already in business and those who are just starting up.  The bank can also take pride in its decentralised structure, with local head offices around the country able to make important decisions without keeping the customer waiting.
<![if !vml]>

<![endif]>
<![if !vml]>

<![endif]>
Image © Martins Bank Archive Collection
<![if !vml]>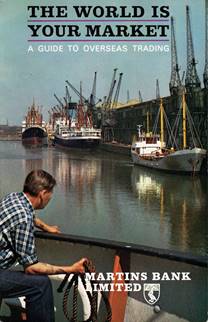 <![endif]>
<![if !vml]>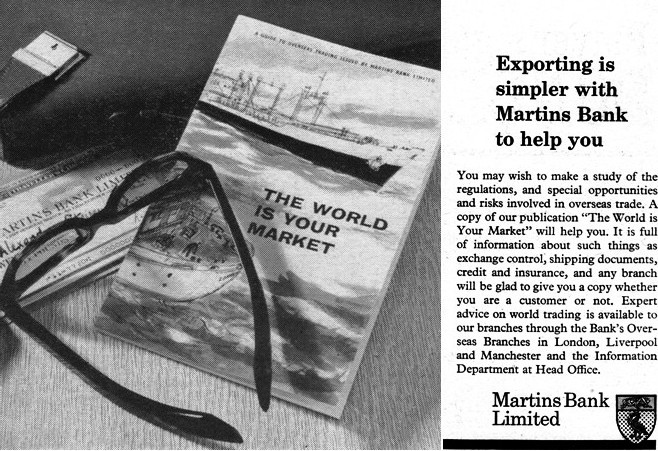 <![endif]>

Image © Martins Bank Archive Collection

<![if !supportMisalignedRows]>
<![endif]>
<![if !vml]>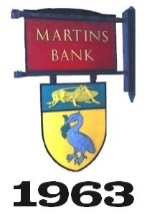 <![endif]>As the swinging sixties arrive, EXPORTING becomes key both to the success of business AND banking. From 1960, The World Is Your Market, a guide to overseas trading is another success story for Martins Bank's Information Department.  This small paperbacked book is an ambitious publication, which sets out to provide every possible detail to help any British Business owner understand the potential of overseas trade, and the ease with which it can be conducted with Martins at your side.  So profound is it all, that in the advertisement above, the businessman seems to have removed his glasses for a moment of deep reflection!!!  The front cover of The World is Your Market even features in the pages of Martins Bank's Annual Report and Accounts for 1960, which shows the commitment the Bank has made to helping businesses succeed at home and abroad. Backed by the expertise of Martins Overseas Branches at Liverpool Manchester and London, The World is Your Market continues to be a successful publication right up to the merger with Barclays… 
<![if !vml]>

<![endif]>

So much for small to medium business – Martins Bank also looks after the banking needs of some VERY large business concerns, and we look in detail at this, and at how it leads to the merger with Barclays in our feature CORPORATE BANKING. We also examine Barclays' own proposals for a merger with Martins AND Lloyds Bank, and also at what might have been if Martins Bank had survived into the twenty-first Century.

<![if !supportMisalignedRows]>
<![endif]>