<![if !vml]>

<![endif]>
<![if !vml]>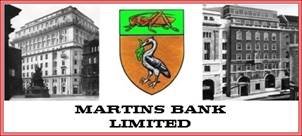 <![endif]>
<![if !vml]>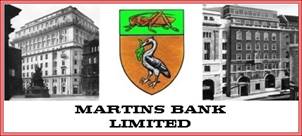 <![endif]>
Coming soon…
<![if !vml]>

<![endif]>
<![if !vml]>

<![endif]>When Martins Bank begins its first expansion in the South of England, it often uses temporary branches to establish business in a particular area before opening in more purpose built premises close to the customer base.  It is a kind of reciprocal "getting to know you"  – customers can try out the service and get to know the Bank and its staff, whilst the Bank works at finding the ideal location by getting to know the town.  One such arrangement is in place when Martins opens at Worthing, which at the beginning of 1938 becomes the Bank's fourth branch in Sussex.  Temporary premises are taken at 39 Chapel Road, and within a year the business tranfers to a permanent office at 26 Chapel Road. 
<![if !vml]>

<![endif]>
<![if !vml]>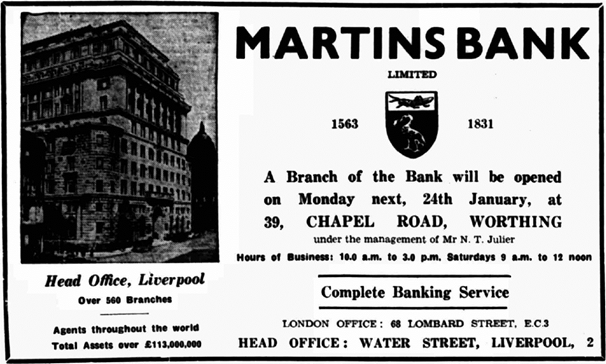 <![endif]>
Worthing Herald, Sat 22 January 1938
Image © Northcliffe Media Limited. Images created courtesy of THE BRITISH LIBRARY BOARD
Images reproduced with kind permission of The British Newspaper Archive.
www.britishnewspaperarchive.co.uk
<![if !vml]>

<![endif]>
Martins Bank Ltd Annual Report and Accounts - Image © Barclays 1937
<![if !vml]>

<![endif]>
Mr N T Julier is the first manager of Worthing, and runs the branch from its temporary days in January 1938 until his death in 1942.  Our thanks for this information go to former Martins and Barclays Colleague Alan Hill and his 1984 booklet, "Martins Bank Branches in Sussex".
<![if !vml]>

<![endif]>
<![if !vml]>

<![endif]>
Title:
Type:
Address:
index Number and District:
Hours:
Telephone:
Services:
Manager:
11-887 Worthing                    
Temporary Branch
39 Chapel Road Worthing Sussex
443 London
Mon to Fri 1000-1500
Saturday 0900-1200
Worthing 3822/3
Counter Service Only
Mr N T Julier Manager
Mon 24 January 1938
Mon 15 July 1938
Opened as a Temporary Branch by Martins Bank Limited
Closed and moved to 26 Chapel Road