<![if !vml]>

<![endif]>
<![if !vml]>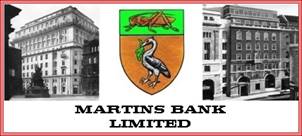 <![endif]>
<![if !vml]>

<![endif]>
<![if !vml]>

<![endif]>Martins Bank opens a temporary Branch in Worthing at 39 chapel Road in January 1938, moving to this permanent location at 26 Chapel Road on Monday 18 July of the same year. As Martins Bank grows in importance in the south of England, Worthing is chosen as the location for an office of the Bank's Trustee and Investment Services, whose address is given as 24 Chapel Road.  In 1951 Martins Bank Magazine pays a visit to Worthing to meet the staff, and look at the Branch and some of the local history…
<![if !vml]>

<![endif]>
<![if !vml]>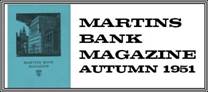 <![endif]>
<![if !vml]>

<![endif]>
Our acquaintance with the Sussex coast has hitherto been limited to the periodic passage through Newhaven en route for the Continent and so it was with great interest that we turned our steps southwards from London on the morning of August 9th. The choice fell on Worthing because Mr. and Mrs. Whyte were members of our Swiss 1949 party and of this year's Italian Lakes party, and a friendship had sprung up between us. To try to describe Worthing to our readers is a somewhat difficult task because the resulting description might fit a dozen other seaside resorts. There is the usual pleasant promenade, the pier, the bandstand, the flower beds, the usual hotels with the usual names lining the front;
<![if !vml]>

<![endif]>
<![if !vml]>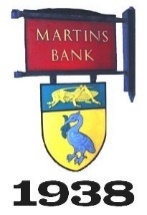 <![endif]>
This Image Courtesy G Taylor Collection 1950. 
Others, (apart from staff group) © Barclays Ref 0030/3294
<![if !vml]>

<![endif]>
<![if !vml]>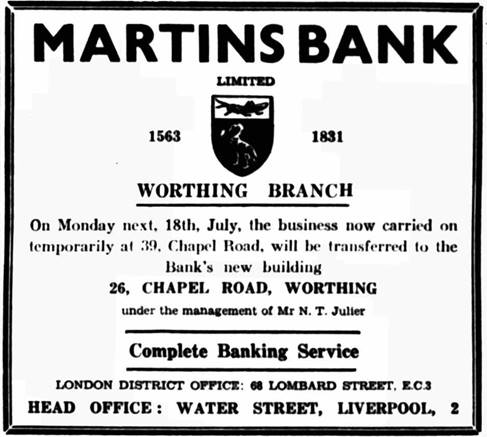 <![endif]>
Worthing Herald, Sat 16 July 1938
Image © Northcliffe Media Limited. Images created courtesy
of THE BRITISH LIBRARY BOARD Images reproduced
with kind permission of The British Newspaper Archive <![if !vml]>

<![endif]>
<![if !vml]>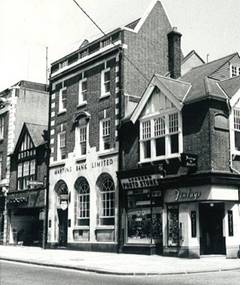 <![endif]>the usual carefree holiday crowds in their colourful attire, and the wide sweep of the English Channel dipping over the horizon towards the unseen coast of France. Yet Worthing has its own individuality and it is totally different from its near neighbour Brighton to which we motored to catch a late night train back to London. One of the outstanding assets of this town of some 70,000 people is an extremely beautiful hinterland. One can be on the South Downs very quickly and there are numerous places of interest quite close at hand.
,<![if !vml]>

<![endif]>
After lunch we motored over to Arundel and visited its magnificent castle, home of the Duke of Norfolk, hereditary Earl Marshal of England. Although built by the Saxons in the year 800 it has been enlarged and added to, but the surprising thing is that it looks as though it had only recently been built. The stonework is whiter than the stonework of our Head Office building and shows no sign of weathering at all on the imposing turrets which rise at each corner. Unfortunately, the family has been driven to live in a tiny portion of it as in the case of all these fine ancestral homes nowadays. A modern, somewhat incongruous note is struck by the sight of television aerials on two of the towers: they don't quite fit in with the drawbridge!
<![if !vml]>

<![endif]>
<![if !vml]>

<![endif]>
<![if !vml]>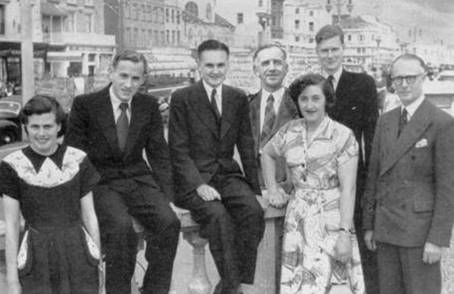 <![endif]>After leaving the castle we motored through the lovely countryside and from one vantage point we could see three distinct thunderstorms developing, though we ourselves stood in bright sunshine. Our office in Chapel Road is spacious and well-appointed and Mr. Whyte must have enjoyed the change on his promotion there after his management of Southall branch during the war years.  He entered the Bank in 1916 and prior to his first managership served for varying periods at Head Office, Smithdown, Liverpool Foreign, Liscard, Seacombe, Kingsway and Bournemouth.  He served with H.M. Forces during the first World War from 1917 to 1919. At the close of business we spent a very pleasant evening with Mr. and Mrs. Whyte in their very attractive home before starting on our homeward journey made via Brighton so that we could see the lights.
<![if !vml]>

<![endif]>
Title:
Type:
Address:
Index Number and District:
Hours:
Telephone:
Services:
Manager:
11-70-90 Worthing
Full Branch
26 Chapel Road Worthing Sussex
443 London
Mon to Fri 1000-1500
Saturday 0900-1130
Worthing 3822/3
Nightsafe
Mr R C Burton Manager
Mon 18 July 1938
15 December 1969
18 September 1970
Opened by Martins Bank Limited
Barclays Bank Limited 20-98-75 Worthing 26 Chapel Road
Closed