<![if !vml]>

<![endif]>
<![if !vml]>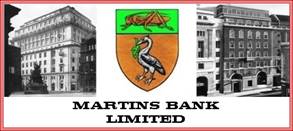 <![endif]>Many of Martins Bank's larger city centre Branches are known to those who work there as "City Office".  They offer the services of a Branch, but also they are, with the exception of Bristol City Office, housed in the same building as one of the Bank's District Offices.  Customers can therefore benefit from the local decision making powers of the District Office, and do their everyday banking, all in the same place.   Birmingham City Office is situated at 98 Colmore Row Bimingham, and like so many of Martins' larger Branch buildings it is striking and imposing, giving the air of somewhere where business is done. 
<![if !vml]>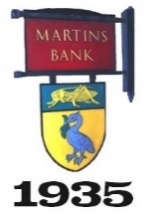 <![endif]>
<![if !vml]>

<![endif]>
Image © Martins Bank Archive
Advertisement Collection Remastered 2018
<![if !vml]>

<![endif]><![if !vml]>

<![endif]>
Image © Barclays
This image (above) from the Barclays Branch Photographs Collection has
been annotated to show expansion into neighbouring shops to
provide a new machine accounting room in 1968. (See also image below)
<![if !vml]>

<![endif]>
<![if !vml]>

<![endif]>
<![if !vml]>

<![endif]>It is also a comparitive newcomer to Martins' Branch Portfolio, having been opened in 1935.  This advertisement is printed in local newspapers for a month or so before the opening of the Branch.  The fact that it opens on a Friday shows the nature of new large city centre office – opening on the Friday and the Saturday Morning instead of for a whole first week, gives staff AND customers room to acclimatise to the new building.  The Midlands is a strategic area for the southward expansion of the Bank, and to begin with, Midland District was described as soaking up all the English Branches that are "not wanted" by other districts".  There were a few interesting overlaps between Midland and London District, which was Branches such as Oxford and Banbury changing district before the decentralised layout of the Bank settled down.  Birmingham is one of only a few City Office Branches to be visited by Martins Bank Magazine, and we join them here in 1960, for a good look at what goes on behind those imposing doors and windows…
<![if !vml]>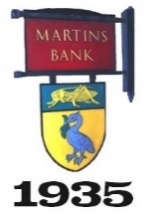 <![endif]>
<![if !vml]>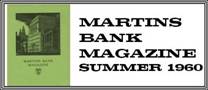 <![endif]>It is seldom that we visit a big office. The sense of isolation is less where a number of people work together, and it is easier to feel that one "belongs". As a rule, our visits are made to try to lessen this feeling of isolation. However, we made an exception to our practice on March 10th when we paid our first visit to Birmingham City Office, which with Midland District Office situated on the floor above makes a very sizeable focal point of our business in the Midlands. Because of town planning we shall have to vacate our premises at 98, Colmore Row in the course of the next few years and it will be quite a problem to find as good a spot as the one from which we at present operate, which is scheduled for an open space. The plan also involves disturbance of our Markets and Broad Street Branches, altogether quite an upheaval. Out of evil may come good, however,  for the present premises are in some respects inadequate for our growing business. Catering facilities at present provide a midday meal for the staff not only at Colmore Row but also for the neighbouring Branches and a nice rest room for the ladies has just been added. Mr. A. E. Teasdale has already figured in these pages as Manager when we visited Northampton Branch some years ago. He has come a long way since those far off days of his early service at Darlington, Newcastle upon Tyne and Hanley.
Images © Barclays Ref 0030/0210
<![if !vml]>

<![endif]>
Mr. J. L. S. Woosnam is another old friend who spent his earlier years at Liverpool City Office, Ellesmere Port, Charing Cross, South John Street and Inspection Department before going to the Midlands in 1951. His appointment as Assistant Manager dates from 1958. Mr. Woosnam married Miss Audrey Weston, who was formerly in Chief Accountant's Department. Mr. C. Wilson, who signs Pro Manager, is another Liverpool man who spent his early years at Old Swan, going to the Midlands at Wednesbury in 1951.  The first cashier, Mr. J. Higginbotham, is a Manchester man who has reached his present position via Whalley Range, New Mills, Heaton Chapel, Manchester City Office, Macclesfield, Cardiff, Bristol and Nottingham - quite a run around.  We met Mr. G. E. Hasler on one of the Domestic Training Courses and Mr. W. E. Clowes on an Overseas Training Course, both at Head Office. Mr. M. J. Cadd has also been on an Overseas course but he is known to us as a participant in the Festival of Cricket, so we already knew all the male members of the staff apart from Mr. R. A. Franklin who entered the service in 1955 and Mr. R. R. Stait, the junior, who started last year.
<![if !vml]>

<![endif]>
<![if !vml]>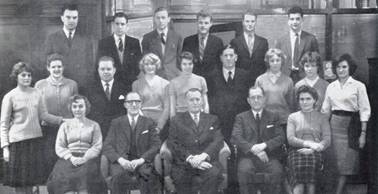 <![endif]>The ladies are well represented on the Birmingham staff. Mrs. P. Needham, who formerly worked for another bank, finds it more convenient to work for us as her husband is on the staff of District Office upstairs! Miss B. M. Smith is Mr. Teasdale's typist and there are two girl cashiers—Mrs. B. J. West and Miss S. Aldridge, who do, however, perform other duties. Then we have Miss M. G. Merriman, Birmingham born and bred, Miss S. Bargh, who has perforce exchanged Bournemouth for Birmingham, and Miss A. M. Ford. We did not have the pleasure of meeting Miss P. M. Allen and Miss J. M. Stevens who were away through illness on the day of our visit. The photograph was taken subsequent to our visit, and two or three members of the staff who appear on it we did not have the pleasure of meeting. Others whom we met were not available when the photograph was taken. Although we were not visiting District Office officially, we called to renew acquaintance with the staff there, most of whom are very well known to us. It was a crowded visit, full of interest and pleasure in meeting so many old friends.
<![if !vml]>

<![endif]>
We're in the money…
<![if !vml]>

<![endif]>
<![if !vml]>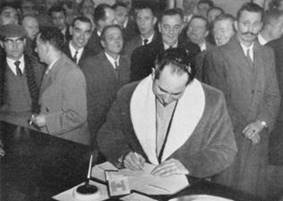 <![endif]><![if !vml]>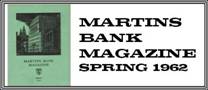 <![endif]>No other Branch, so far as we are aware, can claim the distinction of being besieged at 9 a.m. on a Saturday morning by a crowd of people, numbering 67, 35 of whom wanted to open accounts, and all of whom wanted a substantial amount of cash.  Our photograph shows a recent Pools winner to the tune of £55,000 at the counter of Birmingham City Office. Accompanying him were the other 66 members of his syndicate, each of whom wanted a cheque for some £800. He came by appointment to sign his cheque, but the appearance of the members of his syndicate took the Bank by surprise and most of the staff had to be set to the task of making out the cheques. Then followed the cash transactions and finally the formalities connected with the opening of the accounts. Although the party were obviously in high spirits, bound for refreshment and then the football match, they were most considerate of the other customers wanting service.
<![if !vml]>

<![endif]>