<![if !vml]>

<![endif]>
<![if !vml]>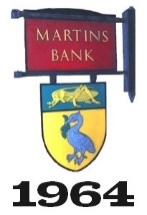 <![endif]>It's 1964 and the times they are already a-changin' in the centre of Birmingham, where the now tired Jamaica Row and Markets areas of the City is bulldozed to make way for the (in)famous Bull Ring Centre.  Martins Bank's Birmingham Markets Branch at 72 Jamaica Row is demolished, and the business is relocated to the new Smithfield House.  From now on this office will be known as Digbeth Branch, and its new home at Nos 24/28 Digbeth is a branch to be proud of. Numbering amongst the larger and more modern offices of Martins Bank, Digbeth has a spacious interior which is just the right place to transact business in the swinging sixties The theme of Martins Bank's 1960s new branches, rebuilds and refurbishements, is space and light - a real departure from the dark wood panelling and the oppresive atmosphere of the more tradional banking halls…
<![if !vml]>

<![endif]>
<![if !vml]>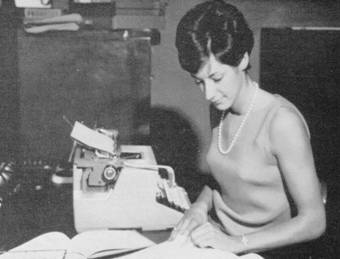 <![endif]>
Images © Barclays Ref 0030/0212
<![if !vml]>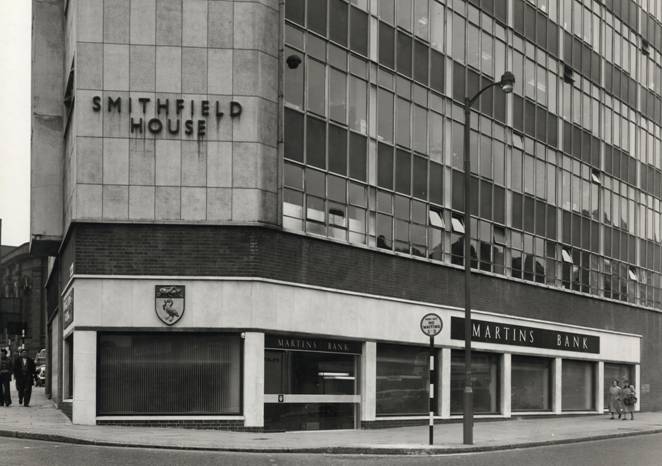 <![endif]>
Coupled with this, Martins staff will of course always go to extremes to be helpful, but at Digbeth, one member of staff in particular literally does go that extra mile.
<![if !vml]>

<![endif]>
sp2<![if !vml]>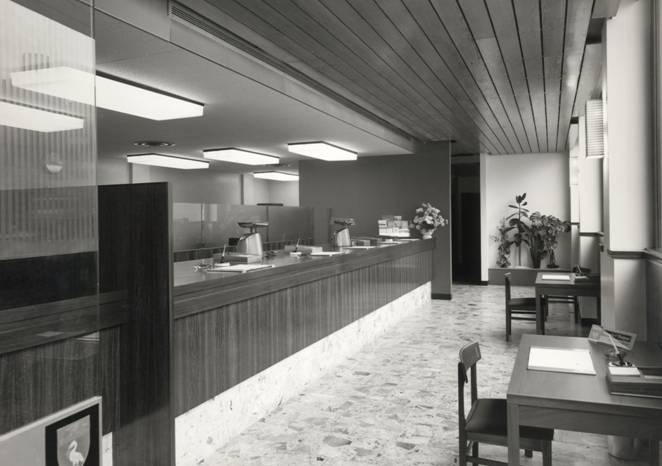 <![endif]>
<![if !vml]>

<![endif]>
This is Gloria Dourass, secretary at Digbeth.  Quiet, skilled and efficient, she works away at her typewriter as do secretaries in Martins' branches up and down the land.  Gloria is not, however, all she appears to be.  It would not be an exaggeration to mention that she is WORLD FAMOUS in a particular "field"(!)
<![if !vml]>

<![endif]>
<![if !vml]>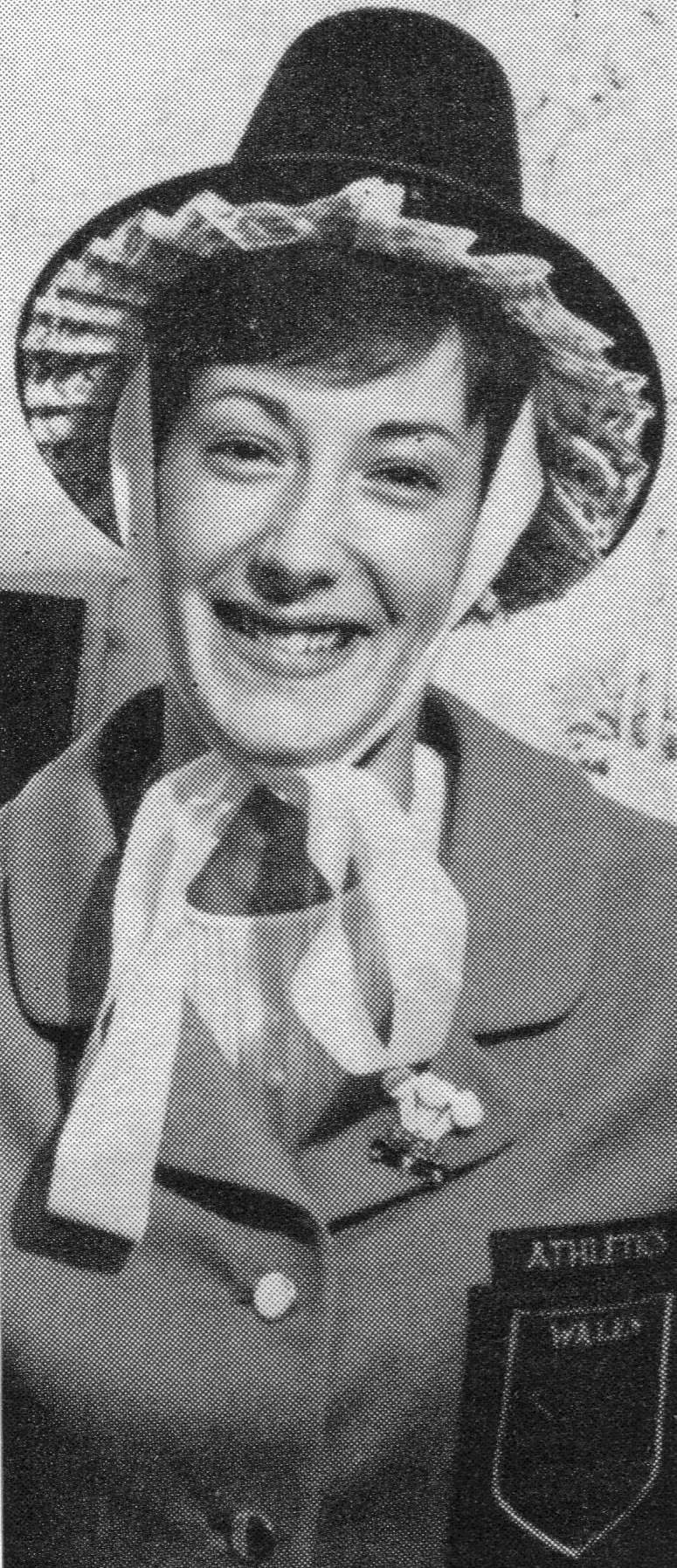 <![endif]><![if !vml]>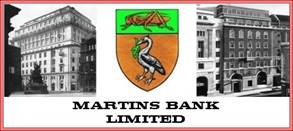 <![endif]>. . . but in the nicest possible way, and quite unspoilt by her successes and the attendant publicity: that is Gloria Dourass. When at the age of nineteen she travelled to Motspur Park in 1964 for the second year and helped the Bank to win the Ladies' Championship she twice equalled the I.B.A.A. Ladies' 100 yards record and set up a new record for the 220 yards. Until then few people outside the world of athletics had heard of this slim, dark girl from Digbeth branch, but in our Autumn issue that year the Midland District news said she had been making headlines in Midlands athletics that summer. She won the Warwickshire women's 440 yards championship in a time of 58.1 seconds, later becoming the Midland women s 400 metres champion. Recently at an inter-club meeting in Birmingham she set up a new Midland women's record in the 440 yards with a time 'of 57.1 seconds. Since then her successes have continued  - Warwickshire quarter-mile champion, Midland 400 metres champion, and with the English team in Berlin last year. This year she added the Welsh 440 yards champion­ship to her Warwickshire title with a new record and was one of four girls who represented Wales at the British Empire and Commonwealth Games in Jamaica, where she reached the semi-final of the 220 yards and in the final of the 440 yards ranked 8th in the Commonwealth with a time of 55.5 seconds. With her team she achieved 5th place in the 4x 110 yards relay, a consider­able triumph for a small nation. Why Wales? The answer is nationality. Gloria's mother is Welsh, coming to Birmingham from South Wales in the depression of the 1930's, and later marrying Sidney Dourass. It is a strange quirk of fate that Gloria's grandfather who left Wales to find work in Birmingham for his family's sake now has a granddaughter of whom Wales is proud. Gloria might never have become an athlete but for her lively mother and her eminently sensible father who decided, as other wise parents have done, that children are better employed doing than watching.
<![if !vml]>

<![endif]>
<![if !vml]>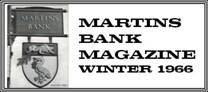 <![endif]>Sidney Dourass had always been interested in young people and in sport of all kinds: feeling that <![if !vml]>

<![endif]>Gloria might take to athletics he took her along at the age of nine to an athletics club to see what they'd say. They advised him to take her to Small Heath Harriers and she has been with them ever since. At first she played about and her school friends came too; she practised, listened, became absorbed, and won some school events. When she was seventeen John Walker, the Small Heath coach, told Mr Dourass that he would like to train his promising daughter and Mr Dourass agreed. John Walker trained Gloria hard for two years, and then sent her out to win the Warwickshire 440 yards championship in 58.1 seconds - the fifth best time in the country.  In athletics one can train and become good; one can train with dedication and become very good, or one can persist in training until at times everything screams for relief. That way one becomes a cham­pion.
<![if !vml]>

<![endif]>
<![if !vml]>

<![endif]><![if !vml]>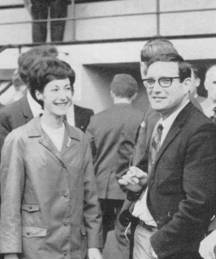 <![endif]>With fleetness of foot, normal fitness and a few practice sprints one might not be disgraced over 100 or even 220 yards but more is needed for the quarter mile which, as a sprint, has been termed a killer race. Gloria's training continues throughout the year in all weathers. In winter there are cross country runs and races, and 660 yards 'repetitions' - perhaps five in one evening - interspersed with walks and jogs; there are 3 to 6 miles of roadwork, accelerations and decelerations, sprints, hill work and weight training. In summer there are timed sprints from 4 x 110 to 3 x 330 yards, and starts over 60 yards. She stops all training for one or perhaps two evenings before an event, but for really testing competition she often has to practise against the men in her club. She tries to give herself one evening off each week, eats everything, puts on a little weight in winter and loses it without difficulty in the spring to scale about eight stone eight and, except at weekends, is in bed by 10 o'clock every night without any prompting.
<![if !vml]>

<![endif]>
In addition to this there is her job as manager's secretary at Digbeth branch. Before asking 'Is it worth it?' we should <![if !vml]>

<![endif]>remember that Gloria Dourass has found something at which she excels and is thus in a very different position from those who have not. To excel she has had to give up a lot of the fun which girls of her age enjoy. The strain of keeping at peak fitness in and out of season has been eased by the help and understanding of her parents, the co-operation and goodwill of her colleagues, and the attitude of a Bank which goes to extremes to be helpful. All these things she knows and appreciates, but there must be occasions when she would like to feel that she didn't have to drive herself so. She is young, full of life, and is a thoroughly happy person. She may have another two or three years before she reaches her peak but neither she nor anybody else can be certain.
<![if !vml]>

<![endif]>
Were she to stop now she would never know what she was really capable of achieving and might then have to live with regrets. By continuing she might reach greater heights - might even become a successful half-miler - or find she was not as good as before. Speaking as one of her many friends we hope she will continue, not for the honour and glory of herself, her club or the Bank, but because she epitomises what so many of us would like to be but never will be - successful but modest, determined but considerate, dedicated but human, and a credit to far-sighted parents.  We have a feeling this won't be decided by her parents or by her friends. One day a young man who also happens to be a quarter-miler is going to say That's enough. Now we'll get married!', and when that time comes it will be the right time. He will know it and so will she and all her friends will be sorry and glad.
<![if !vml]>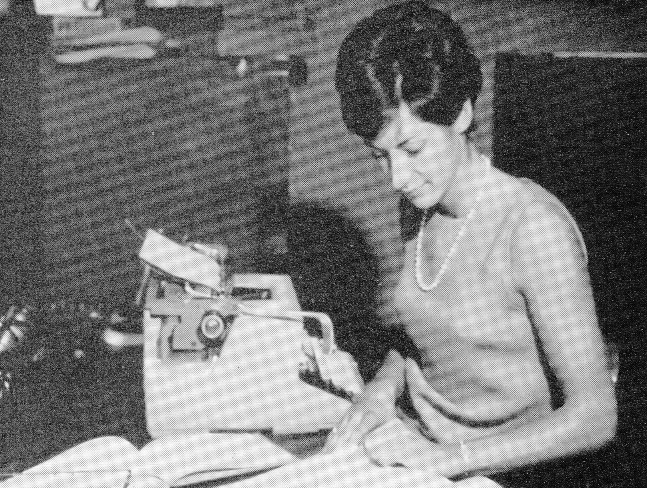 <![endif]>
Mr J T Parsons
Limited Authority
1964 to 1966
Mr C A Brockbank
On the Staff
1964 to 1967
Mr W D Beardsley
Pro Manager
1964 to 1967
Miss Gloria Dourass
Secretary and World Class runner(!) 1966
Mr J E Davies
Manager
1967 Onwards
Mr D B Woolgar
Pro Manager
1967 to 1968