<![if !vml]>

<![endif]>
<![if !vml]>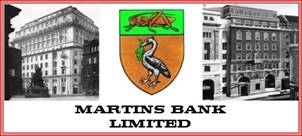 <![endif]>
<![if !vml]>

<![endif]>
<![if !vml]>

<![endif]>Tunstall is one of fifteen Branches of Martins Bank in Staffordshire, of which only one – Burton upon Trent – is still open today.  Barclays actually closes their own branch at Burton as the Martins Branch is larger and better situated to attract custom.  Tunstall is, however, not so lucky and its business is transferred to the Barclays Branch at 120 high Street on 12 December 1969.  Martins Bank is no stranger to The Potteries, and opens its doors in Tunstall in 1953 in what is described by Martins Bank Magazine as a tasteful, friendly and cosy office.  They visit the branch just over a year after it is opened, and as usual get down to the business of meeting the staff and describing the local area. 
<![if !vml]>

<![endif]>
<![if !vml]>

<![endif]>
Image © Barclays Ref 0030/2991
We are especially pleased with the interior photographs of Tunstall Branch, one of which (unusually) includes customers at the counter…
<![if !vml]>

<![endif]>
<![if !vml]>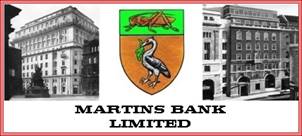 <![endif]>We visited Tunstall on March 8th. Mr. Williamson was at the station to meet us, and, to our surprise, he seemed regretful that the sun was shining brightly, that there was blue in the sky and that the Potteries were undoubtedly looking their best on that lovely Spring morning. He was, of course, afraid that we might paint too glowing a picture of  the climate in this part of the world, where our managers are deepening and widening the Bank's interests and keeping the flag flying.
<![if !vml]>

<![endif]>
<![if !vml]>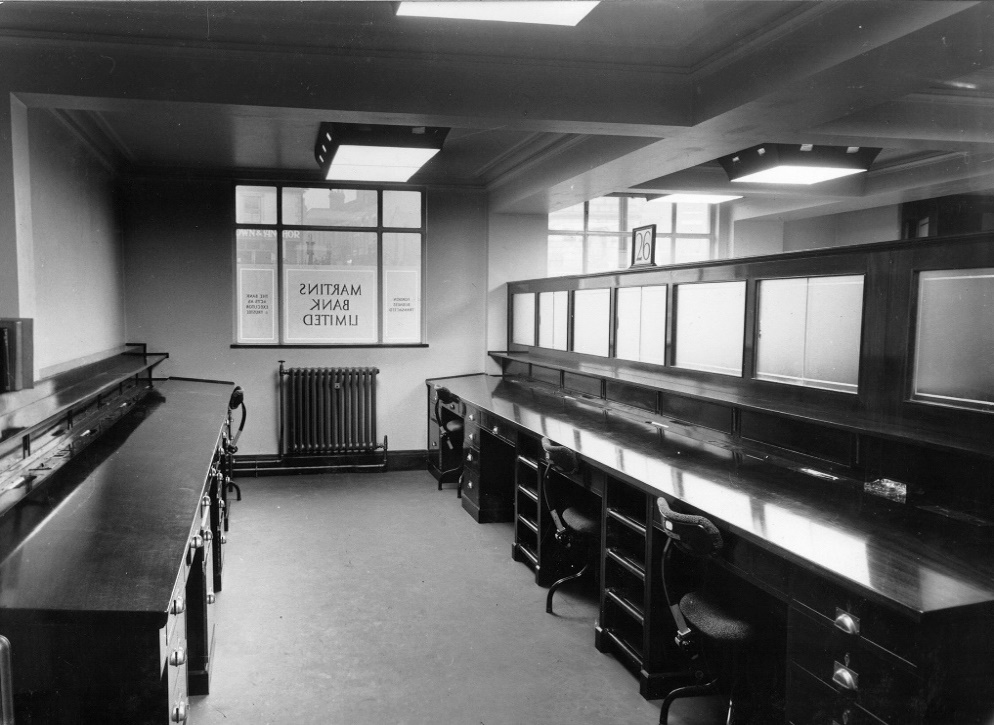 <![endif]>But he needn't have worried: it was not our first visit to the Potteries, and we have seen the Five Towns under typical conditions. Mr. Alfred Williamson entered the service in 1926 at Manchester, and his previous experience includes Brooks's Bar, Deansgate, Bath, Bristol and, since 1947, Pro Manager at Derby. He opened Tunstall branch in January 1953. There was also a period of five years spent with H.M. Forces, part of the time in India.Mr. R. Raw is the second man. Before going to the Potteries he served in the Northern District and it is not surprising that, with his Lakeland background, his colleagues who work among the dark, satanic kilns should spread the story about him that when he was asked whether he would like to go to Hanley, he affirmed his enthusiasm with commendable vigour, being under the impression that Henley was what was being offered. Whether there be any truth in that or not, he has put his back into the new job enthusiastically after a distinguished war career which took him from Africa to Burma, via France and Syria, and he was awarded the Military Medal at Tobruk.
<![if !vml]>

<![endif]>
P. G. Joy is a product of the Five Towns who entered the service at Hanley, and, lured by the recruiting posters to join the Navy and see the world, found that the most he could do was to gaze at it from Plymouth Hoe. He has yet to feel the heave of a deck beneath his feet. Keeping the flag of the gentle sex flying is Miss Joan Gleaves, also a native of the Potteries, who entered the Bank in 1952. Our new office is tasteful, cosy and friendly. Mr. Williamson has been living over the branch while his new house at Newcastle-under-Lyme is being built. Tunstall is not such a " shocker " from an aesthetic point of view as Longton, but the kilns are there just the same, and the all-pervading soot, grime and smoke pall of con­centrated industry. We saw it on a Spring day, however, when the unsullied daffodils were in full bloom round a monument less than five minutes' run in a car from the branch, at the spot where our photograph was taken, and we shall always think of it like that. We shall remember, too, the very pleasant lunch we had with  Mr. and Mrs. Williamson on the outskirts of Newcastle, and tea in their home, where we met their lively young son, who insisted on coming to the station afterwards to see us safely on the train.
<![if !vml]>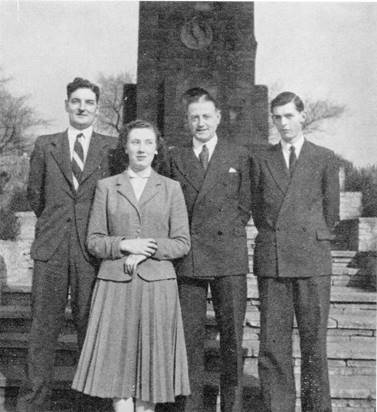 <![endif]>