<![if !vml]>

<![endif]>
<![if !vml]>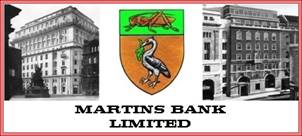 <![endif]>
<![if !vml]>

<![endif]>
Leading a double life…
<![if !vml]>

<![endif]>Tubs Hill sub branch has actually been open since 1931, but only becomes known as Tubs Hill in 1968. For the intervening thirty-seven years, this building is actually Martins Bank Sevenoaks Branch!  It was always the intention that the Bank would find larger premises, and also ones that were much closer to the town centre than St Botolph's Road. However, for one reason or another, the move to London Road does not take place until the merger with Barclays is almost complete.  Whilst Tubs Hill Sub Branch is not responsible for processing its own work on the premises, it is staffed and open for the full banking week including Saturday mornings. Additional branches have been opened in Kent ever since the creation of the Bank of Liverpool and Martins in 1918, and this is an important part of the country for Martins Bank. There are fifteen original "grasshopper" branches of Martin's Private Bank, and amongst them, many of the original Kentish branches are, by the 1930s, being subsumed into the ever growing sprawl of "Outer London". That the Bank continues to open Branches in Kent right up to the Merger, shows that new areas of local wealth often bring good personal and business connections with them.
<![if !vml]>

<![endif]>
<![if !vml]>

<![endif]>
All Branch Images © Barclays Ref 30/2589
Whether the original choice for the location of a Martins Bank Branch is good for the long term, might be measured by how long that Branch has continued to survive under Barclays' ownership.  When compared with the fate of some of the larger sub offices of the Bank, Tubs Hill actually fares quite well and remains open until the end of 1992.
<![if !vml]>

<![endif]>
Title:
Type:
Address:
Index Number and District:
Hours:
Telephone:
Services:
Manager:
11-69-70 Tubs Hill 
Sub to Sevenoaks
5 St Botolph's Road Tubs Hill Sevenoaks Kent
430 London
Mon to Fri 1000-1500
Saturday 0900-1130
None
Counter Service Only
Mr E Wilson Manager (Sevenoaks)
1931
1960
1968
15 December 1969
30 November 1992
Currently
Originally opened by Martins Bank as Sevenoaks Branch
Address changed to 5 St Botolph's Road
Branch becomes Tubs Hill Sub Branch
Barclays Bank Limited 20-76-56 Sevenoaks London Road
Closed
Chinese Herbal Medicine Shop