<![if !vml]>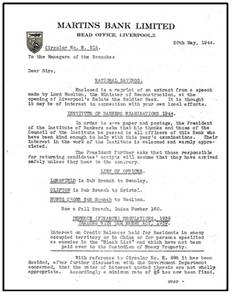 <![endif]>Business increases and by the time of the Second World War is sufficient enough to warrant the change to a full branch for the purposes of book-keeping.† What this really means is that the branch becomes a self accounting Sub Branch.† Reference to the changes is made in these short extracts from Head Office Circulars from that time, which are held in our Archive:
<![if !vml]>

<![endif]>
H O Circ No E.915 20 May 1944
ďHuntís Cross, Sub Branch to Woolton.† Now a full branch, Index No 160Ē.
<![if !vml]>

<![endif]>
H O Circ No E.918 8 June 1944
ďSTAFF Ė Huntís Cross Branch, Liverpool.† Mr H A Thomas has been appointed Clerk in Charge of this Branch, with authority to sign pro Manager as from 9TH ultimo.† As previously advised, this Office is now a full Branch for book-keeping purposes under the Management of Mr E G Evans, who is also Manager of Woolton BranchĒ.
<![if !vml]>

<![endif]>
Unfortunately we do not have any images of the original Huntís Cross Branch, which closes on 8 February 1958 and moves to 98 Hillfoot Avenue under its new title: Speke and Huntís Cross.
<![if !vml]>

<![endif]>