<![if !vml]>

<![endif]>
<![if !vml]>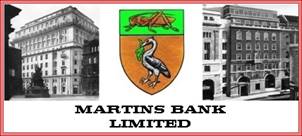 <![endif]>
<![if !vml]>

<![endif]>
<![if !vml]>

<![endif]>Martins Bank opens Newton Abbot Branch oens in 1955. The South West of England, and South Wales represent the largest and most important area of growth for Martins at this time; the sheer number of new branches in these areas will lead to the creation in 1960 of a South western District, complete with a District Office in Bristol.  Not too long after the Branch opens, Martins Bank Magazine visits Newton Abbot and meets the staff.  Not many branches receive TWO visits, but the Magazine is in Newton Abbot again in 1969, as the anme of Martins is about to disappear from the high street, and we have both articles below…
<![if !vml]>

<![endif]>
In Service: 1955 until 19 January 1973
<![if !vml]>

<![endif]>
<![if !vml]>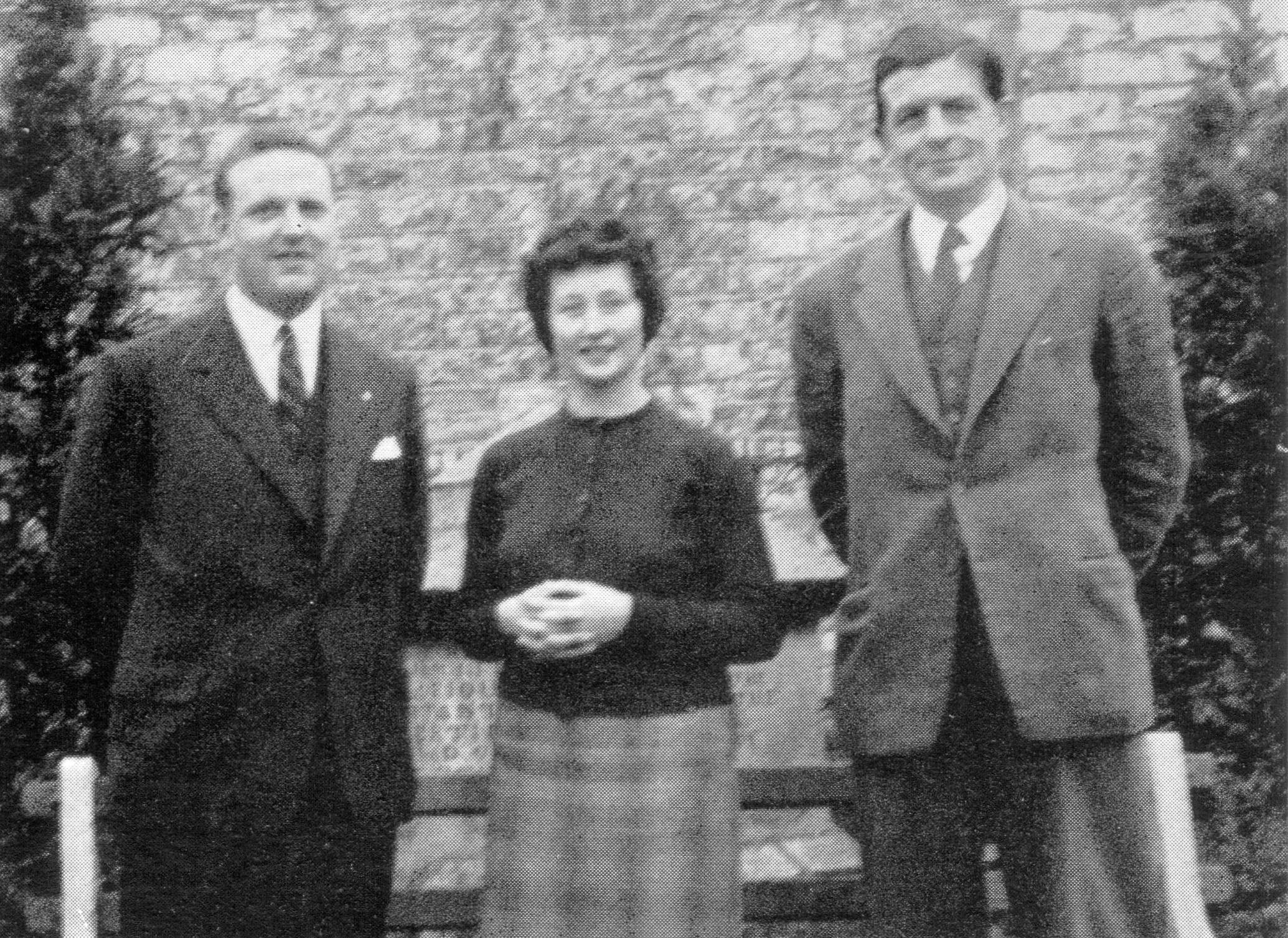 <![endif]>
Image © Barclays Ref 0033-0408
<![if !vml]>

<![endif]>
<![if !vml]>

<![endif]>
<![if !vml]>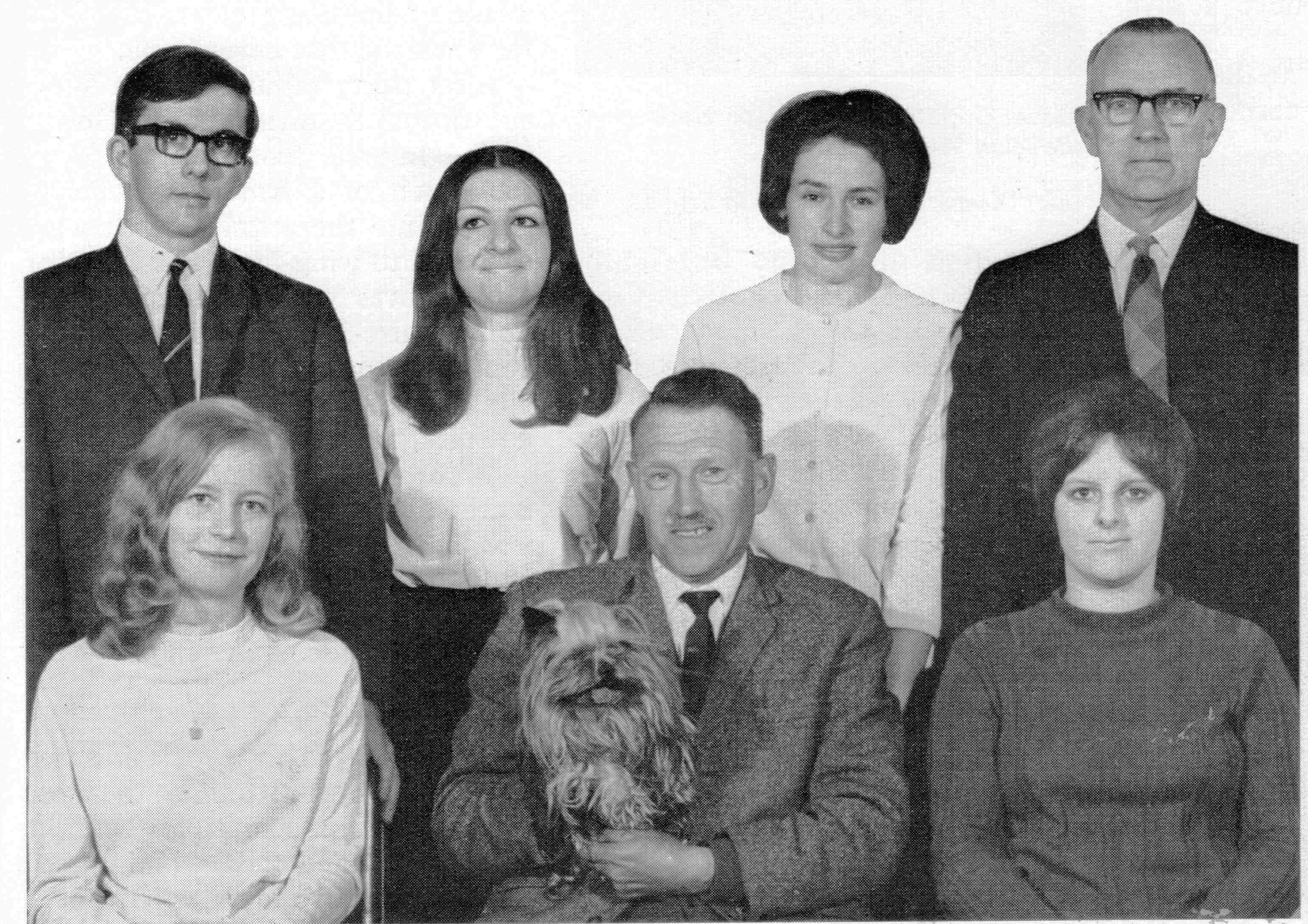 <![endif]><![if !vml]>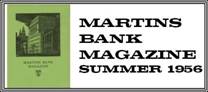 <![endif]>In Newton Abbot we have a fine-looking branch in honey-coloured stone on a corner site. It is double-fronted and is fitted out to take a staff of nearly twenty. The branch is situated in Courtenay Street, opposite the Wolborough Cross against which our staff were photographed. This cross marks the beginning of the Stuart dynasty and it was also here that the rector, John Reynell, read the first declaration of William the Third, Prince of Orange, Glorious Defender of the Protestant Religion and the Liberty of England. The Manager is Mr. D. E. Arkle, who has been at Torquay since 1947 and a signing officer there since 1948. Prior to that his service was given on Merseyside, apart from a spell in the Forces 1939-46. His second-in-command is Mr. C. E. Cross, another Liverpudlian who commenced his service in 1943 and has spent all his time at Liverpool District branches, apart from war service 1945-1948. Mr. Cross has closely identified himself with the work of the Institute of Bankers and has recently been elected Secretary of the Local Centre. The third member of the staff is Miss S. J. Daw, an attractive and intelligent young lady of considerable promise should she choose to make a career of banking. Before taking Mr. and Mrs. Arkle out to dinner we called at their home for tea and spent an hour or so with four uninhibited youngsters whose main pastime appeared to be trying to split the atom! Mrs. Arkle earned and appreciated her night out!
<![if !vml]>

<![endif]>
<![if !vml]>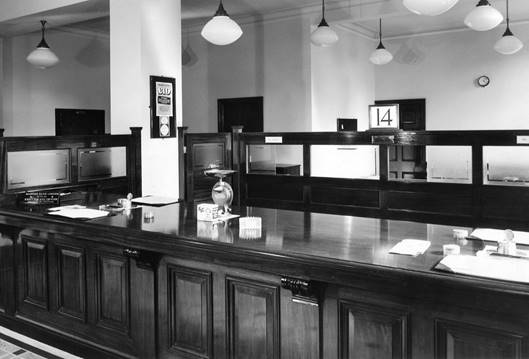 <![endif]><![if !vml]>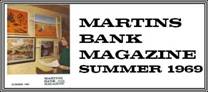 <![endif]>You might trip over him. He is Humphrey, a Yorkshire terrier and owner of a rubber mouse which, when lady customers call to see the manager has to be hidden in a drawer in case of mistaken identity. Sharing the manager's office with Humphrey is Mr Jack Owen. At home Mr Owen also has a wire-haired terrier and, apart from dog-walking and gardening activities, his spare time is taken up with golf. He has been secretary of the South Western District Golfing Society for many years and regularly attends all finals where he regales the company with his fund of stories. For many years at Bath, where he progressed to Assistant Manager, he was appointed Manager at Newton Abbot in 1965. He is pleased and proud to have been chosen as the next captain of the Golf Club at Teignmouth, where he now lives, after so short a membership.
Mr Eric Thornhill, the second-in-command, is owned by a very superior animal, a pedigree Siamese cat who sometimes answers to the name of Yim Kin. He has recently moved, with the Thornhill family, to a 400-year-old cottage at Broadhempston where there are lots of exciting nooks and crannies suitable for imaginary mouse-hunts. Mr Thornhill's son, now at art school and hoping to become an architect, is helping his father 'pull the place to pieces'. They have un­covered the original oak beams, found a fireplace be­hind a cupboard and unearthed an old well in a passage leading to the kitchen.  A family interest in folk-singing has led to Mr Thornhill's duties as treasurer of the Torbay Folk Song Club—he says he doesn't sing himself—and he is a council member of the Staff Association. Originally from the North East, he came to Devon during the war and was at Paignton branch before coming to Newton Abbot.
<![if !vml]>

<![endif]>Also a migrant from Paignton, Ruth Krechler is a valuable Jill-of-all-trades who can turn her hand to any job in the office. Primarily she does the typing and is now well acquainted with the Barclays forms, introduced when the branch came under Exeter Local Head Office control on March 10. Ruth is a North Devon girl who moved from Barnstaple when she got married. She thinks the beaches there are superior to those of the Torquay area but admits that there are plenty of good places to exercise her husband's Alsatian dog, for whose benefit she rushes home every lunch-time. Holidays are often spent in North Devon but one day a visit to Austria, the home of her husband's ancestors, is planned. No room for Alsatians in Richard Crighton's flat in Torquay: besides, he is a motor-rally enthusiast, owner of a Hillman Imp, and a dedicated motorist. Well, imagine driving from Scotland to Devon in one day, which is what he did last year. His wife doesn't drive, but he supposes he will have to teach her. So we warned him we'd heard of more divorces . . .  But they haven't had their first anniversary yet so perhaps it will be all right. Richard, who runs the No 1 till, came into banking in 1967 from the Meteorological Office and has taken to cashiering like a duck to rain. He keeps his hand in at meteorology with equipment set up at home and interprets the charts in the daily paper for the rest of the staff. We caught Andrea Cawley machining statements before her departure for a week's relief at Paignton.  She enjoys her varied duties at Newton Abbot and was hoping she wouldn't be doing the same job all week. A local girl, Andrea has been at the branch since 1965 and welcomes the opportunity to meet customers when taking a till. Quite a number of foreigners find their way to the town during the summer, she told us, but for herself she prefers the bright lights of Torquay. Sue Pipe is another dog-walker: since her own dog died Mr Owen lets her take Humphrey for a short stroll on occasions, but for a good leg-stretch across the moors she accompanies her fiance and his large shaggy hound, which she described as being closely related to an old English sheepdog. Being only five miles from the beach yet within easy reach of wonderful walking country makes Newton Abbot an attractive place to live, she thinks. She is studying shorthand and typing at evening classes so she will be able to fill in at any of the jobs in the office, though counter-work is likely to remain favourite. Going over to chat to Ann Wallis we interrupted her in the throes of balancing the local clearing.
<![if !vml]>

<![endif]>
<![if !vml]>

<![endif]>
<![if !vml]>

<![endif]>
There are branches of all the big banks in Newton Abbot, Barclays being the second largest, and Ann finds her future colleagues there very friendly. She lives at Kingsteignton, about a mile along the Exeter road, past the famous racecourse. In addition to her stint to work and back Ann's evening entertain­ment often means a return to Newton Abbot to join the activities at the youth centre there. Another contented member of the staff to whom the variety of the work appeals, she has been in the Bank since last July.  And what of Newton Abbot itself? The busy centre of a large agricultural area, predominantly it is a thriving market town: cattle, sheep, pigs and poultry on Wednesdays, farm produce twice a week. Newton was a new town some 750 years ago, a small settlement called Nova Villa which came into the possession of Torre Abbey and so became Newton Abbot. William of Orange passed through it in 1688 on his way to Exeter to be acclaimed champion of the Protestant faith before his accession to the throne. His first proclamation was read by the rector of Wolborough from the stump of the old market cross in front of Wolborough Tower, shown in our drawing. Mentioned in a high court action of 1350 as having been there 'from time immemorial', the tower has been the natural place for celebrations of national and local events of importance and has become Newton's trade mark. Our branch is right opposite.  Situated at the head of the Teign estuary which flows into the English Channel, Newton Abbot is an ideal centre for visiting all the famous south Devon beauty spots such as Torquay, Paignton, Brixham, Plymouth, Dartmoor and Exeter. Several beautiful parks abounded with spring flowers and cherry trees in blossom when we saw them, but we didn't try the heated open-air swimming pool, nor did we putt, play tennis, golf or bowls. If you are interested in history, you can inspect two old manor houses or an ancient church; or you can go fishing. But if you go into Martins to cash a cheque and meet a small bundle of brown hair, treat it with respect. It's probably Humphrey, part-owner of the manager's office.
<![if !vml]>

<![endif]>