<![if !vml]>

<![endif]>
<![if !vml]>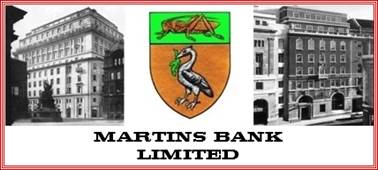 <![endif]>
<![if !vml]>

<![endif]>
<![if !vml]>

<![endif]>Oh! The glamorous world of the sub branch bank clerk!  Some of Martins Bank's staff work in the big city, and meet footballers and royalty, but some end up here, next door to Northern Dairies in Simpasturegate, Newton Aycliffe.  For twenty-one years you could sort out your dairy related problems AND sort out your financial issues in virtually the same place. How British… Opened in 1947, this wonderful piece of nostalgia has the honour of only ever being a branch of Martins, as it closes in 1968, some time before the merger of branches with Barclays.   This sub-Branch may look slightly odd, with its do it yourself signage and no window, but what's this - surely Northern Dairies can't have filled their entire window space with milk, can they?
<![if !vml]>

<![endif]>
<![if !vml]>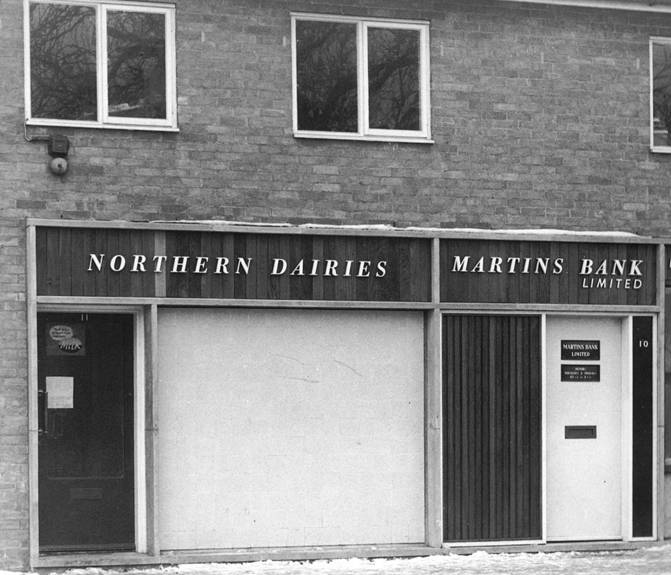 <![endif]>
Image © Barclays Ref 0033/0410
<![if !vml]>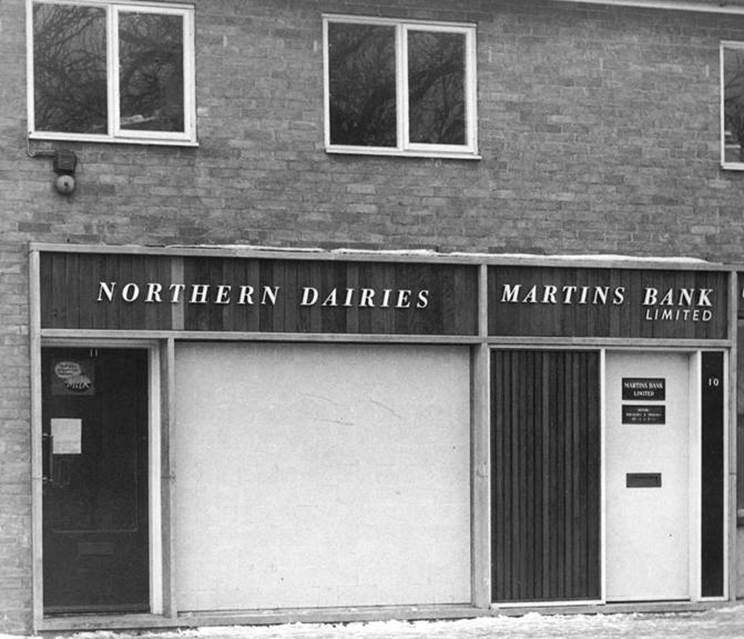 <![endif]>
If you worked at Newton Aycliffe, either for the Bank, as an employee of Northern Dairies, or if you were a customer of the Bank, we'd love to hear from you.  Please do get in touch with us at the usual address: gutinfo@btinternet.com.
Title:
Type:
Address:
Index Number and District:
Hours:
Telephone:
Services:
Manager:
11-26-30 Newton Aycliffe                                             
Sub to 11-26-30 Darlington
10 Simpasturegate Newton Aycliffe County Durham
320 North Eastern
Mon Tue Thu and Fri 1000-1400
Saturday 0930-1100
Aycliffe 3604
No Nightsafe Installed
Mr R Russell Manager (Newton Aycliffe)