<![if !vml]>

<![endif]>
<![if !vml]>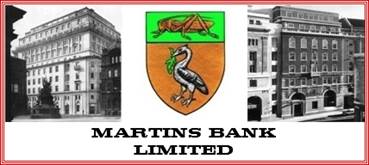 <![endif]>
<![if !vml]>

<![endif]>
<![if !vml]>

<![endif]>Prepare to read on through a swathe of statistics… Of the many and varied workplace and other "themed" Branches offered by Martins Bank - amongst them are a number of exclusive company sites such as I C I's Wilton Works, Aylesford Paper Mills, and TWO royal Air Force Bases.
<![if !vml]>

<![endif]>
Add to this an abattoir, a hospital, NINE universities and many, many cattle markets. The latter are housed in a variety of buildings, from tin or wooden shacks and garden sheds to plush well appointed or purpose-built premises, in modern surroundings.
<![if !vml]>

<![endif]>
In Service: 1963 until 1969
<![if !vml]>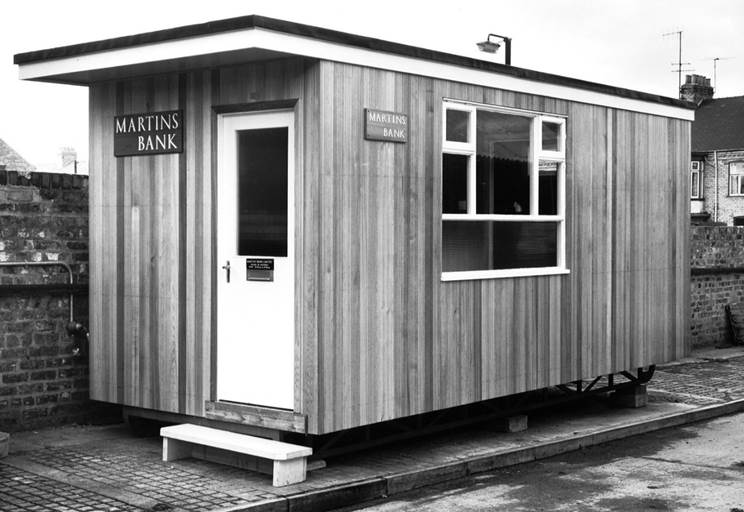 <![endif]>
Branch Images © Barclays Ref 0030/0793
In the North of England, cattle markets are known usually but not exclusively as Auction Marts.  Some have been open for decades, passed down to Martins through amalgamation with other banks.  In the 1960s, however, there is a real push to increase the number of these branches with an almost breathtaking SIXTEEN being opened in the eleven years between 1957 and 1968.  These are located at Amble, Banbury, Darlington, Exeter, Gloucester, Kendal, Lancaster, Leek, Northampton, Norwich, Otley-Wharfedale, Salisbury, Shrewsbury, Taunton, Tyneside and Ulverston. Of these, NINE, including Darlington are closed between 1967 and 1969, as the effects of the merger with Barclays begin to be felt. Duplication of branches does not always mean that a Martins branch will be closed in favour of a Barclays one, and by the end of 1969, twenty-two Barclays sites are closed in favour of a nearby Martins office being better situated for business. 
<![if !vml]>

<![endif]>
Darlington Cattle Market sub-branch was opened in the same year that a certain "Time Lord" first appeared on our TV screens – come to think of it, the splendidly quirky Branch 'building' looks distinctly larger on the INSIDE!  It comes complete both with a counter area and, miraculously, a private interview space. It is amazing the extremes that Martins Bank goes to in order to be helpful, but here, you can't help but wonder where the queue starts and ends… Your memories of working here, or using this branch as a customer would be most welcome at the usual address: gutinfo@btinternet.com .
<![if !vml]>

<![endif]>
Title:
Type:
Address:
Index Number and District:
Hours:
Telephone:
Services:
Manager:
11-26-30 Darlington Auction Mart
Sub to 11-26-30 Darlington
Cattle Market Bank Top Darlington County Durham
320 North Eastern
Monday 1030-1600
Thursday 1030-1430
Darlington 66836
No Nightsafe Installed
Mr R Russell Manager (Darlington)