For those of us looking back from the twenty-first Century, it is a stroke of luck that although the branch did not survive for long after the merger, Barclays chose not to change the signage on the building, and we get to see Martins Bank as its customers did, and in colour!  A further stroke of luck is the inclusion of the National Provincial Bank in the photograph. It too was about to undergo changes – in 1970 the merger of the NATIONAL Provincial, the WESTMINSTER, and the District BANK, gave us the National Westminster Bank, known ever since as NatWest.
<![if !vml]>

<![endif]>
Whilst there are no recorded visits from Martins Bank Magazine to Darlington, we do have a large number of images to choose from, particularly of the branch interior, and this striking angled view of the exterior from the Barclays collection. Darlington has sub branches at Cockerton, Darlington Auction Mart and at Newton Aycliffe.  Sadly all three are closed in 1969 and do not form part of Barclays' acquisition. The main branch in the High Row does survive a little longer, but is gone before the Summer of 1971. Now to the story of the retirement of Darlington Branch's Head Typist.  In 2012 the last British made typewriter rolls off the production line, and is immediately snapped up for display by the Science Museum!  Perhaps it's the end of an error (or two), but in 1969 it is also the end of an era – 23 years of typing and not one mention of repetitive strain injury!
<![if !vml]>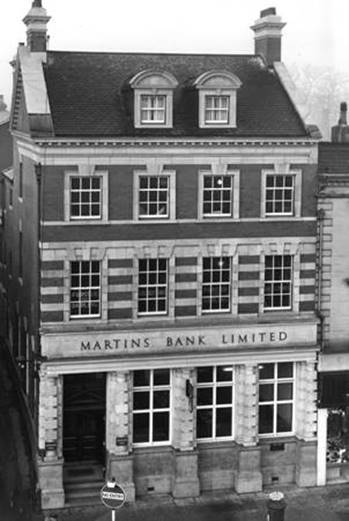 <![endif]>
<![if !vml]>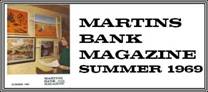 <![endif]>23 years of sore fingers…
<![if !vml]>

<![endif]>on 28 march,  Miss Linda Woodhouse welcomed thirty-three colleagues at the Kings Head Hotel, Darlington, where they were entertained to drinks and a buffet tea. Among the apologies received from those unable to attend were those of Mr J. E. Dunn, a former manager at Darlington, now approaching ninety. Mr R. Russell (Manager, Darlington) spoke of the years Miss Woodhouse had served at the branch which, with her four years with the W.A.A.F., totalled 32. Miss Woodhouse had been senior typist at Darlington since 1946.
<![if !vml]>

<![endif]>
Image © Barclays Ref 0033/0177
Receiving a nest of mahogany tables and a cheque, Miss Woodhouse said how delighted she was to see so many friends, particularly her pre-war colleagues who brought back many vivid memories of her early days in the Bank. Mr A. B. Stevens had previously called at the branch to say farewell on behalf of the District Management.
<![if !vml]>

<![endif]>
We think that the last thing Miss Woodhouse will put on any of her nest of tables is a typewriter! In her time at Darlington Linda serves FOUR different Managers, and at the celebrations for the retirements of Mr Elton and Mr Young (see below), she is charged with handing a bouquet of flowers to each of their wives…
<![if !vml]>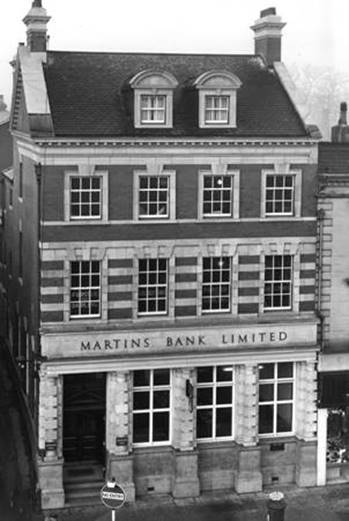 <![endif]>
<![if !vml]>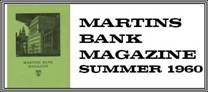 <![endif]><![if !vml]>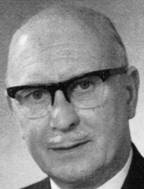 <![endif]>At the end of February, Mr. S. A. Elton retired after 44 years' service which com­menced at Darlington where he served until 1932. After service in the Newcastle area, he was transferred to Barnard Castle in 1936, and was appointed Manager there in 1945. In 1951 he returned to Darlington where he has been Manager ever since. To mark the occasion of his retirement Mr. Elton invited a number of his friends and colleagues from other branches to join with the Darlington staff for a farewell party given at the County Hotel, Darlington, on Feb­ruary 29th. During the proceedings Mr. F. J. Gill, Pro Manager, presented Mr. Elton with a gold automatic wristlet watch on behalf of the subscribers, and a bouquet of spring flowers was presented to Mrs. Elton by Miss L. Woodhouse. In making the presentation, Mr. Gill referred to Mr. Elton's successful career and to the respect in which he was held by members of his staff and by customers. Mr. W. S. Blaylock, Inspector, North Eastern District Office, spoke appreciatively of Mr. Elton's loyal service to the Bank, and ex­pressed the good wishes of himself and the North Eastern District General Management for a long and happy retirement. Mr. Walton had already called at the branch during the morning to see Mr. Elton and to wish him well in the years ahead. In response Mr. Elton expressed his thanks for the present he had received and thanked his colleagues for the friendship and assistance they had shown him throughout the years.
<![if !vml]>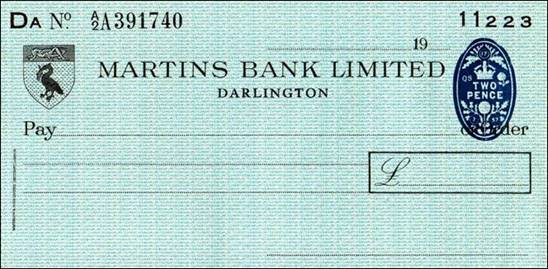 <![endif]>
<![if !vml]>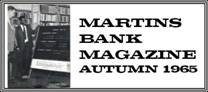 <![endif]><![if !vml]>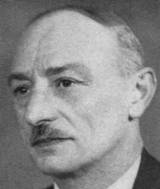 <![endif]>mr young marked his retirement as Manager of Darlington branch at the end of July with an informal buffet supper at the King's Head, Darlington. Many past and present colleagues and representatives of District Office attended and during the evening Mr M. Walker (Pro Manager) presented Mr Young with their gifts of an armchair and a cheque. Miss Linda Woodhouse handed a bouquet to Mrs Young. Prior to his retirement Mr Young had lunched at Head Office and at Grey Street, and his District General Manager called at the branch on July 30 to wish him well.  After entering the Bank at King Street in 1921 Mr Young served on the North Eastern D.G.M. staff from 1929 to 1949, apart from six years' war service, He then joined the visiting inspectors and in 1950 was appointed Assistant Manager at Sunderland. Two years later he was promoted to the managership of York Road branch and appointed Manager at Darling­ton in 1960.
<![if !vml]>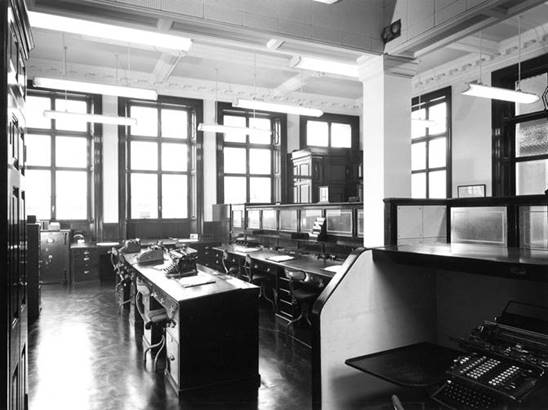 <![endif]>
Before the shock of the new…

Our images of Darlington from Barclays' collection are from 1957, and show for a change a Branch that is well kept in the older style, rather than crying out for the kind of shocking sixties modernisation we have seen at other Branches, YORK ROAD HARTLEPOOL for example.

<![if !vml]><![endif]><![if !vml]><![endif]>

Image © Martins Bank Archive Collections: Stephen Walker

<![if !vml]><![endif]>

Interior images © Barclays Ref 0033/0177

<![if !vml]><![endif]>

<![if !vml]><![endif]>

<![if !vml]><![endif]>

All branch images © Barclays Ref 0033/0177

<![if !vml]><![endif]>

<![if !vml]><![endif]>

All branch images © Barclays Ref 0033/0177

<![if !vml]><![endif]>

<![if !vml]><![endif]>

All branch images © Barclays Ref 0033/0177

<![if !vml]><![endif]>

<![if !vml]><![endif]>
<![if !vml]>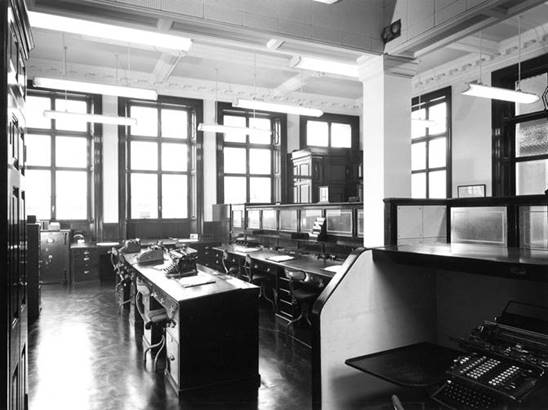 <![endif]><![if !vml]>

<![endif]>