<![if !vml]>

<![endif]>
<![if !vml]>

<![endif]>
<![if !vml]>

<![endif]>
In 1892, when the Lancashire and Yorkshire Bank opens its latest branch in Great Ancoats  street, the great Manchester artist L S Lowry is only five years old.  Amongst his prolific body of future works, will be an iconic painting of Great Ancoats Street itself.  Martins Bank's Branch there is a full standalone office which opens six days a week right up to the merger with Barclays in 1969. Great Ancoats Street remains open for another fourteen years, before the doors are closed for the final time by Barclays in the Autumn of 1983.
In Service: 1892 until 14 October 1983
<![if !vml]>

<![endif]>
<![if !vml]>

<![endif]>
Extract from L&Y Bank Branch Listings © M B Archive Collections – W N Townson Bequest
<![if !vml]>

<![endif]>
<![if !vml]>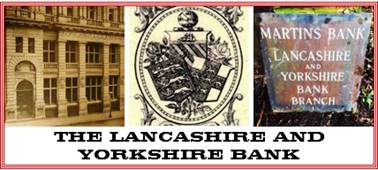 <![endif]>
Extract from Martins Bank Limited Annual Report and Accounts 1939 © Barclays
We are still looking for images of this Branch, and if you can help with memories or images of Great Ancoats Street, or indeed any of the 1000 or so buildings used as branches of Martins Bank between 1928 and 1969, please do get in touch with us by email at the usual address – gutinfo@btinternet.com. 
<![if !vml]>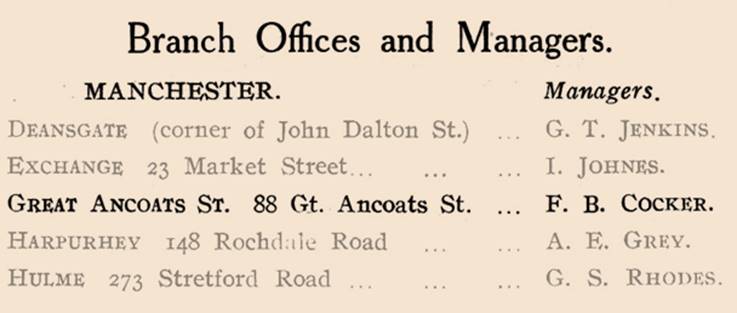 <![endif]>
Our Great Ancoats Street feature concerns Mr Phillips who in 1955 retires after twenty years as Manager.  Like so many staff at this time his career has been very long by today's standards – forty-five years…
<![if !vml]>

<![endif]><![if !vml]>

<![endif]>
<![if !vml]>

<![endif]><![if !vml]>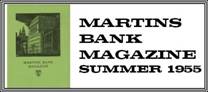 <![endif]>At the end of December, Mr. W. H. Phillips retired after 44 years' service which commenced in 1910 with the Lancashire and Yorkshire Bank at Exchange branch, Man­chester. In 1916 he joined the Lancashire Fusiliers, returning from military service to Manchester Office, and serving subsequently on the District Office Relief Staff and on Inspection. He was appointed to the managership of Great Ancoats Street branch in 1935. At a gathering of colleagues, past and present, at the close of business on December 31st he was presented with a cheque with which, we understand, he intends to buy a barometer. Mr. Headey expressed the good wishes of all his colleagues for happiness and good health in his retirement, and in his reply Mr. Phillips thanked the members of his staff, past and present, for the willing assistance they had always given him. Mr. Phillips intends to devote his time to voluntary work and to his favourite hobbies which include travel, art, archaeology, reading and gardening.
<![if !vml]>

<![endif]>
Title:
Type:
Address:
Index Number and District:
Hours:
Telephone:
Services:
Manager:
11-11-40 Manchester Great Ancoats Street
Full Branch
88 Great Ancoats Street Manchester 4
735 Manchester
Mon to Fri 1000-1500
Saturday 0900-1130
061 236 0637
Nightsafe Installed
Mr H Prime Manager
Manchester Foreign
1892
3 January 1928
15 December 1969
14 October 1983
Opened by Lancashire and Yorkshire Bank
Martins Bank Limited
Barclays Bank Limited 20-54-79 Manchester Great Ancoats St
Closed
Manchester Harpurhey 176
Rochdale Road