<![if !vml]>

<![endif]>
<![if !vml]>

<![endif]>
<![if !vml]>

<![endif]>
<![if !vml]>

<![endif]>Our image shows the drab and rather uninspiring interior of Martins Bank's Gloucester Branch at 9a Southgate Street, which has served the Bank well between 1956 and 1968.  Using part of an existing hotel building (perhaps a rush job in order to gain foothold in the City), this, the Bank's first branch in Gloucester, is distinctly lacklustre, and a report from the Bank's inspectors recommends a rebuild or at least a relocation.  Fortunately premises are available over the road at numbers 8 to 10. 
In Service: 1956 to 1968
<![if !vml]>

<![endif]>
<![if !vml]>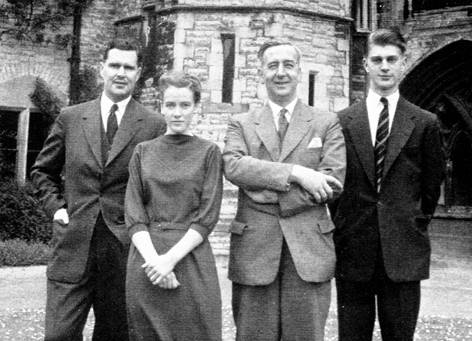 <![endif]>
Image: Barclays Ref 0030/1064
<![if !vml]>

<![endif]>
If we wind the clock back to 1957, when 9a Southgate Street is still new, Martins Bank Magazine pays it a visit and, as usual in its coverage of a new branch, heaps encouraging praise upon it…
<![if !vml]>

<![endif]>
<![if !vml]>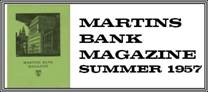 <![endif]>Gloucester Cathedral, the Tailor of Gloucester, the Duke of Gloucester, the Gloster Javelin — it is quite surprising within what small compass one's knowledge of a place prior to visiting it for the first time can be enfolded. The City of Gloucester itself decided to impress us with a modern note and as we stepped from the London train a delta-winged aircraft, product of the nearby air­craft factory, thundered over the town. The railway approach, however, had already con­vinced us that this was no sleepy county town and the railway carriage building and repair works and the numerous tracks of the Western Region and the N.W. Region running side by side showed beyond all doubt that we were approaching a place of some importance. Mr. J. Harbit, who opened our new branch a few months ago, was at the station to greet us and first of all we went out to his home to call for Mrs. Harbit who was waiting to join us for lunch. She had to wait a bit for her lunch, however, for we so far forgot ourselves as to ask to be allowed to inspect her house and garden in some detail, so interesting did we find it. There's nothing of the stick-in-the-mud about the Harbits and if you want to see contemporary domestic décor this is the place to see its possibilities. One room has four different coloured wallpapers – others have two.  Two small rooms have been knocked into one big room downstairs and everywhere one receives the impression of space. The garden is of a size which only two real garden lovers would tackle and in a couple of years, when it is once more restored to good heart, it could be a showpiece.
<![if !vml]>
<![endif]>Unfortunately, since going to Gloucester Mrs. Harbit has suff­ered a very serious illness and is, in fact, quite lucky to be recover­ing from it, so that for some time to come she will have to take life easily. We were very pleased indeed that she was well enough to join us for lunch and to accompany us round the town afterwards. They are both North-Easterners and Mr. Harbit entered the Bank in 1934 at Wingrove, subsequently serving at Forest Hall, Chopwell, Annfield Plain, Gallowgate and Prudhoe before service with H.M. Forces, 1940 to 1945. At the beginning of 1946 he returned and was posted to Hexham, and later that year to Newcastle City Office. His first appointment, as Clerk-in-Charge at Norton Road, Middlesbrough, came in 1949 and in 1952 he was attached to the District General Manager's Staff for special training. Later that year he became Assistant Manager at Hanley, a post he held until the opening of our new branch in Gloucester.
We thought the new London branches were attractive, but Gloucester has beaten them to it in at least one respect. So far as we know it is the only branch in the service with a private entrance from the rear of the office into the bar of a nearby hotel, in this case the Bell Hotel next door! The branch has been made out of a portion of this hotel and H seems an altogether excellent idea so to have sited it. The branch is lit by concealed lighting which shines through the sunshine coloured glass of the ceiling, giving the same sunny effect as in the Sunshine Room at Head Office. The counter, counter screen and furniture of ash and light walnut combine with the lighting to give a cosy, friendly and cheerful impression to all who enter. Accommodation is spacious and there is plenty of room for expansion. Second-in-command is Mr. D. J. B. Corbett whose career has been a bit out of the ordinary. He started his business career in Lloyds Bank, returning to them after service in the Forces during the Second World War. He then married a Norwegian girl and applied for and obtained a post with the National Bank of India in East Africa. He became Accountant at their Mombasa branch and during the Mau Mau troubles was slightly wounded while serving with anti-terrorist forces. Because of the strain on his wife's health they returned to England and he joined our bank in 1955, serving on Midland District Office Relief Staff and then at Markets branch, Birmingham, before his present transfer. We were very happy to meet Mr. C. J. T. Dash, whose father, Manager of our Cheltenham branch, is a very old friend.
He entered the Bank last year and served at Hoylake and Liverpool Overseas, then at Cheltenham, going to Gloucester in December. The morale of the staff is kept up by Miss M. S. Hughes, a native of Cardiff who has settled very happily into the Gloucester scene. It was not to be expected that we would visit Gloucester without seeing the cathedral, the early Norman gem which contains the tomb of Edward II. Its east window, one of the chief glories of the building, commemorates the death of local barons and knights at the Battle of Crecy and at the Siege of Calais. It is the largest window in England. The earliest parts of the building date back to 1089. Gloucester has a new cattle market and also an old one. The old one, tree-lined between the pens, is the most attractive of the many we have seen. They are usually bare expanses of concrete, wood and iron. Our visit was a short one but was pleasant in the extreme and it was most heartening to learn of the excellent progress which the new branch is making.
<![if !vml]>

<![endif]>