<![if !vml]>

<![endif]>
<![if !vml]>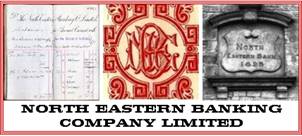 <![endif]>
<![if !vml]>

<![endif]>
December 1872 and the North Eastern Banking Company opens this particularly impressive branch in Lombard Street, Newcastle upon Tyne, that will be known as Quayside Branch.  By surviving under Barclays until 1979 there are, at least, more than one hundred years of banking service here, but from a purely economic view, Newcastle is quite overrun with former Martins Branches, and some of them have to go.  However, when we consider today's clinical and soulless bank branches - nothing more than shop fronts and cheap fittings - the loss of fine premises such as these does seem sad.  Bank buildings were traditionally intended to convey strength, secuirty and permanence. The irony today is that whilst a number of newer banking institutions have managed to make their homes in some of Martins' former branches,  many more of these building are now inhabited by businesses such as top-end fashion retailers and mobile phone companies.  They actually seek out this kind of property in order to make a bold statement about their own "strength" and "permanence"! 
<![if !vml]>

<![endif]>
<![if !vml]>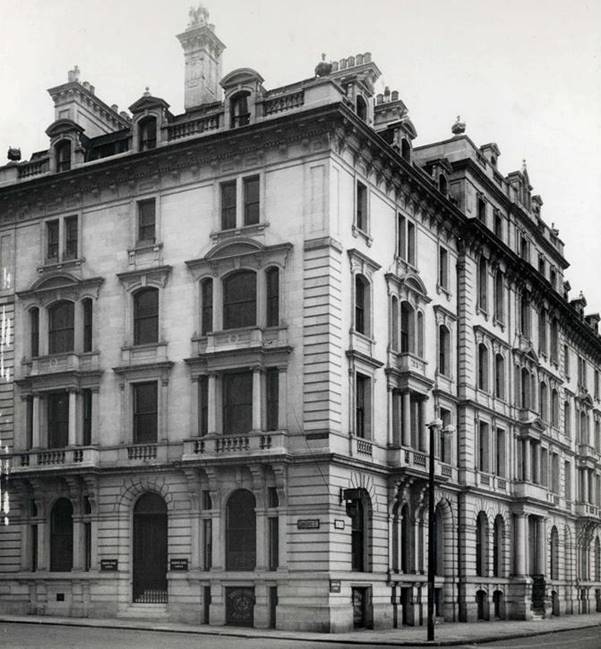 <![endif]>
Image © Barclays Ref 0030/2014
<![if !vml]>

<![endif]>
Our feature is from 1958, and the retirement of Quayside Pro Manager, Mr D T Hall…
<![if !vml]>

<![endif]>
<![if !vml]>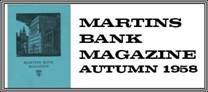 <![endif]><![if !vml]>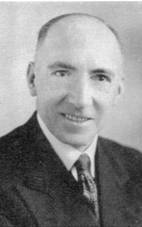 <![endif]>On the last day of July a gathering took place at Quayside branch to bid farewell to Mr. D. T. Hall on the occasion of his retire­ment after 44 years' service. Among those present were the managers of Gallowgate and Northumberland Street branches, at both of which Mr. Hall had served as Pro Manager. The managers of Tyne Dock and Wallsend branches were also present. Earlier in the day Mr. L. L Walton, the District General Manager, had called at the branch to extend his good wishes and thanks to Mr. Hall for his loyal and outstandingly efficient service to the Bank.  After tea, served to the gathering of some thirty past and present colleagues by Mrs. Hall, their daughter Joan, her friend, and several lady members of the staff, Mr. J. Johnson, Manager at Quayside, presented Mr. Hall with a cheque on behalf of the subscribers, and a scroll bearing their names. To mark his pending change of status he was also presented with an apron and a set of tea towels, all suitably inscribed, a gesture which caused much hilarity. After Mr. Hall had replied, a bouquet was presented to Mrs. Hall by Miss Anne Todd and those present then adjourned to the temporary bar which had been set up at the statement counter.  Mr. Hall is thinking of using his cheque towards the purchase of a greenhouse in furtherance of his horticultural interests, which he combines with his love of bowls. He entered the Bank at Alnwick in 1914, and after serving with H.M. Forces from 1916-19, resumed his career at Gallowgate where he stayed until 1928. Then followed periods at Jesmond, Newcastle City Office, Coatsworth Road and during the last war on the District General Manager's Relief and Inspection staffs. He was appointed Pro Manager (Accountant) at Gallowgate in 1945, Pro Manager at Northumberland Street in 1951 and Pro Manager at Quayside in 1954.
<![if !vml]>

<![endif]>
Title:
Type:
Address:
Index Number and District:
Hours:
Telephone:
Services:
Manager:
11-99-60 Newcastle Upon Tyne Quayside
Full Branch
15 Lombard Street Quayside Newcastle upon Tyne NE1 3BL
351 North Eastern
Mon to Fri 1000-1500
Saturday 0900-1130
Newcastle 28705/6
Nightsafe Installed
Mr J R W Burnett Manager
2 December 1872
7 August 1914
18 December 1918
3 January 1928
15 December 1969
26 October 1979
Currently
opened by North Eastern Banking Company
Bank of Liverpool
Bank of Liverpool and Martins Bank Limited
Martins Bank Limited
Barclays Bank Limited 20-59-88 Newcastle Quayside
Closed
Costa Coffee®