<![if !vml]>

<![endif]>
<![if !vml]>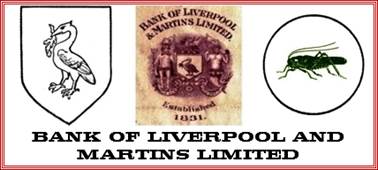 <![endif]>
<![if !vml]>

<![endif]><![if !vml]>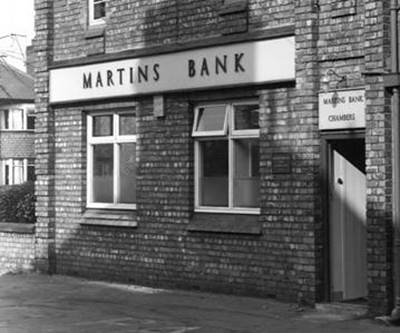 <![endif]>
Hoole, which is opened by the Bank of Liverpool and Martins in 1927,  is a sub branch to, but finds itself not at all in the shadow of, Martins Bank's magificent Branch at Chester. 
In Service: 3 January 1927 until 12 January 1973
<![if !vml]>

<![endif]>
<![if !vml]>

<![endif]>
Branch Images © Barclays Ref: 0033-0275
<![if !vml]>

<![endif]>
<![if !vml]>

<![endif]>No, in fact 31 Hoole Road has its own charms, brick built, an arched window, and a small front garden.  These touches are often lacking in the planning an execution of modern day bank premises – as we stay away in droves, being told that we prefer to use internet banking, older premises are being closed and sold, and one member of staff now serves from out of a shoebox, that which once anything up to 100 people crafted out lovingly by hand with the aid only of an adding machine and a typewriter.  The Martins building at Hoole Road has its own separate suite of offices – entitled "Martins Bank Chambers" – which typically will be rented out to say, a firm of solicitors or accountants – it helps pay the rates, anyway… Sadly Hoole Branch does not last for too long after the merger of Martins Bank with Barclays, and the doors are closed forever on Friday 12 January 1973, just over forty six years since it was opened by the Bank of Liverpool and Martins. This simple advertisement, heralding the arrival of the Branch, has been restored by Martins Bank Archive and was taken out in local newspapers on 5 January 1927.
<![if !vml]>

<![endif]>
<![if !vml]><![endif]>

We are indebted once more to Robert Montgomery, for the contemporary photograph of 31 Hoole Road, which he took in 2009. With Martins long gone, you can just make out Barclays' own branch a little further down the road, which was still open at that time…

<![if !vml]><![endif]>

<![if !vml]><![endif]>

Image © Barclays Ref 0030-0275

<![if !vml]><![endif]>

<![if !vml]><![endif]>Image © Martins Bank Archive Collections – Robert Montgomery

<![if !supportMisalignedColumns]>
<![endif]>
<![if !vml]>

<![endif]>
Title:
Type:
Address:
Index Number and District:
Hours:
Telephone:
Services:
Manager:
11-77-40 Chester Hoole
Self Accounting Sub to 11-71-20 Chester
31 Hoole Road Hoole Chester Cheshire
67 Liverpool
Mon to Fri 1000-1500
Saturday 0900-1130
Chester 25479
Nightsafe Installed
Mr P L Tiplady pro Manager