The West Riding Union Bank is taken over by the Lancashire and Yorkshire <![if !vml]>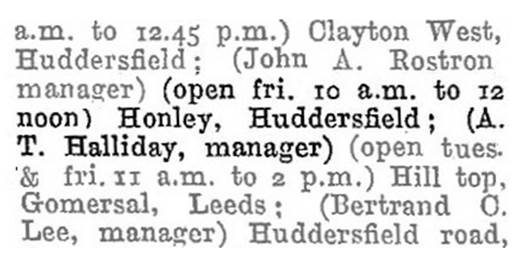 <![endif]>bank in 1902, and another clutch of main and sub branches find their way into what will become Martins' portfolio of branches.  The Head Office of the West Riding Bank is at Huddersfield, and the bank operates a further nine main and five sub branches.  Barely three miles from Holmfirth is the village of Honley (listed here in Kelly's 1927 Directory of Yorkshire), where a sub-Branch is operated under Huddersfield Branch.  Honley survives until being mothballed by Martins in 1941 because of the Second World War. The Bank's minutes from February 1945 note that the Branch would not re-open:
<![if !vml]>

<![endif]>
80/588. 07.02.1945 "Honley branch (sub to Huddersfield) closed at end of 1941 as a wartime measure, it was agreed that it should not be re-opened"
<![if !vml]>

<![endif]>
Sadly we have no images of the branch, or any of the staff who manned it, so If you can help with images and/or information about this or any of the 1000+ buildings used as temporary or permanent Branches of Martins Bank, then please do get in touch with us at the usual address gutinfo@btinternet.com.  
<![if !vml]>

<![endif]>