<![if !vml]>

<![endif]>
<![if !vml]>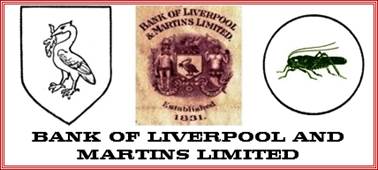 <![endif]>
<![if !vml]>

<![endif]>
Martins Bank's time in Southampton begins in February 1925 under the banner of the Bank of Liverpool and Martins, who open a Branch at 139 Above Bar – an unusual sounding address, it refers to an area of the town centre.  In 1930, Martins Bank Limited adds a sub branch at SOUTHAMPTON DOCKS, but this is relatively short-lived, and in 1935 BOTH branches are closed and the business moves to an imposing building at 171 HIGH STREET.  It is also time for a "new broom" and Manager Mr Ellis leaves Southampton after ten years to take charge of Blundellsands (Liverpool), and Mr John Tennant, who up to 1935 has been Manager at Longtown (Cumberland), makes the very long journey to Southampton.  We are pleased to have in our archive a Southampton Branch Cheque from June 1930, as these will have only been issued with both 139 Above Bar and the unusual design on the left.
<![if !vml]>

<![endif]>
<![if !vml]>

<![endif]>
Image © Martins Bank Archive Collection
<![if !vml]>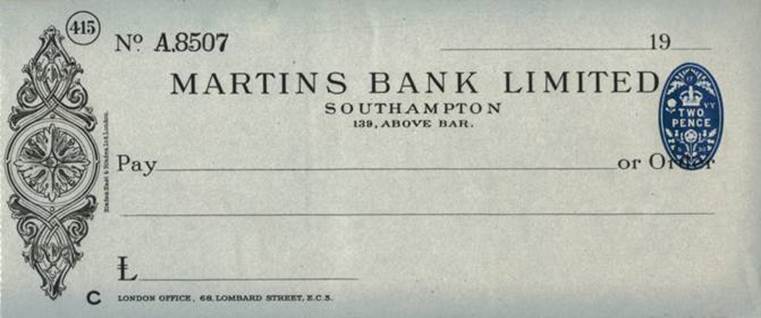 <![endif]><![if !vml]>

<![endif]>
Extracts from Bank of Liverpool and Martins Annual Report for 1925 © Barclays
<![if !vml]>

<![endif]>
The cheque has what we now call the "amount box" along its bottom left hand side.  The cheque also bears the number 415 in a circle – this is a rare example of Martins' index Numbering of its branches, being shown on stationery.  Branches in the range 401 to 499 are in the London District of the Bank, which originally "mopped up" all offices South of Manchester and Liverpool until the Midland and south West Districts were established.
<![if !vml]>

<![endif]>
Title:
Type:
Address:
Index Number and District:
Hours:
Telephone:
Services:
Manager:
11-746 Southampton
Full Branch
139 Above Bar Southampton Hampshire
415 London
Mon to Fri 1000-1500
Saturday 0900-1130
Southampton 2412
Counter Service
Mr Lyle F Ellis DSO
9 February 1925
3 January 1928
1935
Currently
Opened by the Bank of Liverpool and Martins Bank
Martins Bank Limited
Closed and moved to 171 High Street
Shop Units