<![if !vml]>

<![endif]>
<![if !vml]>

<![endif]>
<![if !vml]>

<![endif]>
Corner Spectacular!
<![if !vml]>

<![endif]>
Those Craven Bankers certainly know how to make a show of things, distinctive main branches and 'choclate box' sub branches scattered throughout the area, and a tradition that has customers and staff still referring to the district as Craven, long after the merger with Barclays. Padiham is a wonderfully appointed branch, sitting proudly, grandly and somewhat  precariously on a corner, at the top of a very steep hill. We first find written mention of the branch around 1880 when the decision has been made to incorporate the Craven Bank as the Craven Bank Limited, and at this time Padiham is one of two sub branches to Burnley, the other being at Nelson. 
<![if !vml]>

<![endif]>
By the time that the Craven Bank amalgamates with the Bank of Liverpool in 1906 however, Padiham is listed as one of fourteen main branches in Craven country.  And that is how things remain up to the merger with Barclays. For a brief time, 1926 to 1939, Padiham has its own sub Branch, opened in the nearby village of Read by the Bank of Liverpool and Martins. 
<![if !vml]>

<![endif]>
Read becomes a casualty of war in that whilst intended to close for the duration of World War II, it is not re-opened afterwards.  In the twenty-first century, Padiham itself is still open, offering Barclays' services to the local people from its still ostentatious vantage point in Burnley Road.  Built to last?  Well, with more than one hundred and thirty years in the bag already, we really do hope so. As banking shrinks to the internet and a small number of pay in and get out machines, the days of the larger branch are almost over.
<![if !vml]>

<![endif]>
Special thanks to David Baxter for the image below left, from an early coloured postcard showing how Padiham Branch looked under the craven Bank just before becoming part of the Bank of Liverpool in 1906.
<![if !vml]>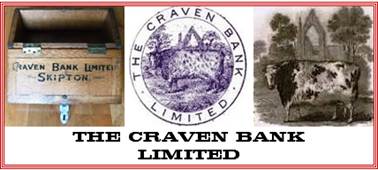 <![endif]>
Branch Images © Barclays Ref 0030/2218 and 0033/0400
<![if !vml]>

<![endif]>
Mr H G Proger
Joined the Bank Here
1914
Mr C S Boden
On the Staff
1916
Mr W C M Perkins
Joined the Bank here
1925
Mr C Law
Joined the Bank Here
1939 to 1948
Mr R Westall
Manager
1948 to 1951
Mr F J Bates
Joined the Bank Here
1950 to 1952
Pre 1906
23 March 1906
18 December 1918
3 January 1928
15 December 1969
Currently
Friday 23 June 2017
Craven Bank Limited
Bank of Liverpool
Bank of Liverpool and Martins Limited
Martins Bank Limited
Barclays Bank Limited 20-65-71 Padiham