<![if !vml]>

<![endif]><![if !vml]>

<![endif]>
<![if !vml]>

<![endif]>
The first general meeting of the Carlisle and Cumberland Bank is held in the Bush Inn at Carlisle on 21 July 1836.  Amongst the first directors of the bank is John Crosby of Kirkby Thore (also known as Kirkby Thure or Kirkbythure) who is already in business as a banker in his own right. Crosby also offers facilities at Penrith and Appleby on market days.
<![if !vml]>

<![endif]>
<![if !vml]>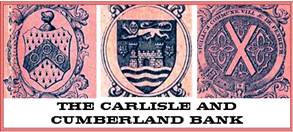 <![endif]>  
<![if !vml]>

<![endif]>
<![if !vml]>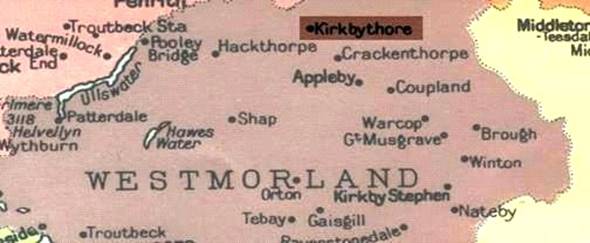 <![endif]>
Image © Barclays 1931
<![if !vml]>

<![endif]>
In November 1836 he is appointed by his fellow directors as an agent of the Carlisle and Cumberland.  At this time the Carlisle banks prefers trade to be done in Westmorland and Cumberland banknotes only, treating all other notes with suspicion, and in fact classifying them as Scottish!  The Bank supplies Crosby with Cumberland banknotes which are transported to him at their own risk, on condition that surplus notes in the other direction are  transported at Crosby's risk.  In 1847 the agency is put onto the new footing of a sub-Branch to Penrith, and it is this date that we record as the opening of Kirkby Thore.
<![if !vml]>

<![endif]>
<![if !vml]>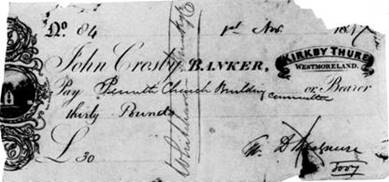 <![endif]>In these times a great deal of banking business is carried out by agents, who offer the services of a larger town or city bank to the traders and inhabitants of smaller towns and villages.  The agent usually agrees terms with the bank which might include travel and/or subsistence costs, a regular or annual wage, or a single payment for a set period of time.  These arrangements are not without risk, and the banks must choose their agents carefully to prevent losses from the more unscrupulous types making off with the money!  Mr Crosby is, fortunately, of good standing, and the image on this page shows what remains of one of his own cheques issued as a banker at Kirkby Thore.  Martins Bank's sub branch is inherited from the merger of the Bank of Liverpool with the Carlisle and Cumberland and survives until closure in 1932.  Of the five sub branches to Penrith, inherited by the Bank of Liverpool and eventually Martins Bank, four are closed between 1932 and 1942, leaving only Penrith Auction Mart still open at the time of the merger with Barclays.
SOME DETAIL ADAPTED FROM "FOUR CENTURIES OF BANKING" VOL II © MARTINS BANK LIMITED 1968
<![if !vml]>

<![endif]>
Title:
Type:
Address:
Index Number and District:
Hours:
Telephone:
Services:
Manager:
11-672 Kirkby Thore
Sub to 11-672 Penrith
Kirkby Thore Temple Sowerby Westmorland
219 Northern
Mon to Fri 1000-1500
No Saturday Opening
No Telephone
Counter Service Only
Mr J G Holliday Manager (Penrith 1925)
1836
1847
20 March 1911
18 December 1918
3 January 1928
1932
an agency of the Carlisle and Cumberland Bank
Opened as a sub-Branch to Penrith
Bank of Liverpool
Bank of Liverpool and Martins
Martins Bank Limited
Closed