<![if !vml]>

<![endif]>
<![if !vml]>

<![endif]>
<![if !vml]>

<![endif]>
Old Trafford Branch is opened by the Lancashire and Yorkshire Bank Limited in 1899. When you consider the appeal of this pleasant little building, it makes what has happened to it in the intervening years quite shocking. Not for Old Trafford the prize of being a pub, or a post office or even (like a large number of former bank buildings) a betting shop. No. Slowly but surely this former Branch of Martins Bank is decaying and suffering a kind of lingering death – a fate from which it really ought to be saved…
<![if !vml]>

<![endif]>
<![if !vml]>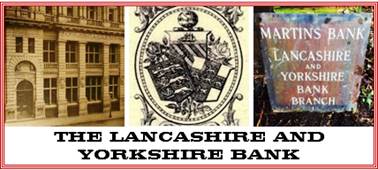 <![endif]>
Image © Barclays Ref 0030/1824
A moment's silence, if you will…
<![if !vml]>

<![endif]>
If you compare the lithograph image from 1922 with the main image above, you can see subtle architectural differences, the young trees shown growing outside the window and door have long since been cut down. The sight of this building eerie and empty, and still displaying the Martins Bank signage in 2006 is in its own way as sad to us as the images of terrible devastation at Exeter Branch in the Second World War. At least the majority of Martins Bank's Branches still have a use – some are branches of Barclays or other banks and building societies, others are outlets for motor spares, or betting shops wine bars or restaurants, but at least they have a use.
With Old Trafford's sporting connections, it is not difficult to imagine the famous names that must have passed by or maybe even used the counter facilities at this Branch in the 1960s. The further humiliation of this once beautiful building is shown in an update in April 2016 from Alan Thomond, who worked at Old Trafford for Barclays in the Mid-1970s. These were the days when customers came in through the doors, not via an internet connection!
Old Trafford survives the 1969 merger to become a branch of Barclays until 1992, however the story goes that it was one too many an armed hold-up that finally closed the place for good. The sadness of it is all still strong, and heightened by the optimism of its early days as a new and trendy branch of the Lancashire and Yorkshire Bank. But despite being run down and unloved for so long, at least the building stands defiantly in the face of this hostile age…
<![if !vml]>

<![endif]>
Happier times?
<![if !vml]>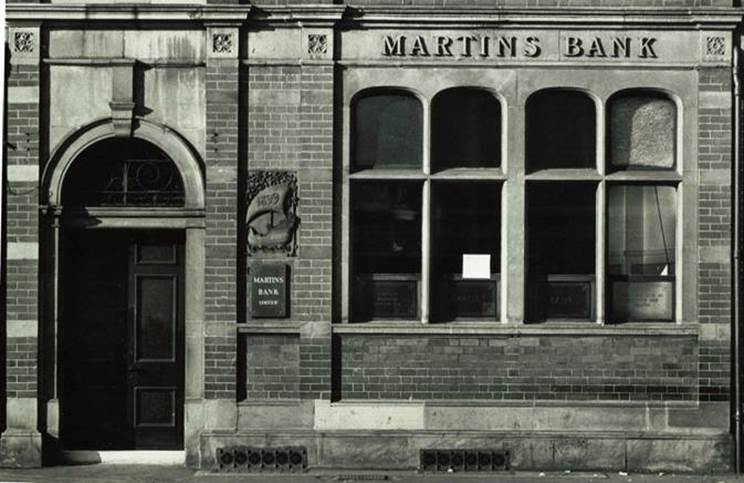 <![endif]>
<![if !vml]>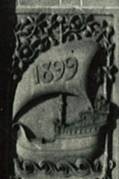 <![endif]>Old Trafford might be empty and lonely now, but in its heyday, it certainly was well looked after. These images from Barclays' collection show the carving of a ship to the right of the front door along with the date of opening – 1899. We are grateful to another good friend of the Archive, and member of the staff of Martins Bank, George Hamilton, who as a Manager for Barclays, worked at old Trafford Branch. He explains for us below why there are TWO completely different entrances to the branch, and tells us too, about how Old Trafford Branch eventually met its demise…
"Old Trafford branch was built in an island, the front of the branch being on Chester Road and the back of the on Talbot Road. The picture you have showing the Martins Bank sign is the back entrance (Talbot Road) it still looks as your picture today although derelict and the front entrance (Chester Road) is still the same as your other picture. You could enter the branch by both entrances but we closed off the Talbot Road entrance in the 1980's as it was being used as a thoroughfare and became easy access for the criminal element.
<![if !vml]>

<![endif]>
<![if !vml]>

<![endif]>
Image – 1922 © W N Townson Bequest
<![if !vml]>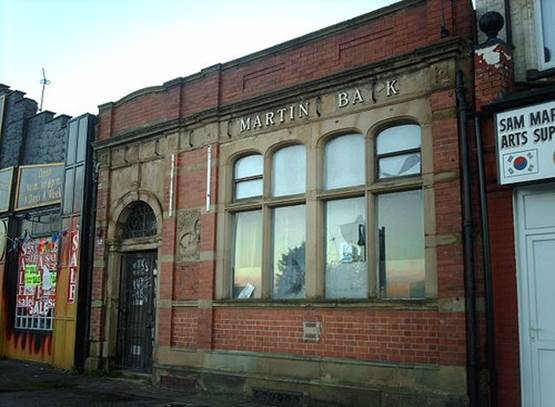 <![endif]>
<![if !vml]>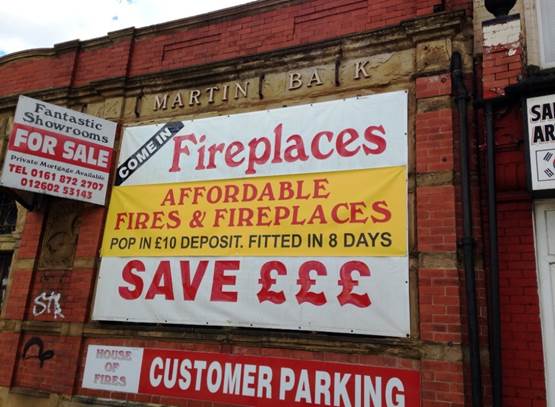 <![endif]>
Image - 2006: www.flickr.com
<![if !vml]>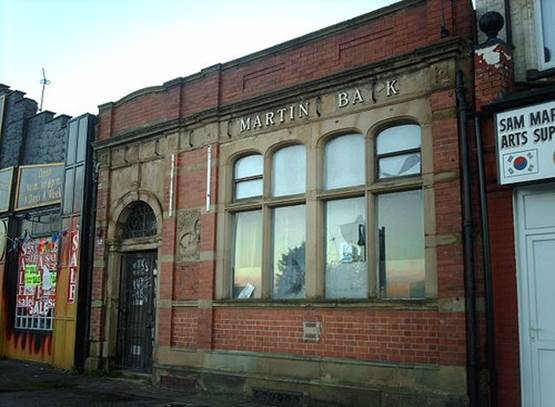 <![endif]>
<![if !vml]>

<![endif]>
Image – 2016 © A Thomond
<![if !vml]>

<![endif]>
I worked at Old Trafford as Manager's Assistant, then Manager, after several years at Swan Street, I became Operations Manager at Deansgate branch by which time Old Trafford was a sub branch. It was me that closed the branch for good after one too many holdups!"
<![if !vml]>

<![endif]>
Mr J H Thomas
 Joined the Bank Here
1920
Mr G Reynolds
On the Staff
1933 to 1941
Mr J Crossley
Joined the Bank Here
1937 to 1938
Mr R B Estill
On the Staff
1938 to 1940
Mr D Michael Jackson
On the Staff
1951
Mr V R Norton
Manager
1969 onwards
Title:
Type:
Address:
Index Number and District:
Hours:
Telephone:
Services:
Manager:
Martins Bank Limited 11-61-60 Manchester Old Trafford
Full Branch
555 Chester Road Manchester 16
766 Manchester
Mon to Fri 1000-1500
Saturday 0900-1130
061 572 0703
Nightsafe Installed
Mr W E Letham Manager