<![if !vml]>

<![endif]>
<![if !vml]>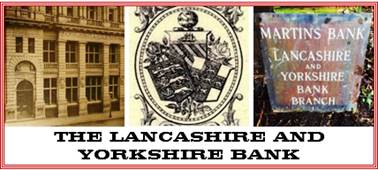 <![endif]>
<![if !vml]>

<![endif]>
<![if !vml]>

<![endif]>In 1922, the Lancashire and Yorkshire Bank is in its prime – celebrating 50 Years since its foundation, the Bank publishes a lavish book which sets out to chronicle its first half century of trading.   By the time that the Lancashire and Yorkshire Bank merges with the Bank of Liverpool and Martins just six years later, there are one hundred and thirty-five branches and sub branches in its portfolio.
<![if !vml]>

<![endif]>
The high standards and ethics of the Lancashire and Yorkshire Bank are ones that will live on within Martins, and it is interesting to note that the L and Y has its own staff pubication – the "Lancashire and Yorkshire Bank Club Magazine" decades before Martins Bank Magazine comes along.  Indeed it is generally accepted that one provided the impetus for the other.  Oldham Street is a key City Centre site, and one which is used by Martins to maximise business in the very heart of the City.  Our records show that throughout its life, Oldham Street has been a standalone full branch, open for full banking hours over the six day banking week. 
<![if !vml]>

<![endif]>
In Service: 1881until 4 October 1983
<![if !vml]>

<![endif]>
<![if !vml]>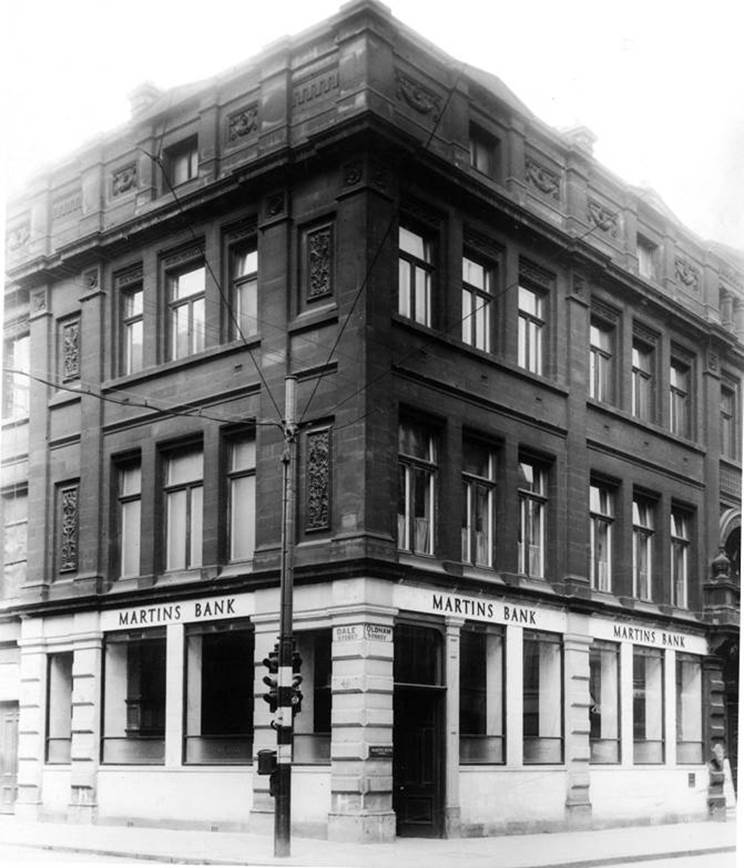 <![endif]>
Image © Barclays Ref 0030-1823
<![if !vml]>

<![endif]>
Twenty-one years at the same branch is a long time for anyone, and Mr Lomas uses that time to climb the ladder to Manager, a post he holds for thirteen of those years.  In 1959 it is time for him to retire, and for our first Oldham Street feature, we have the report of his retirement gathering, taken from Martins Bank Magazine…
<![if !vml]>

<![endif]>
<![if !vml]>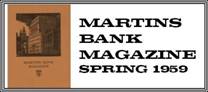 <![endif]><![if !vml]>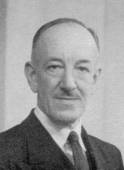 <![endif]>To mark the occasion of the retirement of Mr. J. E. Lomas at the end of November, after 43 years' service, he and Mrs. Lomas entertained the staff of Oldham Street branch to dinner and a dance at Rowntree's Restaur­ant, Manchester. During the afternoon, after the District General Manager and his colleagues at Spring Gardens had suitably marked the occasion, there was a presentation at the branch by Mr. W. E. Letham, the Sub Manager, on behalf of the subscribers, of a picnic case to match a recently acquired car.  A bouquet was presented to Mrs. Lomas by Miss G. M. Owen. Mr. and Mrs. Lomas are known to a wide circle of friends outside the Manchester District by reason of their participation in the Bank tours of 1949, 1951 and 1956 and all will want to join in wishing them every happi­ness in the years to come. Mr. Lomas entered the Lancashire and Yorkshire Bank at Oldham in 1915. After three years in the Middlesex Yeomanry he returned to Oldham and subsequently served at Shudehill, Portland Street, Manchester City Office and Brown Street before going to Oldham Street in 1938. He was appointed Pro Manager in 1940 and Manager in 1946.
<![if !vml]>

<![endif]>
<![if !vml]>

<![endif]>Sadly, ALL Banks can be the victims of raids and robberies.  Sometimes the robber is armed, sometimes an opportunist takes swift advantage of a particular situation.  Our second feature concerns this latter, spontaneuous type of crime, which takes place at Oldham Street Branch in 1954.  A pile of banknotes is grabbed from the counter, and despite staff giving chase, the thief disappears into the crowds of Christmas shoppers in the centre of Manchester.  Our copy of the story is presented here in association with our friends at the British Newspaper Archive, and for ease of reference, we have printed the wording alongside the article, which appears in the Aberdeen Evening express, on 21 December 1954…
<![if !vml]>

<![endif]>
CHASED–VANISHED

GRABS £194 FROM BANK

In a daring lunch-hour grab raid on Martins Bank, Oldham Street, Manchester, to-day, a man, aged about twenty-five, snatched £194 10/- and disappeared among Christmas shopping crowds in Piccadilly.  The raid was made when there was only one customer in the bank.  The man walked into the bank, grabbed a bundle of notes from the counter, and dashed out. Bank employees and passers-by joined in the pursuit for about a quarter of an mile before the man was lost among the crowds.

<![if !vml]><![endif]>

Hand Shot Out

The bank cashier, Mr F Nuttall, said: -  "I was checking money with a representative of a Manchester firm.  On the counter was a bundle of notes.  All I saw was a left hand shoot out, grab the notes, and then I saw the back of the man as he dashed through the door.  I sprinted out and other bank employees followed. I saw the man disappearing round the corner into Spear Street.  Two young employees of the bank passed me.  They kept track of the man until he merged with the shopping crowds and was lost." Police cars quickly converged on the Piccadilly area and a comb-out began.

<![if !vml]><![endif]>

<![if !vml]><![endif]>

Aberdeen Evening Express 21 Dec 1954

Image © Northcliffe Media Limited Image created

courtesy of THE BRITISH LIBRARY BOARD

Image reproduced with kind permission of
<![if !vml]>

<![endif]>
No "smash OR grab" this time…

Not every bank robber gets away with it, and not every bank <![if !vml]><![endif]>robber encounters a junior member of staff with quite the presence of mind or courage in the face of potential danger as Tony Higgs.  On wednedsay 7 June 1967, he came face to face with someone trying to take what didn't belong to them, and what happened next saw Tony receiving this letter of thanks from the Chief General Manager of the Bank.  Tony told us:

<![if !vml]><![endif]>

<![if !vml]><![endif]> "I was serving a customer who was paying in a large amount of cash and a man who was queuing behind her suddenly grabbed a £100 bundle of pound notes and ran out of the branch. I jumped over the counter and chased him down Dale St and caught him. I took him back to the branch and we held him in the Manager's room until the police came."

<![if !vml]><![endif]>

At this time, most bank counters are still "open" – that is to say they have no bandit screens. As robbery with violence increases steadily throughout the 1960s, the screens are introduced as standard in new branches, and many branches in large towns and cities begin to convert to this form of protection for their staff.  It is interesting that the safety of the money seems to come top of the Chief General Manager's list(!) By the 1980s cashiers are instructed to comply with the demands of the thief, and to rely on the connection of each branch to the local police station by alarm. 

<![if !vml]><![endif]>
<![if !vml]>

<![endif]>
<![if !vml]><![endif]>Some Martins Branches still look the part today, others such as OLD TRAFFORD have been terribly neglected. In between are those which have undergone some change, but can broadly be recognised, and one such is Manchester Oldham Street which has been photographed for us in 2016 by Alan Thomond.  The name above the door is different, and many of the original standing height features gone, but at least Oldham Street has a purpose…

<![if !vml]><![endif]>

Image © Barclays Ref 0030-1823

<![if !vml]><![endif]>

Image © 2016 Martins Bank Archive Collections - Alan Thomond
<![if !vml]>

<![endif]>