The Manager of Victoria Street is Mr H R Stone, who has already been the Manager at Market Street Branch for five years.  In 1954 it is time for him to hang up his Bank Tie for the last time, and look forward to a long a happy retirement.  Martins Bank Magazine takes a look at his career, and the festivities surrounding his retirement in their Autumn 1954 issue…
<![if !vml]>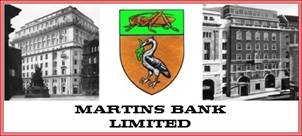 <![endif]>
A long and distinguished career…
<![if !vml]>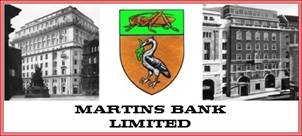 <![endif]>
<![if !vml]>

<![endif]><![if !vml]>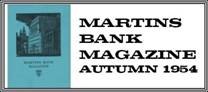 <![endif]>Mr. Stone, one of the best-known managers in the service, retired at the end of May after nearly 43 years in the Bank. He is, incident­ally, the first manager in the Midland District to retire since the establishment of the District as a separate entity. Mr. Stone commenced his career in 1912 and after serving at Head Office, Breck Road and Walton, and was called to the Colours in August 1914, serving with the Liverpool Scottish in company with many other Bank colleagues. He was wounded at Ypres in 1915 and later that year was commissioned in the South Lancashire Regiment in which he served until June 1919, being seriously wounded on the Somme in 1916. He resumed his banking career at Blundellsands and after a period of seven years at Head Office became Manager at Colwyn Bay in 1927.  He was appointed Manager at Market Street, Notting­ham, in 1935 and of Victoria Street, Notting­ham, in 1940. On the afternoon of May 31st, Mr. J. A. Naisbitt, Midland District General Manager, on behalf of many of Mr. Stone's old friends and colleagues, presented him with a leather suit-case and a hold-all as a token of their warm regard for him and referred to his long and distinguished service in the Bank. In the evening, Mr. and Mrs. Stone entertained the members of the staff at Victoria Street and the Manager and Pro Manager at Market Street branch, to dinner.
<![if !vml]>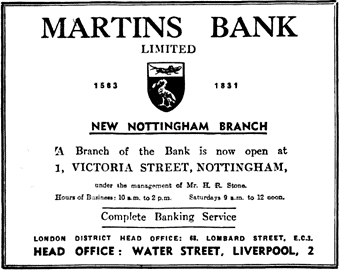 <![endif]>
Image © Northcliffe Media Limited Image created
courtesy of THE BRITISH LIBRARY BOARD
Image reproduced with kind permission of
<![if !vml]>

<![endif]>
<![if !vml]>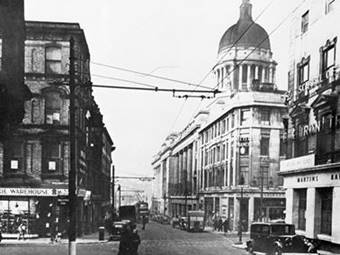 <![endif]>
Mr. M. Hollway proposed Mr. Stone's health, and in reply, Mr. Stone gave an interesting description of the various stages of his career, and in the course of his speech drew various lessons which he thought might assist the younger men in their future days in the Bank. A bouquet of flowers was presented to Mrs. Stone. Mr. and Mrs. Stone are hoping to visit Athens, Palestine and Egypt next year, so that with travelling, gardening and some treasurership duties retirement prospects are indeed bright.
<![if !vml]>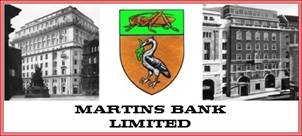 <![endif]>
A complete change…
<![if !vml]>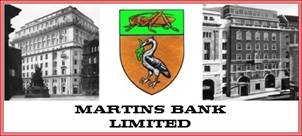 <![endif]>
Whilst there are currently no images of Nottingham Victoria Street Branch, we can bring you this view of the building that now stands on the original site, another contemporary photograph from our friend Rob Hancock.  Rob explains a little more about the circumstances that lead Barclays to move away from, and then back to, this part of Nottingham:
<![if !vml]>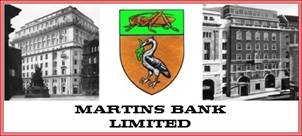 <![endif]>
{"The present Barclays High Street Nottingham branch is now the ONLY branch in the city centre and stands on the site previously occupied by Martins Victoria Street. When I worked there, trolleybuses used to pass by here on the route from St Anns Well Road to Wilford Bridge. The Martins branch closed on amalgamation with Barclays, the business transferring to St Peters Gate, but it became necessary to re open the Victoria Street site as a "counter extension" to relieve pressure on St Peters Gate, eventually closing when the site was redeveloped as Barclays High Street."}
<![if !vml]>

<![endif]>
<![if !vml]>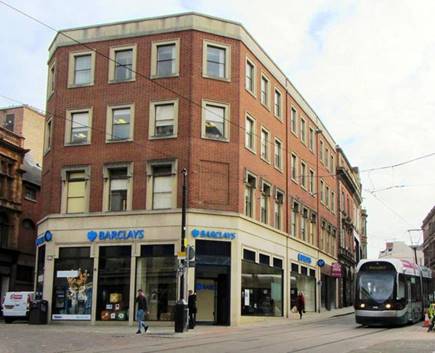 <![endif]>

Image © 2013 Rob Hancock

<![if !supportMisalignedColumns]>