<![if !vml]>

<![endif]>
<![if !vml]>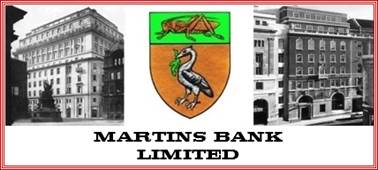 <![endif]>
<![if !vml]>

<![endif]>
What's all that racquet?
There are really only two things on the mind in this part of SW19 for two weeks in the summer: will the sun shine for more than an hour, and how much will they be charging for strawberries and cream this year at the All England Club?  There is also of course, some tennis.   Things have changed a lot since Martins' day, when, occupying a very special place on Centre Court, the sub-Branch is open from midday to the close of play on each day of this major World Championship event. 
 <![if !vml]>

<![endif]>
The staff at 92 Wimbledon High Street must be glad to have somewhere to hide for the remaining fifty weeks of the year.  Wimbledon Centre Court must surely have been a prize that Barclays had had its eye on for some time – for a principally Northern Bank to establish itself first in this most Home Counties of settings (and of course, Barclays' natural territory) might well have put certain noses out of joint so to speak, so the merger brings with it the chance for a new champion to take the reigns.
<![if !vml]>

<![endif]>
For more than ten years, the prestigious official Wimbledon Programme runs Martins Bank's advertisment for Centre Court Branch, and from 1969 onwards, Barclays has the advantage…
<![if !vml]>

<![endif]>
<![if !vml]>

<![endif]>
1962: Image © Martins Bank Archive Collection
<![if !vml]>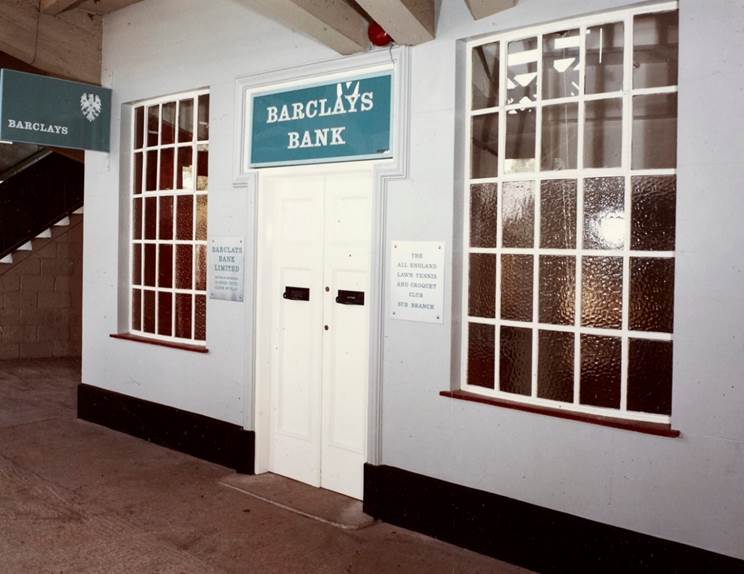 <![endif]>
At a time when both sexism and elitism can still be used to sell a product, here is the 1969 ad to entice wealthy - probably male - customers to partake of a little banking with their tennis…
<![if !vml]>

<![endif]>
<![if !vml]>

<![endif]>
1969: Image © Martins Bank Archive Collection
<![if !vml]>

<![endif]>
<![if !vml]>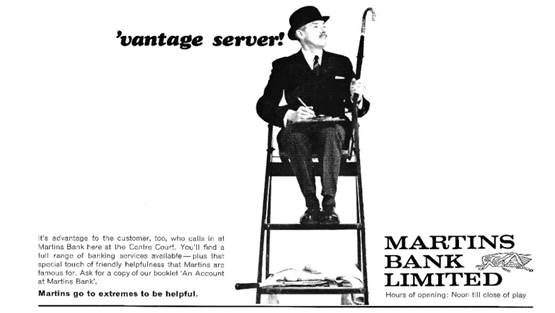 <![endif]>
Image © Barclays Ref 30-3231
<![if !vml]>

<![endif]>
<![if !vml]>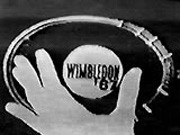 <![endif]>Most people cannot remember a time when Wimbledon coverage wasn't provided solely by the BBC. In 2016 the TV rights were once again negotiated in favour of keeping the tournament free to view for all until 2024, but in 1967 things are a little different, as the tournament is also covered in full by the London  ITV company Associated Rediffusion, and networked across the Independent Television stations in the United Kingdom.   The image shown here is from a short but tantalising video available on the excellent TV ARK website.  1967 is also a landmark year for the Tournament Itself, with four hours of the action on day six shown in colour for the very first time on BBC2…
<![if !vml]>

<![endif]>
Title:
Type:
Address:
Index Number and District:
Hours:
Telephone:
Services:
Manager:
11-50-90 London Wimbledon Centre Court
Sub to 11-50-90 Wimbledon Common
Centre Court All England Club Wimbledon London SW19
444 London
Match days only 1200 until end of play
01 946 3180 & 3529
Counter Service Only
Mr H M Aspley Manager (Wimbledon Common)
1930s
15 December 1969
Late 1980s
Service first opened and run by Martins Bank Wimbledon High Street Branch
Barclays Bank Limited 20-96-86 Wimbledon Common 92 High Street
Closed and moved to newer premises at the All England Club