<![if !vml]>

<![endif]>
<![if !vml]>

<![endif]>
<![if !vml]>

<![endif]>
Those of us who live on or near to the border of another county know all too well the problems that come with having a geographical (actual) address, and one created for the convenience of the Post Office, which invariably puts us in the wrong county.  The fun begins when you start to receive letters from Reader's Digest telling you that of all the people in Lancashire (wrong) and in the Granada TV area (also wrong), you have been chosen to enter the prize draw.  Delivery vans drive up and down local roads, confused as to where it is they should be delivering, and our children grow up believing they live in another county altogether.  Martins Bank's Branch at Earby in Craven is subjected to this arbitrary re-writing of history, and has to be addressed "Colne Lancashire" (instead of Yorkshire, which is where it is physically located). 
<![if !vml]>

<![endif]>
In Service: Pre 1906 until Friday 7 April 2000
<![if !vml]>

<![endif]>
<![if !vml]>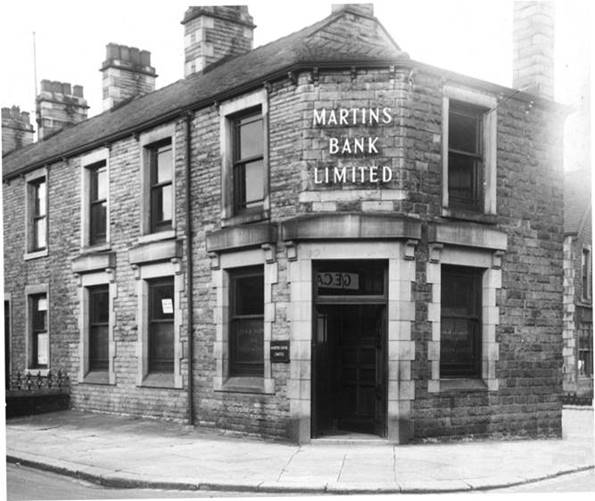 <![endif]>
Branch Images © Barclays Ref: 0030-0869 and 0030-0192
<![if !vml]>

<![endif]>
<![if !vml]>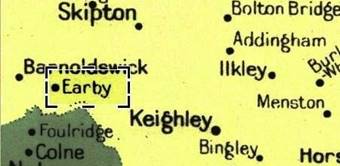 <![endif]>Whether or not this might restart the Wars of the Roses, at least those who live in these places know where they are!  Once a full Branch of the Bank, by the time of the merger with Barclays, Earby is a self accounting sub to Barnoldswick, with a Clerk in Charge and full six day banking hours. Our images show the branch in 1936 (above) and at the time of the Merger with Barclays in 1969 (below).  More or less exactly inbetween – 1951 – Earby branch is visited by Martins Bank Magazine…
<![if !vml]>

<![endif]>
<![if !vml]>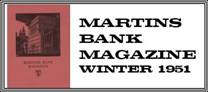 <![endif]>Earby-in-Craven is a little manufacturing town in Yorkshire with a Lancashire postal address. It has about 5,000 inhabitants and as a town is rather an ugly little place because of the close proximity of the factories with their belching chimneys. Yet, although our branch is centrally situated, it is possible, as our photograph of the staff shows, to reach fields and country lanes within five minutes' walk of it.  When Staff Department, Head Office, gave us the list of the staff at Earby we were rather surprised to see that it was an all-male list—somewhat unusual these days. Our friends will understand that we were a little disappointed, also! However, they do have a girl at Earby; she has been there three years though she is not officially on the Earby strength. Her name is Margaret Robinson, and on the day of our visit was there also Miss J. Watkinson, officially relieving from Barnoldswick.
<![if !vml]>

<![endif]>
<![if !vml]>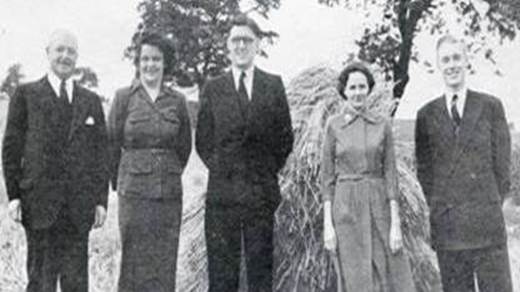 <![endif]>Mr. J. N. Slater, officially on holiday, came in specially for the photograph and we were also glad to meet David Fielden, son of Mr. E. L. Fielden, Manager of our Burnley branch, and recognisable from his smile as being his father's son. We used a photo­graph taken by David for our frontispiece in the Spring issue this year, and we have one or two more put by for future use. Mr. T. E. Green must have set up something of a record in getting his first managerial appointment when within four years of the optional age of retirement. He has done a very good job of work at Earby and has stayed on to see something of the fruits of his labours. Anyway, he doesn't look old enough to have reached the time of retirement. He entered the Bank in 1906, and served at Nelson, Colne, Barnoldswick and Skipton before going to Earby in 1945. After taking the photograph we went down to Colne to have tea with Mr. and Mrs. Green.
<![if !vml]>

<![endif]>
<![if !vml]>
<![endif]>This was our second visit to their home, the first having been made on the occasion of the gathering at the Manor House Hotel, Thornton, in 1948. They have a very attractive garden with a lawn which is their special pride, so weed-free that we understand that Mr. Green has been rash enough to offer £1 for every weed which could be found in it. We hope that publication of this news won't result in busloads of bank clerks descending on Colne in a new gold rush, and we can assure our readers that we ourselves failed to earn a penny piece, and it wasn't for want of looking! From their back windows they can look out over the hills and see Lancashire Moor, which is in the Bronte country and is mentioned in the books. Eight miles away is Haworth where the sisters lived. Also at Haworth is the Bronte museum which brings visitors, Americans in particular, in great numbers. On the wall of their hall, at the foot of the staircase, is the family tree of the Waite family, of which Mrs. Green is a member. She can trace her ancestors back to the sixteen hundreds and the tree makes an interesting and attractive addition to their home. In his younger days Mr. Green was a tenor with a considerable local reputation and, the talk turning on music, he treated us at the close of our visit to an impromptu rendering on the piano of a number of the songs of the beloved Ivor Novello. It was a very pleasant conclusion to a most happy day.
<![if !vml]>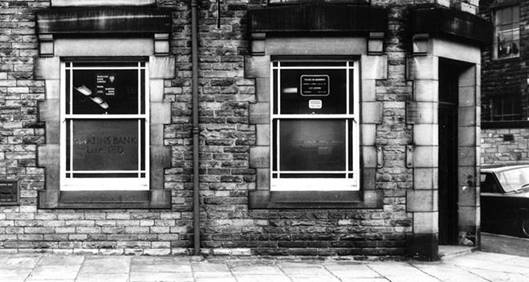 <![endif]>
Title:
Type:
Address:
Index Number and District:
Hours:
Telephone:
Services:
Manager:
11-49-31 Earby
Self Accounting Sub to Barnoldswick
34 Victoria Road Earby Yorkshire
117 Craven
Mon to Fri 1000-1500
Saturday 0900-1130
Earby 3414
Nightsafe installed
Mr F J Bates Clerk in Charge