<![if !vml]>

<![endif]>
<![if !vml]>

<![endif]>
<![if !vml]>

<![endif]>
The Mercantile Bank of Lancashire transfers its business on 1 July 1904 to the Lancashire and Yorkshire Bank.  Sale is one of thirty one branches across the North West and the Isle of Man to be merged.  The earliest detail we have for Sale as part of the Lancashire and Yorkshire Bank is from 1922, when the Manager of the branch is recorded as Mr W H Shaw.   Sale becomes part of Martins Bank in 1928. In 1959, in a very short feature entitled "The Page of Memory", Martins Bank Magazine publishes this rarely seen image of the staff at Sale branch in 1938, and for those still in service, it provides us with their (current at 1959) roles in the Bank…
<![if !vml]>

<![endif]>
<![if !vml]>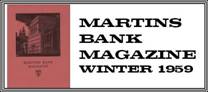 <![endif]>
<![if !vml]>

<![endif]>
<![if !vml]>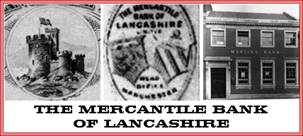 <![endif]>
Image © Barclays Ref 0030/2538
<![if !vml]>

<![endif]>
Sale Branch Staff 1938: Left to Right – A R Janion (Deceased), J A Coombes (Manager, Broadheath), G K Eaves (Manager, Newcastle City Office) J F Davenport (Former Manager, Sale) W E Taylor (Former Manager, Gatley) M Hollway (manager, Coventry) and A Greir (Assistant Manager, Manchester City Office).
<![if !vml]>

<![endif]>
For our retirement feature, we look at the career of Mr C J Platts, who has managed Sale for seventeen years by the time he retires in May 1964.  His career has spanned an incredible forty-three year, and it all began in 1921 at the Lancashire and Yorkshire Bank…
<![if !vml]>

<![endif]>
<![if !vml]>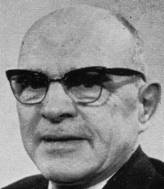 <![endif]><![if !vml]>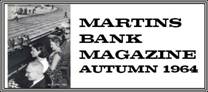 <![endif]>After forty-three years' service, which began with the Lancashire and Yorkshire Bank in 1921, Mr Platts retired at the end of May.  Apart from three years in H M Forces the whole of his career was spent in the Manchester District and he received his appointment as Manager at Sale Branch in 1947.  Some of his early life was spent in Canada, and he worked for twelve months in the purchasing department of the Canadian Pacific Railway in Montreal.  To mark the occasion Mr Platts entertained about forty friends and former colleagues at the Woodcourt Hotel, Sale, on the eve of his retirement.  During the evening Miss Monica Flanagan presented Mrs Platts with a bouquet, and Mr H Boothman, Clerk in Charge at Sale Moor and life-long friend and working colleague presented Mr Platts, on behalf of the subscribers, a cheque which is being used to buy an easy chair.  Mr Boothman was speaking for all when he expressed thanks for the kindness and consideration Mr Platts had always shown to colleagues and customers.  Everyone, he concluded, wished Mr Platts and his wife a long and happy retirement.
<![if !vml]>

<![endif]>
<![if !vml]>

<![endif]>Not quite then and NOW, Sale Branch is pictured here as Barclays in 1974. Sadly the imposing stonework has given way to some unimaginative concrete, the main door has been moved to the middle, and the lovely brick "porthole" features at either end of the building have been covered over.  Shame…
<![if !vml]>

<![endif]>
Mr J W Harvey
On the Staff
1936
Mr G K Eaves
On the Staff
1938
Mr J A Coombes
On the Staff
1938
Mr M Hollway
On the Staff
1938
Mr W E Taylor
On the Staff
1938
Mr R W Nuttall
Joined the Bank Here
1939 to 1942
Mr H Ingham
Manager
1939 to 1947
Mr C J Platts
Manager
1947 to 1964
Mr R Paulson
Staff Member
1953 to 1954
Mr A M Jackson
Manager
1964 onwards
David Wood
Joined the Bank Here
September 1968
Title:
Type:
Address:
Index Number and District:
Hours:
Telephone:
Services:
Manager:
11-47-70 Sale 
Full Branch
17 Northenden Road Sale Cheshire
778 Manchester
Mon to Fri 1000-1500
Saturday 0900-1130
061 873 3386/061 962 5555
Night Safe
A M Jackson Manager
Pre 1904
1 July 1904
3 January 1928
15 December 1969
Currently
Opened by the Mercantile Bank of Lancashire
The Lancashire and Yorkshire Bank
Martins Bank Limited
Barclays Bank Limited 20-74-90 Sale