<![if !vml]>

<![endif]>
<![if !vml]>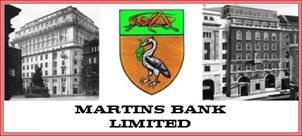 <![endif]>
<![if !vml]>

<![endif]>
<![if !vml]>

<![endif]>It's a very wet day in Lincoln, and here is Martins Bank's new branch sitting between Preedy's and the Abbey National, in the days when the Abbey was a still a building society. The Bank's southwards push leads to the opening of a branch in the city of Lincoln in 1955. By the time of the 1969 merger with Barclays, Martins' representation in Lincolnshire also includes Boston, Grimsby, North Hykeham and Spalding,  but the danger for many of the Bank's Southern Branches is their actual location – whilst Barclays will aqcuire branches in many Northern towns for the first time, they already have an almost saturation coverage of the South, and so many of Martins ofices there will be surplus to requirements.  Lincoln is one of these, and is closed soon after the merger, with the business transferred to Barclays' Branch at Clasketgate. In July 1956, Martins Bank Magazine visits this "still new" Branch…
<![if !vml]>

<![endif]>
<![if !vml]>

<![endif]>In visiting branches one has to guard against repetition and the constant danger of using superlatives in one's endeavour to convey to readers something of the happy atmosphere which one invariably finds; and while these visits tend to follow a set pattern, there are differences. Occasionally, the dif­ferences make them outstanding. Lincoln, which we visited on July 5th, was different and also outstanding.
<![if !vml]>

<![endif]>
In these days when the competition of the five-day week makes staff recruiting among the girls so difficult in many parts of the country, Mr. Wilmot is extremely fortunate, for he had forty girls to pick from and, in the circumstances, it is not surprising that he picked a couple of winners, Miss J. M. Wady and Miss J. A. Grundy (June and Jean). June is already proving a success on the counter and Jean has them all well organised at the back.
<![if !vml]>

<![endif]>
In Service:  January 1955 until 12 December 1969
<![if !vml]>

<![endif]>
<![if !vml]>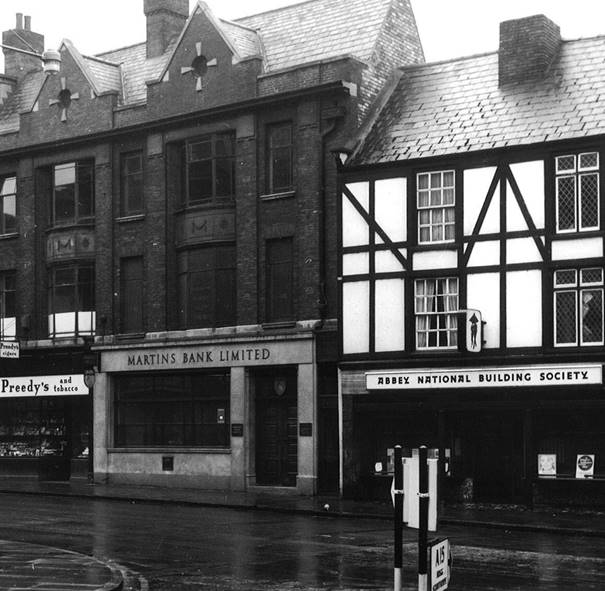 <![endif]>
Images © Barclays Ref 0030-1638
<![if !vml]>

<![endif]>
<![if !vml]>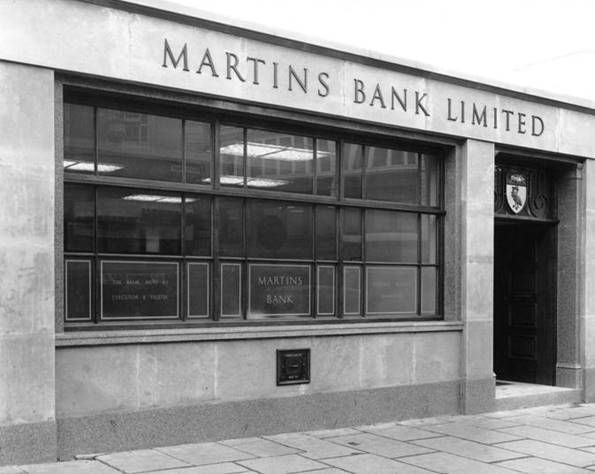 <![endif]>
<![if !vml]>

<![endif]>
Mr. C. M. Tenneson we first met in Manchester, though he commenced his service at Sefton Park and served in the Liverpool District for eleven years. The Bank will, we feel sure, hear more of this extremely able and likeable man before long. Mr. B. K. Fieldsend has only been in the Bank a little over a year and has other business experience behind him which will stand him in good stead. We wish Mr. and Mrs. Fieldsend many years of happiness in their new life together. Mr. H. A. Wilmot is an old hand at opening new branches. His first appointment was as Clerk-in-Charge at Helsby in 1934. Then, when Bristol branch was opened in 1937, he became Pro Manager, and the following year he opened the new branch at Newport. In 1947 he was promoted to the managership of Blundellsands branch and he opened at Lincoln in January 1955.
<![if !vml]>

<![endif]>
| | |
| --- | --- |
| <![if !vml]><![endif]> | <![if !vml]><![endif]> |
| Image © Martins Bank Archive Collections | Images © Barclays Ref 0030-1638 |
<![if !vml]>

<![endif]>
Mr. Wilmot entered the Bank in 1918 and served at Old Swan, Heywoods, Liverpool City Office, Myrtle Street, Foreign, New Brighton, Bebington, Inspection Department and at Hoylake before his first appointment. He has always been a keen farmer and horticulturist and it was, in fact, the absence of a garden in connection with the Bank House at Blundellsands which drove him into the country at week-ends and caused him to acquire the hill farm in Wales in which he is still interested. He fits into the pattern of life at Lincoln perfectly and is obviously both well known and well liked among the farming fraternity there.
<![if !vml]>

<![endif]>
Time certainly seems to fly in banking, and having only just met Mr Wilmott, we now bid him farewell to his retirement "farming at Market Rasen". Martins Bank's Summer 1962 edition bring us the following retirement write-up…
<![if !vml]>

<![endif]>
<![if !vml]>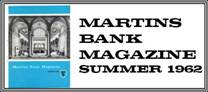 <![endif]><![if !vml]>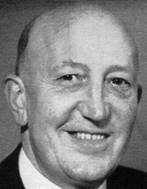 <![endif]>By the retirement of 'Bertie' Wilmot at the end of April after 43 years' service the Bank has lost one of its most attractive and colourful personalities, a manager with a flair for getting new business and a very much-loved colleague. To mark the occasion, he entertained members of the staff of Lincoln branch and many banking friends to tea at Caythorpe Court Farm Institute. The proceedings were opened by Mr. J. Bridgwood, second-in-command at Lincoln, who made reference to the unfortunate absence through illness of Mr. W. E. Turnbull, Midland District General Manager. This in turn caused the absence of Mr. R. J. Lees, Midland Assistant District Manager, who was unable to leave Birmingham. Mr. Bridgwood then welcomed the guests many of whom had travelled considerable distances to be present. The presentation of a gold wristlet watch was made on behalf of the subscribers by Mr. C. M. Tenneson (Manager, Spalding), a former colleague of Mr. Wilmot's at Lincoln. In making reference to Mr. Wilmot's business acumen, he mentioned his inability to resist the challenge of a new branch, of which he had opened several. Mr. A. J. Frost (Income Tax Manager of the Bank), expressed good wishes to Mr. and Mrs. Wilmot on behalf of the General Management and Miss J. M. Waby presented Mrs. Wilmot with a collection of Beswick china figures. In his reply Mr. Wilmot spoke of the many enduring friendships he had made throughout the Bank, and he then entertained the company with gems from his extensive repertoire of humour. Mr. Wilmot entered the Bank in 1918 and served at Old Swan, Myrtle Street, Stock Loan Department, Liverpool Foreign, New Brighton, Bebington, Inspection Department, and Hoylake before his first appointment as Clerk-in-Charge at Helsby in 1934. He was appointed Pro Manager at Bristol in 1937, Manager at Newport in 1938, Manager at Blundell-sands in 1947 and Manager at Lincoln in 1955. We recall with pleasure the presence of Mr. and Mrs. Wilmot with the Bank party on the Carinthian Lakes holiday in 1958. They made many friends who will want to join with us in wishing them both well in their 'retirement' which is to take the form of farming near Market Rasen.
<![if !vml]>

<![endif]>
Troubled times?
<![if !vml]>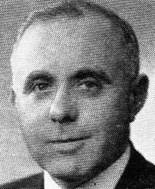 <![endif]>On 1 May 1962, Mr H Dixon is appointed Manager at Lincoln following the retirement of Mr H A Wilmott. A look at the detailed breakdown of profit and loss for the Branches in Martins Bank's Midland District reveals interesting numbers, and a rather curt summary of the situation at Lincoln.  It also provides us with an insight into the logistics of staffing Branches with Managers who have the right levels of experience, set against the performance of the business. Under Mr Dixon, the Branch has a staff of nine – four male and five female. The profit for the year ended 31 December 1962 is £4,421 putting Lincoln fourteenth out of thirty-seven in the rankings for the Midland District.  Mr Dixon is forty-nine years old, and his salary is recorded as £2,330 which represents a sizeable chunk of the profit – nearly 53%. Set this against Wolverhampton, the top performing Branch in the district, and we see that a profit of £30,087 is achieved under a Manager on £2,270 – a LOWER salary than Mr Dixon. The comments recorded in summary of Lincoln's performance are short and to the point: "Steadily growing but troublesome".  Less than a year after being appointed, Mr Dixon is replaced by newly qualified Manager Mr R J Halford  – who is, presumably, on a much lower salary! It appears that the problem here is not Mr Dixon's own performance, simply the fact that someone had to be found quickly to replace the retiring Manager, Mr Wilmott. 
<![if !vml]>

<![endif]>
<![if !vml]>

<![endif]>Our thanks to Mike Ingham for this contemporary image of Lincoln, one of a number of Martins Branches photographed in the early part of the twenty-first century by Mike. It's a familiar story – from Bank to Betting Shop, and another lovely building has its looks sacrificed – the bay window is just about the only part of the façade that looks anywhere near the same as it used to…
<![if !vml]>

<![endif]>
<![if !vml]><![endif]>

Image © Barclays Ref 30-1638

<![if !vml]><![endif]>

Image © Mike Ingham November 2015