<![if !vml]>

<![endif]>
<![if !vml]>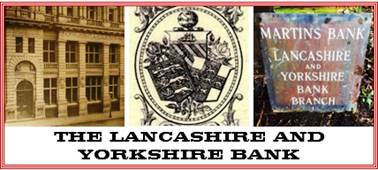 <![endif]>
<![if !vml]>

<![endif]>
In 1888 - ten years after it first began trading -† the Lancashire and Yorkshire Bank opens a Branch at Heaton Chapel. So begins one hundred and four years of service to customers under three different Banking names, the last of being Barclays which calls time in June 1992. Under Martins Bank, Heaton Chapel is a full Branch with two sub-Branches, one at Heaton Mersey, the other at Heaton Moor Top. For our features, we visit the Branch in 1951, and then eavesdrop at the retirement bash for Manager Mr Irwin, who retires after a long career with the Bank in 1966Ö
<![if !vml]>

<![endif]>
In Service: July 1888 until 12 June 1992
<![if !vml]>

<![endif]>
<![if !vml]>

<![endif]>
Branch Images © Barclays Ref 0030-1258
<![if !vml]>

<![endif]>
<![if !vml]>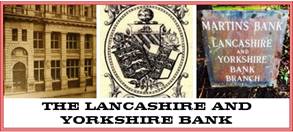 <![endif]><![if !vml]>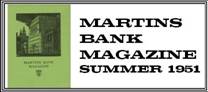 <![endif]>We made our way to Heaton Chapel, on April 3rd, and for the first time since this series of articles started we picked a suburban branch, within half an hour's travelling distance of a large city. No outpost this, and yet in its way it has some of the features of isolation which are, at times, trying to the staff. There are two sub branches, at Heaton Mersey and Moor Top. The latter is staffed by one man and a guard and the number of transactions handled is not large.† It is purely a receiving office and it is quite easy to understand the desire of anyone in charge not to be left there too long.† F. Marshall, who commenced his service in 1940, has been at Moor Top since 1949, and has previously been at New Mills, Buxton and Stockport. During the war he served with the R.A.F. from 1942 to 1947, latterly in Germany. †
<![if !vml]>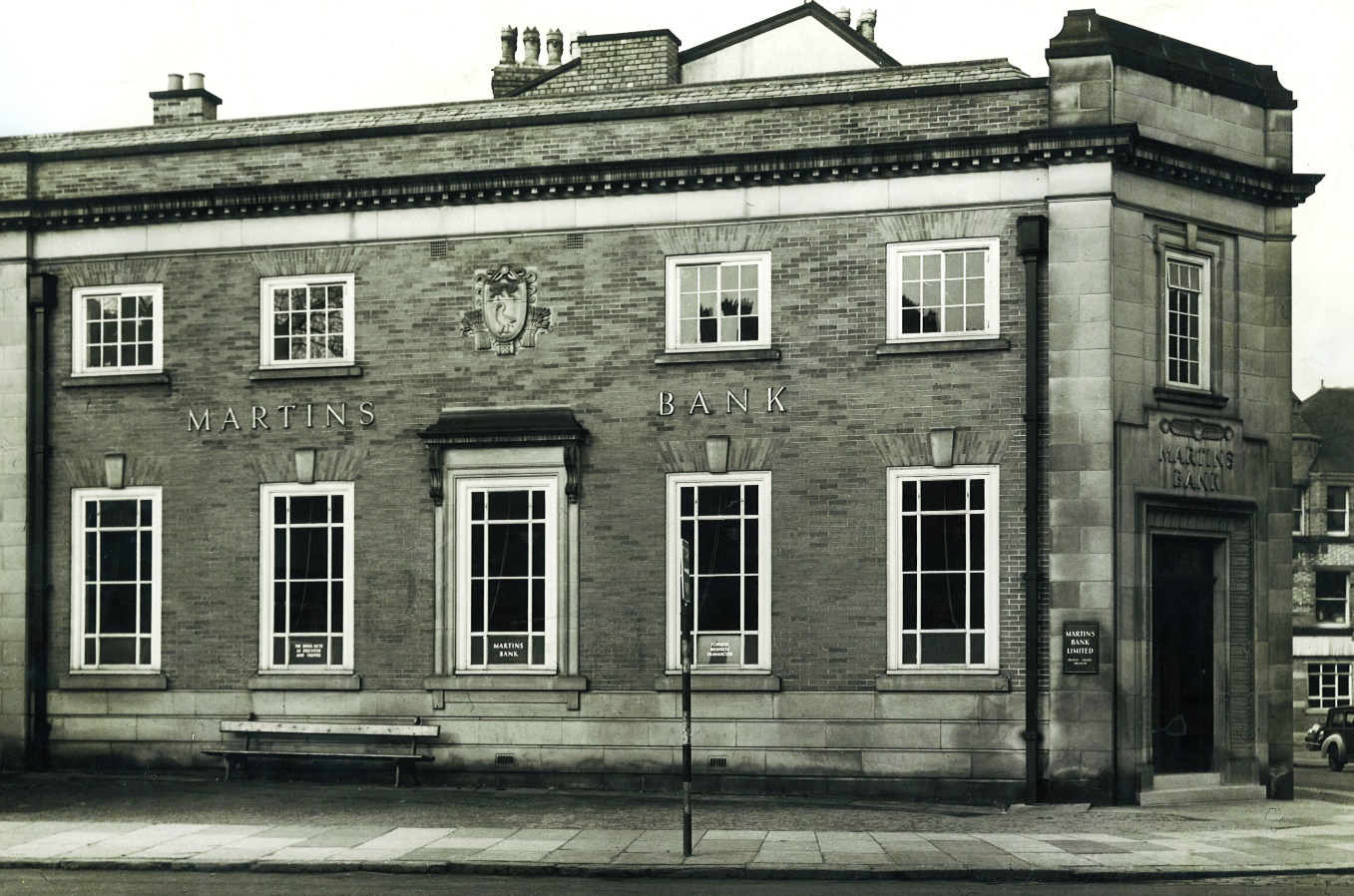 <![endif]>
<![if !vml]>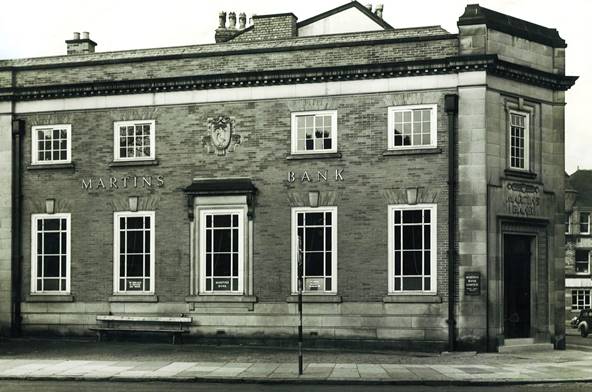 <![endif]>Heaton Mersey sub branch requires two to staff it. It is a much livelier little branch, pleasantly situated, and the office is well-lit and cheerful. G. W. Jordan was in charge when we called. He has been there since 1948, and has previously served at All Saints, Manchester Foreign, Bramhall, Northenden, Levenshulme, Macclesfield, Stockport and Manchester. The war gave him wider experience and with the R.A.F, he served in Iceland and West Africa. He is a keen amateur singer and a member of the Wilmslow Operatic Society.
A. Bradshaw is the other member of the staff. He has been there since he entered the service in 1949. His present preoccupation is the Bankers' examinations, with the army on next year's horizon. Mr. R. B. Bedford himself will complete 43 years' service this December. He entered the Lancashire and Yorkshire Bank in 1908 and served at Leeds, Bradford, Bury, Shudehill and Spring Gardens before his appointment as Manager of Heaton Chapel in 1938. During the First World War he served with the Yorkshire Hussars as a signalling instructor. H. Cumberlidge is well known to a number of us in Head Office because of being at Macclesfield when Chief Accountant's Department was evacuated there during the last war. Be it said that his reputation as a fisherman is at least as great as his reputation as a banker! He entered the Bank in 1919 and served from 1942-1946 in the Forces. E. I. Medcalf only started at Heaton Chapel on the day of our arrival, having come from Collyhurst. During the war he served with the R.A.O.C. and later with the Control Commission in Germany. The members of the staff are predominantly R.A.F. types and J. L. B. Brame did his National Service with the R.A.F. Regiment in Germany. He entered the service in 1947 and is now attacking his examinations. C. A. Andrews, who has been in the Bank since 1949, is also studying but will shortly be going into the Forces and, in view of the record of the branch, it is not surprising that he wants to get into the R.A.F.
<![if !vml]>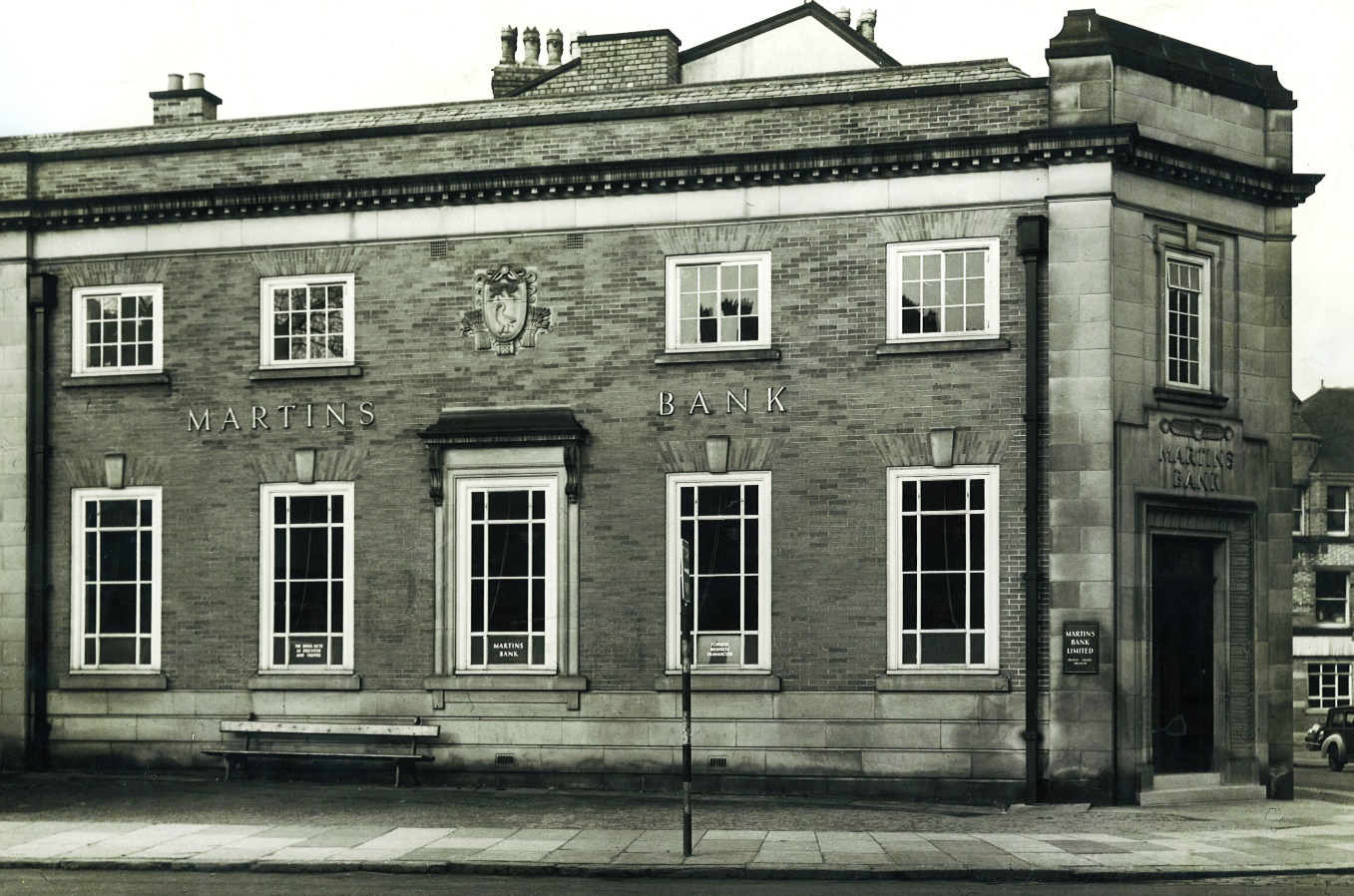 <![endif]>
There are two girls on the staff, though we had the pleasure of meeting only one, as Miss J. M. G. Howard has been ill for some time. We hope to hear better news of her soon. Miss J. P. Prime is well versed in the banking tradition. Her father, Mr. D. Prime, was Manager of our Oldham Street branch, and her brother, Harry Prime, is a valuable member of the Bank's Cricket team (Manchester District). She herself is a soccer fan, though fond of all sport. One of her passions at the moment is Scottish dancing and she is a member of Miss Jean McLachlan's team which is earning a name for itself in Manchester. She commenced her service in 1931 at Heaton Chapel, and returned there in 1944 after spells at St. Ann's Square and Southport. Mr. Blundell accompanied us on this occasion and we were very pleased that Mrs. Bedford was able to join the three of us for lunch.† We motored out to Woodford to one of those charming country hotels which seem to abound in this part of Cheshire. Mrs. Bedford is a keen supporter of amateur dramatics and her enthusiasm extended last year to the organisation of a local Festival of Drama. Mr. Bedford is also associated with this, though in the more prosaic role of Treasurer.
<![if !vml]>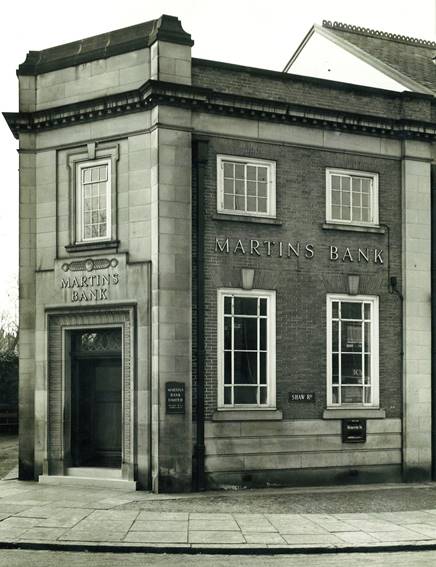 <![endif]>
<![if !vml]>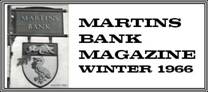 <![endif]><![if !vml]>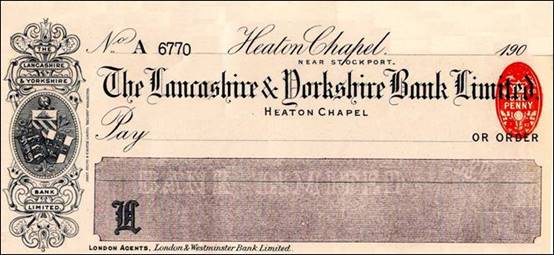 <![endif]>†on september 30 some 60 past and present colleagues were entertained by Mr and Mrs Irwin to cocktails and buffet refreshments at the Heaton Chapel Reform Club on Mr Irwin's retirement after 44 years' service. He had been Manager at Heaton Chapel for the last nine years, the branch where he began his career, all of which, apart from the war years, was spent in the Manchester District.† Among those present were Mr F. Tunstall and Mr A. N. Barratt who heard Mr D. B. M. Earles speak of Mr Irwin's popularity among colleagues and customers. Amusing reminiscences of junior days together were recalled by Mr J. A. Coombes (Manager, Broadheath) who, on behalf of many colleagues, presented an electric power drill with hedge clipping attachment, a pair of binoculars, a cheque and a mysterious anonymous packet which, when opened, revealed an apron.† In his response Mr Irwin said that his wife had for some time been looking forward to a new washing-up machine! He paid tribute to the excellent support she had given him during his career and Miss Marjorie Wainwright presented her with a bouquet.† During the month Mr Irwin had lunched at Head Office as Mr Maxwell's guest and at District Office as the guest of Mr Priestley.
<![if !vml]>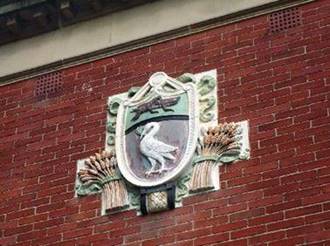 <![endif]><![if !vml]>

<![endif]>