<![if !vml]>

<![endif]>
<![if !vml]>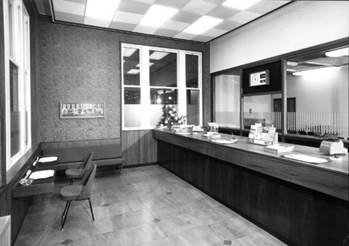 <![endif]> 
<![if !vml]>

<![endif]>
Martins Bank's temporary Branch at 19 Heaton Road Byker is one of many premises up and down the land that are leased for between six months and two and a half years so that original Branch buildings can undergo redecoration, alteration, and in a few cases a complete rebuild. A doctor's surgery stands today on the site of 19 Heaton Road, the original building used by Martins having been bullbozed to make way for new development of this part of Byker.  The alterations at Byker take just over a year to complete, and the interior of the original Branch at 2 Addison Road looks all the better for it when it re-opens in September 1962:
<![if !vml]>

<![endif]>
<![if !vml]>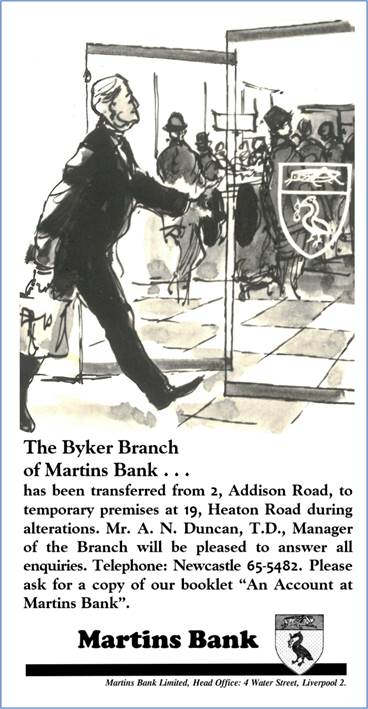 <![endif]>
<![if !vml]>

<![endif]>
<![if !vml]>

<![endif]>
<![if !vml]>

<![endif]>
Opened 24 July 1961 . . .
Advertisement Images © Martins Bank Archive Collection – images re-mastered 2018.
2 Addison Road interior Image © Barclays Ref 0030/1988
<![if !vml]>

<![endif]>
<![if !vml]>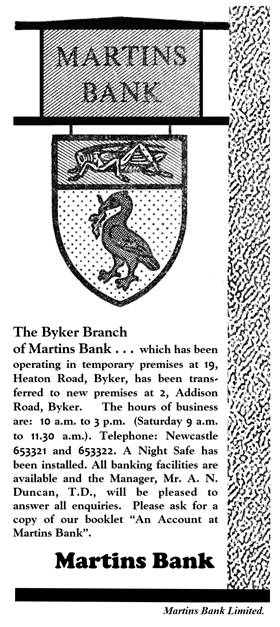 <![endif]>
. . . Closed 15 September 1962
We always love to hear from those who remember having to work through and around the alteration and/or rebuilding of Martins Bank's Branches.  If you have memories and or photographs of your time with the Bank, please do share them with either by visiting our Facebook® page, or by sending us an email to the usual address: gutinfo@btinternet.com.
Title:
Type:
Address:
Index Number and District:
Hours:
Telephone:
Services:
Manager:
11-43-20 Newcastle Upon Tyne Byker
Temporary Full Branch
15 Heaton Road Byker Newcastle upon Tyne 6
314 North Eastern
Mon to Fri 1000-1500
Saturday 0900-1130
Newcastle 655482
Nightsafe Installed
Mr A N Duncan TD Manager
24 July 1961
15 September 1962
Opened by Martins Bank Limited
Barclays Bank Limited 20-59-36 Newcastle Byker