<![if !vml]>

<![endif]>
<![if !vml]>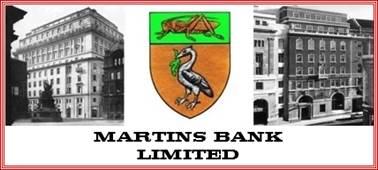 <![endif]>
<![if !vml]>

<![endif]>
Martins Bank's Branch at Northallerton starts its life in temporary premises, opening 1 July 1963 in Zetland Street.
<![if !vml]>

<![endif]>
In Service: 1 July 1963 until 1963/64 moved to 124 High Street
<![if !vml]>

<![endif]>
The Staff Magazine pays a visit to the branch a month or two before it moves to permanent premises at 124 HIGH STREET, which is every inch the modern style of bank branch that sets Martins apart from the rest of the pack. Sadly, there are currently no images of the temporary premises to compare the two, but If you can help with images and/or information about this or any of the 1000+ buildings used by Martins as branches between 1928 and 1969, please do get in touch with us at the usual address gutinfo@btinternet.com.
<![if !vml]>

<![endif]>
<![if !vml]>

<![endif]><![if !vml]>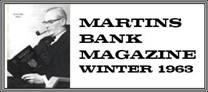 <![endif]>northallerton is a place of divided loyalties but is none the worse for that. Commercially and industrially it looks northwards towards Darlington and Stockton in County Durham: administratively and agriculturally it is wholly Yorkshire and is in fact the county town of the North Riding. Our branch belongs to the North Eastern District and Mr T. A. Douglas, our Manager, began his banking life at North Shields.  He even speaks of N'thallerton in the same way that our North Eastern friends say Ny'cassel, but apart from this he is strongly pro-Yorkshire in his assessment of Northallerton, the centre of a highly prosperous farming area. Yorkshiremen may therefore rest assured that there is no further take-over pending and agree that it was reasonable for the District which provided much of the initial business at the new office to see it safely launched. Northallerton is remarkable in that it has both a rural and an urban district. Some 25 % of the population is engaged in primary production— mostly farming, approximately 12% in manufacture, with the remaining 63% largely in government, shops and offices.  It is not so alarming when one has walked around the town and seen the vast administrative centre of the County Hall and the headquarters of county police, motor taxation, ambulance and fire services, and subsidiary government offices.
<![if !vml]>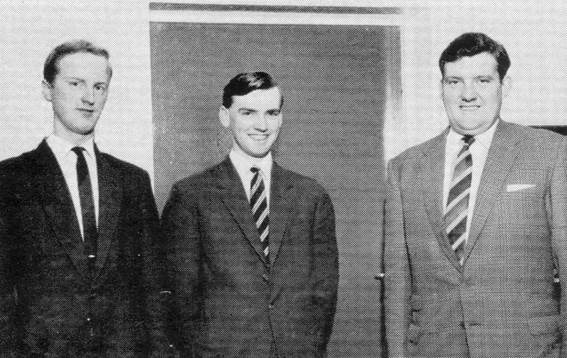 <![endif]>In the future the town will expand to take the over-spill from Darlington, raising the population figure from about 9,000 to 30,000. Meanwhile in the wide main street, the stalls appear every Wednesday and the market operates much as it has done for more than 750 years, the multiples watch impassively from shops with narrow frontages but of tremendous depth, and parking a car becomes a nightmare rather than a problem. Our temporary office in Zetland Street just off High Street was formerly a cafe and the clean, workmanlike frontage, quite apart from the Bank's name, should have been sufficient deterrent to the gormless individual who recently pushed a betting slip hopefully across the counter. The new premises, which should be ready within a year, will replace a big house in the High Street.  We think it is purely fortuitous that the barred windows of Northallerton prison stare malignantly across the road at the end of the long garden behind the new site, but we can visualise an expressionless manager showing a "sticky overdraft" out of the back door.  However, Mr Douglas's experience should make such ceremonies rare – Entering the service in 1941, he carried out a variety of branch, relief and inspection duties in the North Eastern District, becoming Clerk-in-Charge at Felling Branch in 1959.  In December 1960 he was appointed manager of Blyth Branch, and opened Northallerton Branch on 1 July. His home is still near Whitley Bay, for his new house has not yet been started, so he travels North to see his family when he can.  He also travel a lot to see farms and farmers in the thriving Vale of York, a veritable Carter Paterson amongst Bank Managers – Distance No Object – and we are grateful to him for an interesting journey to and from Darlington and for a most enjoyable day. Two young men comprise the staff. Mr M. P. Ramsdale entered the service at Newcastle in June 1959 and all his service has been at North Eastern branches. We hope that his energy will be rewarded by passes in the recent examinations to complete Part II.   In Mr J. R. Carter, who entered the service in 1962 and enjoyed four months on the relief staff prior to joining Northallerton on July 1st, we found enthusiasm and also a lively determination not to be persuaded that our old car is better than his old car. That is the difficulty—to persuade these determined men from the north-east. Ny'cassel by all means—they should know. But N'thallerton . . .?
<![if !vml]>

<![endif]>