<![if !vml]>

<![endif]>
<![if !vml]>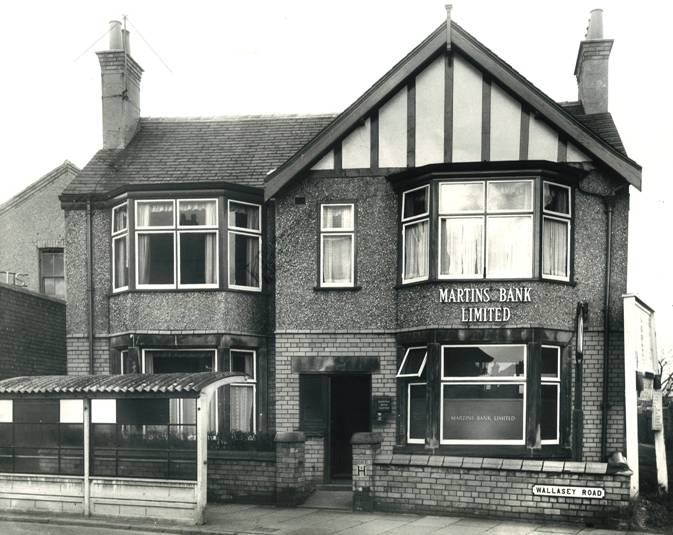 <![endif]>
Image © Barclays Ref: 30/3040
 <![if !vml]>

<![endif]>
Three bed, detached?
<![if !vml]>

<![endif]>
<![if !vml]>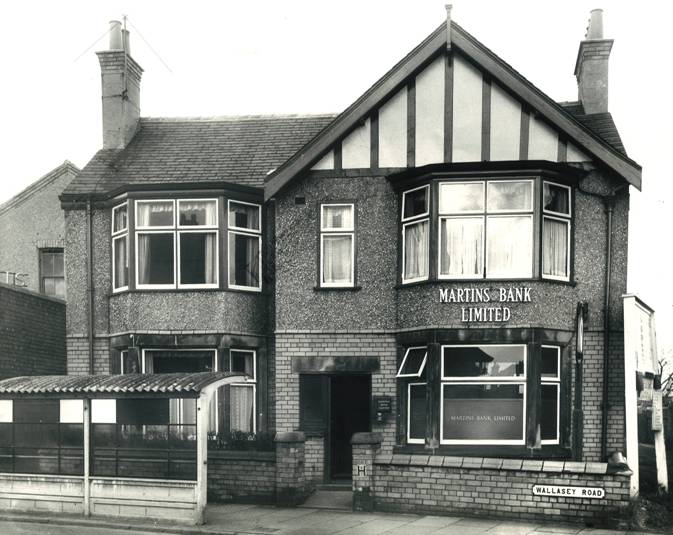 <![endif]>The Bank of Liverpool and Martins adds to the portfolio of Wallasey Branches in 1925, with this "three bed detached house" kind of branch at St Hilary.  It could not be more convenient for The Bank's customers either, with a bus stop on the front doorstep! It is sad to think that of seven branches of Martins Bank in Wallasey, only one – LISCARD -  survives to this day.  St Hilary is actually a self accounting sub branch to Liscard, and benefits during World War Two from having Miss W Booksby as Clerk in Charge.  Miss booksby, who is pictured in the Staff Gallery below, is one of the army of women Managers and Clerks in Charge that keep a large part of the Branch Network open in the darkest days of the War, when the Kennett Committee takes more and more male and female staff into the service of their country.  You can read much more about this in our feature MARTINS AT WAR.   In 1966 Mr Watkinson is about to retire after eighteen years as Clerk in Charge of St Hilary. As Martins Bank magazine now reports, Mr Watkinson is certainly NOT aiming for a quiet retirement by the fire…
<![if !vml]>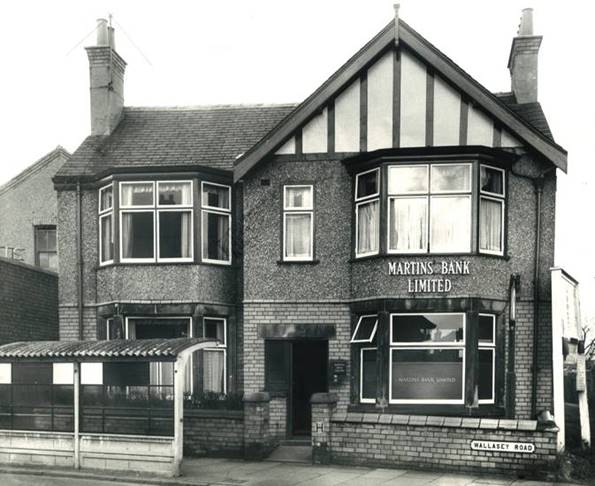 <![endif]>
<![if !vml]>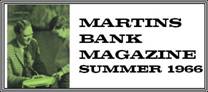 <![endif]><![if !vml]>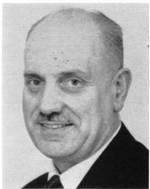 <![endif]>after 44 years Mr Watkinson retired as the well-liked Clerk-in-Charge of St Hilary branch, Wallasey, on February 28. Four days earlier some 50 colleagues and friends, including Mr W. O. Davies (Liverpool Assistant District Manager), gathered at the branch for an informal party at which Mr A. J. Irving (Manager, Liscard) pre­sented a cheque to 'Wattie', a keen yachts­man who intends to spend much of his retirement afloat.  He has however promised his wife he will take over the gardening duties, and as the presentation cheque will buy a cultivator it seems he will be tackling his new job the easy way. Mr Watkinson entered the Lancashire & Yorkshire Bank at Castle Street, Liverpool in 1921, working at Merseyside branches prior to his appointment to St Hilary in 1948. During his 5 years' R.A.F. service he was on radar duties and developed a lasting interest in radio.
<![if !vml]>

<![endif]>
Mr A Foster
Clerk in charge
1938-43 and 1946-48
Miss W Booksby
Clerk in Charge
1943 to 1946
Mr J C Watkinson
Clerk in charge
1948 to 1966
Mr C W Allan
Clerk in Charge
1966 onwards
Title:
Type:
Address:
Index Number and District:
Hours:
Telephone:
Services:
Manager:
11-36-70 Wallasey St Hilary
Self Accounting sub to 11-48-50 Wallasey Liscard
186 Wallasey Road Liscard Wallasey Cheshire
61 Liverpool
Mon to Fri 1000-1500
Saturday 0900-1130
WALlasey 2834
Nightsafe Installed
Mr C W Allan Clerk in Charge
14 September 1925
3 January 1928
15 December 1969
6 July 1984
2015
Opened by the Bank of Liverpool and Martins
Martins Bank Limited
Barclays Bank Limited 20-74-52 St Hilary Wallasey
Closed
Physiotherapy Services