<![if !vml]>

<![endif]>
Pretty as a picture…
<![if !vml]>

<![endif]>
<![if !vml]>

<![endif]>Martins Bank's sub-branch at Gainford is one of a select few of the Banks offices to have been the subject of artistic interpretation.  There are pencil sketches of the branches at COLCHESTER and BANBURY, and the artist's full watercolour design for the new branch at EXETER is very lifelike, but this gentle oil painting of Gainford sums up for us an age that will never be enjoyed again, an innocent view of country life and the village with the bank at its heart. 
<![if !vml]>

<![endif]>
Today restored as a private residence, you would never know that this lovely house once offered the services of Martins Bank from its front room.  A similar arrangement is in place at WARCOP, Westmorland, another "Front Room Branch", until 1970, when that too reverts to being someone's house.
<![if !vml]>

<![endif]>
The painting is featured on the front cover of the Spring 1969 issue of Martins Bank Magazine.  It was painted by Mr T R Owens of Publicity Department, and maybe, just maybe it is an attempt to show some of what will undoubtedly be lost when the Martins signage comes down at the end of the year.  So many of the major banks have closed down hundreds of these country branches, making those that do remain something of an endangered species.
<![if !vml]>

<![endif]>
<![if !vml]>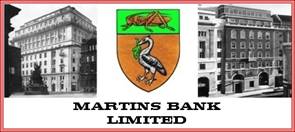 <![endif]>
Image: Martins Bank Archive Collection - © T R Owens 1969
<![if !vml]>

<![endif]>
<![if !vml]>

<![endif]>
Image © Barclays Ref 30/1037
The current zeitgeist for preserving the past and in many cases bringing it back to life again would surely come to the aid of these historic buildings – perhaps we should lobby to have them protected by law, not simply as listing buildings, but in a way that means they must continue to offer banking services, as some of them have done for well over one hundred years.  In practical terms, no-one would want to run a sub branch like this.  No nightsafe facilities, and open for just one and a quarter hours a week.  Rates and utilities to pay, cash to protect either in the building or in transit – what is nowadays referred to as a "no brainer".  But hey, we're far too romantic to let practicality in the way of dreams.  Gainford has a proud history, not least falling on its sword and closing from 1939 to 1946 for the duration of the Second World War in which so many Martins Bank Staff fought and lost their lives to preserve villages like these.  So long live Gainford, and all the other Gainfords up and down the land!
Title:
Type:
Address:
Index Number and District:
Hours:
Telephone:
Services:
Manager:
Martins Bank Limited 11-38-00 Gainford
Sub to 11-38-00 Barnard Castle
3 Low Road Gainford Darlington County Durham
305 North Eastern
Tuesday 1300-1415
No Saturday Opening
Gainford 472
No Nightsafe
Mr R W Mackenzie Manager