<![if !vml]>

<![endif]>
<![if !vml]>

<![endif]>
<![if !vml]>

<![endif]>
Nowadays, a bank sub-branch requires only a small amount of space, this was even so to a certain extent in the late sixties – a good example is Martins Bank's sub-Branch at CATON near Lancaster, where the old saying "no room to swing a cat" is brought to mind  Some buildings seem however, to be far too large and ornate for the purpose of extending local banking facilities, and a good example of this is the former Lancashire and Yorkshire Bank sub-Branch at Ravensthorpe.  Seen here in the 1960s, (and below in the days of the Lancashire and Yorkshire Bank) Ravensthorpe is under the control of its parent branch at Dewsbury, managed by Mr B C Lee. 
<![if !vml]>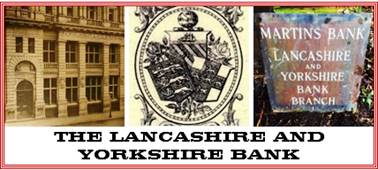 <![endif]> 
Image © Barclays Ref 0030/2283
<![if !vml]>

<![endif]>
<![if !vml]>

<![endif]>You do wonder how much business is conducted in such a large space as this, nevertheless it must have felt quite grand to pay in sixpence at the counter! The Lancashire and Yorkshire Bank contributes branches in many key areas across both counties and beyond, and it is acknowledged that its merger with the Bank of Liverpool and Martins creates a Bank strong enough to stay independent and out of London.   This remains so for more than forty years after the merger.  Following the NEXT merger, this time of Martins with Barclays in 1969, Ravensthorpe lasts a further twenty-one years, closing in 1990. We were delighted to acquire this illustration of the branch new building at Ravensthorpe which comes from a 1908 edition of The Building News. There are no plans with the image, and the Lancashire and Yorkshire Bank refers to the new building simply as "Branch Bank at Ravensthorpe Yorks".
<![if !vml]>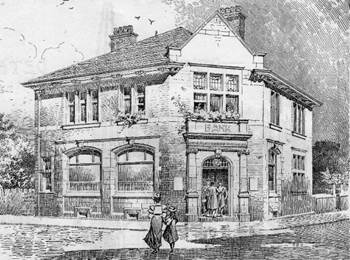 <![endif]>
<![if !vml]>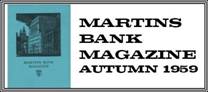 <![endif]>Not much is written about Ravensthorpe, or indeed about many of Martins' sub-Branches, but when Martins Bank Magazine visits Dewsbury in 1959, it does find the time to pop in to Ravensthorpe, and provide this very short paragraph:
On our way to lunch at The Three Nuns outside Mirfield we called in at the sub branch at Ravensthorpe to meet once again David Lockwood who came on the Bank Party to Carinthia last year, and P. D. Bruce whom we met at the last Festival of Cricket. The sub branch rather belies its name, for it is a sizeable office which looks every bit as good as many a full branch.
<![if !vml]>

<![endif]>
Title:
Type:
Address:
Index No and District:
Hours:
Telephone:
Services:
Manager:
11-35-30 Ravensthorpe
Sub to 11-35-30 Dewsbury
597 Huddersfield Road Ravensthorpe Dewsbury Yorkshire
728 Manchester
Mon to Fri 1000-1400
Saturday 0900-1100
Dewsbury 5041
No Nightsafe
Mr H D Faragher Manager (Dewsbury)
1908
3 January 1928
15 December 1969
1 August 1990
Currently
Opened by Lancashire and Yorkshire Bank
Martins Bank Limited
Barclays Bank Limited 20-26-08 Dewsbury Market Place
Closed
Fashion Outlet