<![if !vml]>

<![endif]>
<![if !vml]>

<![endif]>
<![if !vml]>
<![endif]>
Fleetwood, on Lancashire's Fylde Coast, is one of many offices inherited by Martins Bank, when the Bank of Liverpool and Martins Amalgamates in 1928 with the Lancashire and Yorkshire Bank.  Martins Bank's presence on the Fylde coast is particularly strong, with Branches and sub-Branches located at all the major tourist destinations.  Fleetwood is the most northerly outpost of Martins Bank on The Fylde, the nearest Branches being Cleveleys to the South, Garstang to the East and Lancaster to the North – You might expect that this would put Fleetwood firmly at the heart of Martins' plans. for this part of Lancashire, but sadly the Branch faces the axe and closes in 1949.
<![if !vml]>

<![endif]>
<![if !vml]>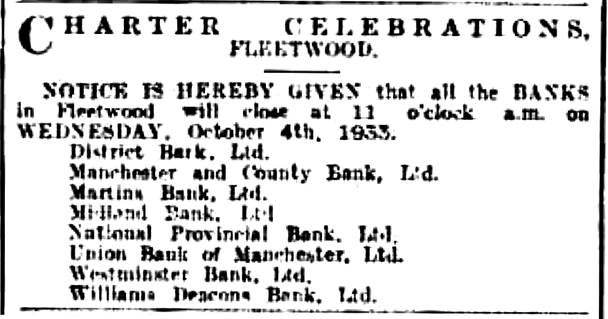 <![endif]>
Image © Northcliffe Media Limited Image created courtesy ofTHE BRITISH LIBRARY BOARD
Image reproduced with kind permission of The British Newspaper Archive
<![if !vml]>

<![endif]>
<![if !vml]>

<![endif]>
Extract from Martins Bank Annual Report and Accounts © Barclays 1940
<![if !vml]>

<![endif]>
<![if !vml]>

<![endif]><![if !vml]>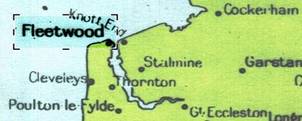 <![endif]>This is not mentioned in Martins Bank Magazine, and the only references to Fleetwood are made in the career profiles of two members of staff who worked there, whose faces can be seen below in our staff gallery.  Mr W L A Wilkinson is made Manager of Fleetwood in 1929 and this is his first appointed role in the Bank.  Several Martins Branch images have come to light because they feature in the background of photographs of Lancashire trams and tramways, so perhaps there is an enthusiast out there who has captured Fleetwood Branch on film?  As ever, if you can help – please contact us at gutinfo@btinternet.com. Our main image comes from the Lancashire Evening Post, 27 September 1933, which gives advance notice of the early closing of the town's Banks – including Martins Bank – for Fleetwood's Charter Celebrations on 4 October 1933.
<![if !vml]>

<![endif]>
Title:
Type:
Address:
Index Number and District:
Hours:
Telephone:
Services:
Manager:
11-272 Fleetwood                                                         
Full Branch
85 Lord Street Fleetwood Lancashire
--- Manchester
Mon to Fri 1000-1500
Saturday 0900-1130
Fleetwood 275
Counter Service
Mr H Gresty (1942)
1919
3 January 1928
1949
Currently
Opened by the Lancashire and Yorkshire Bank
Martins Bank Limited
Closed
"Pop-up shop" (School Clothing) July 2016