<![if !vml]>

<![endif]>
<![if !vml]>

<![endif]>
<![if !vml]>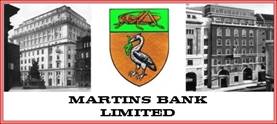 <![endif]>The saga of Martins Bank's Exeter Branches continues in April 1942, when, after the destruction of 5 Bedford Street by German Bombs in the Baedecker air raid, the staff must move into what are meant to be temporary premises in Queen Street. The fact that the business is conducted here for nearly nine years is an occupational hazard where Martins is concerned.
<![if !vml]>

<![endif]>
Branches that are meant to be temporary have often had a fairly long life of their own before the desired new premises are built and occupied! When, for example, Martins opens its first branch in READING, those particular "temporary premises" are used for around twenty-one years.
<![if !vml]>

<![endif]>
<![if !vml]>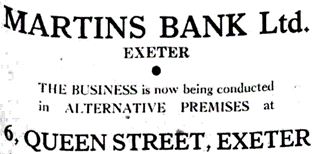 <![endif]>
<![if !vml]>

<![endif]>
Western Morning News 16 June 1942
Image © Northcliffe Media Limited Image created courtesy of THE BRITISH LIBRARY BOARD
Image reproduced with kind permission
of The British Newspaper Archive
<![if !vml]>

<![endif]>
In Service: 1942 until 1951
The only visit paid by Martins Bank Magazine to any of the Exeter Branches is in 1949, to the temporary Branch at Queen Street. This is a shame, as some branches were visited two, even three times, and sometimes as a result of having changed their location in respect of a move, rebuild, etc.. 
<![if !vml]>

<![endif]>
When the staff from Martins Bank Magazine arrive at 6 Queen Strret, the dicsover that although Mr Collinge and his staff have been there "temporarily" for seven long years, they are remarkably upbeat, and the story begins with a recap of the work that followed the Baedecker Air Raid of April 1942…