<![if !vml]>

<![endif]>
<![if !vml]>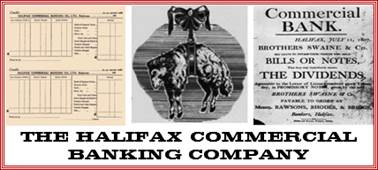 <![endif]>
<![if !vml]>

<![endif]>
If only they were making those ubiquitous "Wizard" films in the 1930s – doubtless young magicians on brooksticks would have looked right at home outside this gorgeously quirky little building in Luddendenfoot! This is an original Branch of the Halifax Commercial Banking Company, which amalgamates with the Bank of Liverpool and Martins in January 1920. Connected by the same road name, but never separated officially by the Bank, Martins Bank's Branches at Mytholmroyd and Luddendenfoot have twice taken turns to play the roles of main Branch and sub-Branch.  Not even two separate visits from Martins Bank Magazine can unravel this one, you can read more on our MYTHOLMROYD page. For our Luddendenfoot feature we meet some of the Branch staff in an abridged version of an article published by Martins Magazine in Winter 1954…
<![if !vml]>

<![endif]>
In Service: 1915 until 28 December 1973  
<![if !vml]>

<![endif]>
<![if !vml]>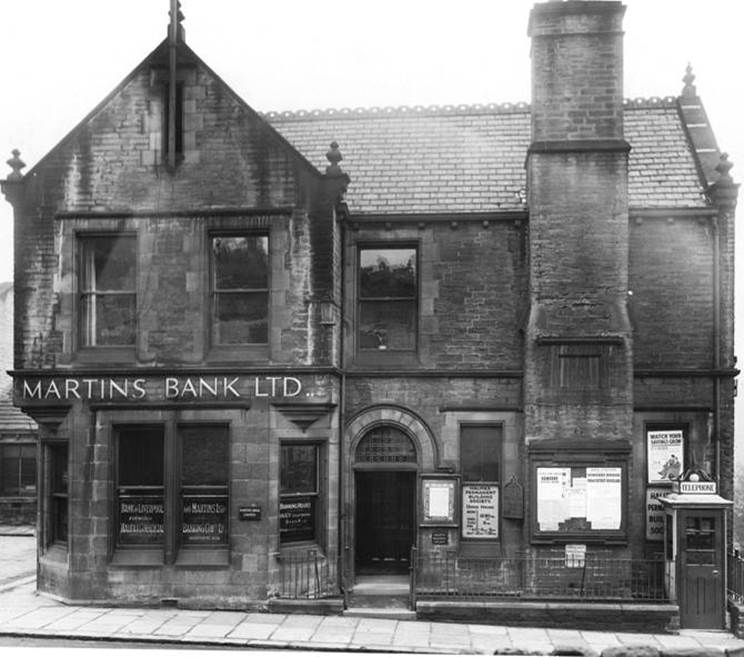 <![endif]>
Image © 1936 Barclays Ref 0030/1752
<![if !vml]>

<![endif]>
<![if !vml]>

<![endif]>
<![if !vml]>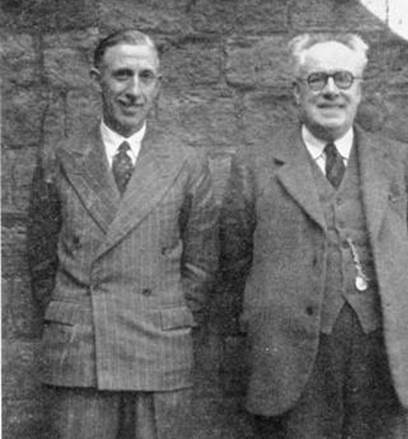 <![endif]><![if !vml]>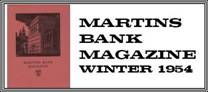 <![endif]>Our journeys hitherto have taken us to well-known places, many of them famous beauty spots, fashionable resorts, holiday centres, spas, county towns and so on. This time, for a change, we elected to visit places which, while well enough known in the North of England, are nothing but names to colleagues who are unfamiliar with Lancashire and Yorkshire. These places are not large and one does not find in all of them representa­tion from every one of the Big Five banks. But our Branches in them are doing a good and necessary job, sometimes under trying conditions, and if the places selected cannot be classed in them­selves as beauty spots at least they are within a mile or two of lovely country and one does not have to look far for loveliness anywhere, though in some places it is not thrust upon one's notice and one has to keep a sharp lookout for it.
<![if !vml]>

<![endif]>
We saw the first two Branches of our choice under perfect conditions, on a lovely autumn day of mellow sunshine lighting up the fading glory of summer on the trees. The visit was made on September 23rd and we had to go by train right through to Halifax and then use the bus as the express trains from Liverpool do not stop at either Mytholmroyd or Luddendenfoot.  We lunched in Halifax with Mr. and Mrs. Hand (Mr Hand is our Mytholmroyd and Luddendenfoot Manager) and learned some unexpected pieces of information about the places we were to visit. Luddendenfoot is in a valley, between Mytholmroyd and Halifax, and has several small industries representative of the woollen country—mills and small factories. It has an interesting literary connection, for Branwell Bronte, the ne'er-do-well brother of the famous Bronte sisters, was Clerk-in-Charge of the station at Luddendenfoot for a short time until he was dismissed for inattention to his duties. 
<![if !vml]>

<![endif]>
We got off the bus at Luddendenfoot to see the Branch and to meet Mr. H. Radcliffe, who had come out from Halifax for the day in order to free Mr. Hand to show us around. Relieving at Luddendenfoot is no new experience for Mr. Radcliffe so we felt amply justified in including him in the picture. We were also pleased to meet Mr. A. McDermondy, who acts as guard. Mr. McDermondy is a retired railway employee, and with our visit to York Cattle Market fresh in our mind we could not help thinking how fortunate our experience has been with retired railwaymen. Mr. E. P. Green, who is normally in charge at Luddendenfoot, was looking after Mytholmroyd when we arrived. His service has been at Halifax, Sowerby Bridge, Huddersfield and Brighouse before going to the twin Branches in 1948. During the war he served with the R.A.F. in Italy.
<![if !vml]>

<![endif]>
The competition next door…
<![if !vml]>

<![endif]>
<![if !vml]>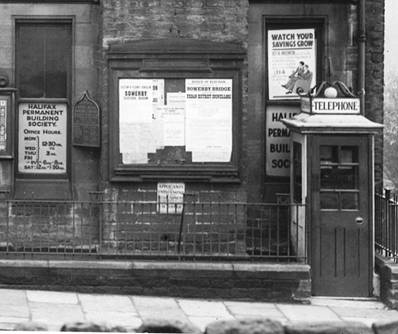 <![endif]>On rare occasions, Branch photographs reveal something more than just a period image of a Branch exterior or interior.  Being able to look at the street scene around some of Martins Branches really does help bring our social history to life. Many of the photos in the Barclays Collection of Martins Bank Branch Photos, show nearby shops or houses, and this image of Luddendenfoot Branch allows us to zoom in for a look at the competition – such as it is in 1936. Taking pride of place amongst the "street furniture" is this fabulous GPO Call Box. There are further examples elsewhere in the online Archive, along with views of the famous red telephone boxes. 
<![if !vml]>

<![endif]>
In Luddendenfoot in 1936, the Halifax Permanent Building Society is just next door, and it seems to be displaying its wares with little discretion, seemingly fighting for space with the local parish notices!  Given that at this time banks actively promote the savings opportunities of National savings AND Building Societies, you do wonder why it is necessary for the Halifax to be quite so brash! Note too the lovely old public telephone box, rather dominated by the exhortation to "Watch Your Savings Grow".  At this time Martins Bank's own ADVERTISING is so staid and traditional, that Head Office would probably have frowned upon the brashness of the Halifax, and hoped that the Bank would attract business from "an altogether better class of person"! 
<![if !vml]>

<![endif]>
Title:
Type:
Address:
Index Number and District:
Hours:
Telephone:
Services:
Manager:
11-24-60 Luddendenfoot
Sub to 11-24-60 Mytholmroyd
Burnley Road Luddendenfoot Yorkshire
609 Leeds
Mon to Fri 1000-1500 
Saturday 0900-1130
Calder Valley 2369
No other Services
Mr N L Jackson Manager (Mytholmroyd)