<![if !vml]>

<![endif]>
<![if !vml]>

<![endif]>
<![if !vml]>

<![endif]>
<![if !vml]>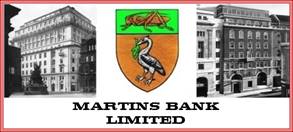 <![endif]>The Kirkby area of Liverpool has been in need of a permanent branch for use by personal customers for many years when Martins Bank finally opens one in 1961. Since 1957 Kirkby and Croxteth shared a visiting Mobile Branch on alternate days of the week.
<![if !vml]>

<![endif]>
<![if !vml]>

<![endif]>
<![if !vml]>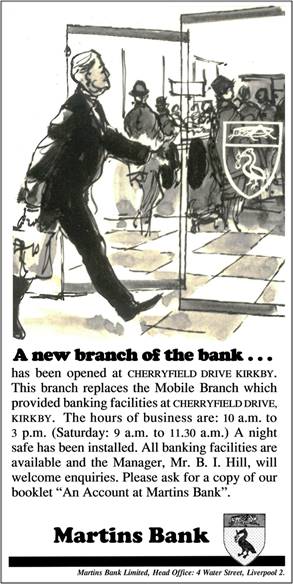 <![endif]>
In Service: 31 July 1961 until 23 February 1987
<![if !vml]>

<![endif]>
<![if !vml]>

<![endif]>
<![if !vml]>

<![endif]>
Branch Images © Barclays Ref 0030/1517
<![if !vml]>

<![endif]>
<![if !vml]>

<![endif]>
<![if !vml]>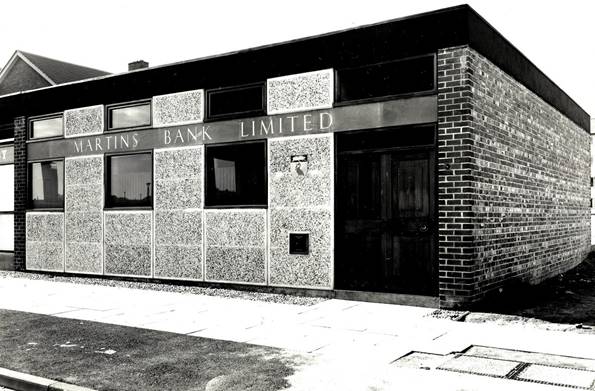 <![endif]>
<![if !vml]>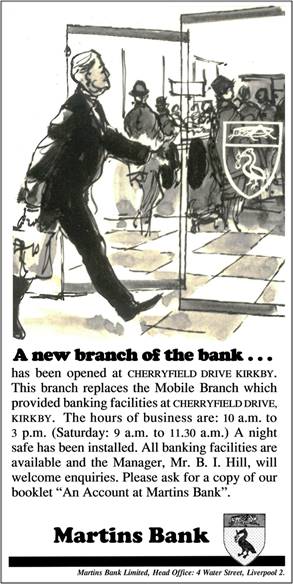 <![endif]>
<![if !vml]>
<![endif]>After the war, large parts of this area had to be rebuilt, and whilst row upon row of shiny new houses appeared, it seemed that amenities including churches, shops and banks were missing from the plans, or at the very least they were an afterthought. Regular visits to Kirkby and Croxteth by Martins Mobile Branch helped partly to address this problem, and it was a way of building a new and loyal base of wage-earning personal customers.
<![if !vml]>

<![endif]>
Several banks maintained sub-branches at the local trading estate, and Martins had operated its own sub-Branch there since 1946. This catered for the various businesses on site, and in the months leading up to the opening of the new permanent Kirkby Branch at Cherryfield Drive, a Martins Mobile Branch was placed close to the site of the new building in order to attract more business and to help facilitate a good start for the Branch when it opened on 31 July 1961. 
<![if !vml]>

<![endif]>
Once building is complete, Kirkby Branch has a distinct and modern look on the outside, and on the inside we can see a counter area still free of the dreaded "bandit screens" that through the increasing number of armed robberies, which from the mid-sixties onwards will begin to change the cashier/customer relationship forever. As a self accounting sub branch to Liverpool Clubmoor, Kirkby enjoys limited autonomy – a clerk in charge who can sign on behalf of the bank and make simple lending decisions, and full bank opening hours including Saturday. Kirkby survives the merger with Barclays, and continues to trade until early 1987. 
Title:
Type:
Address:
Index Number and District:
Hours:
Telephone:
Services:
Manager:
11-23-50 Liverpool Kirkby                                 
Self Accounting Sub to 11-95-20 LIVERPOOL CLUBMOOR
147 Cherryfield Drive Kirkby Liverpool
91 Liverpool
Mon to Fri 1000-1500
Saturday 0900-1130
SIMonswd 4068
Night safe
I D Craig Clerk in Charge
Liverpool Kirkby/Croxteth Mobile
31 July 1961
15 December 1969
23 February 1987
Opened by Martins Bank Limited
Barclays Bank Limited 20-47-02 Kirkby Liverpool Cherryfield Drive
Closed and moved to St Chad's Drive
Liverpool Kirby Trading Estate