<![if !vml]>

<![endif]>
<![if !vml]>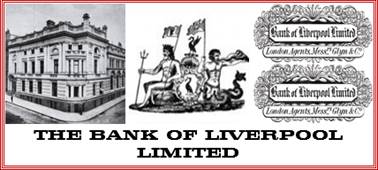 <![endif]>
<![if !vml]>

<![endif]>
The Bank of Liverpool opens a Branch on the corner of Bedford Street South and Myrtle Street in 1899. Not quite the type of corner aspect for which the Bank of  Liverpool usually goes, whilst the Bank's name can be seen in both streets, the doorway to the Branch itself is to be found in only one street rather than being on the diagonal.
<![if !vml]>

<![endif]>
Poor old Myrtle, she does look a little unloved in this photo, perhaps she is indignant at having to spend her final days as a sub-Branch to LIVERPOOL UNIVERSITY.  She does at least survive until (but not beyond) the 1969 merger of Martins and Barclays, a better achievement than LIVERPOOL SCOTLAND ROAD which is bulldozed in 1966 to make way for the Mersey Tunnel Project, and from which some of the Myrtle Street staff shown below have come. 
<![if !vml]>

<![endif]>
With no internal photographs to be found, and no visit to Myrtle Street by Martins Bank Magazine, this is all we are able to bring you for now. If however, you are able to help with images and/or information about this or any of Martins Bank's 990+ other Branch buildings, please do get in touch with us at the usual address: gutinfo@btinternet.com.
<![if !vml]>

<![endif]>
In Service: 1899 until 12 December 1969
<![if !vml]>

<![endif]>
<![if !vml]>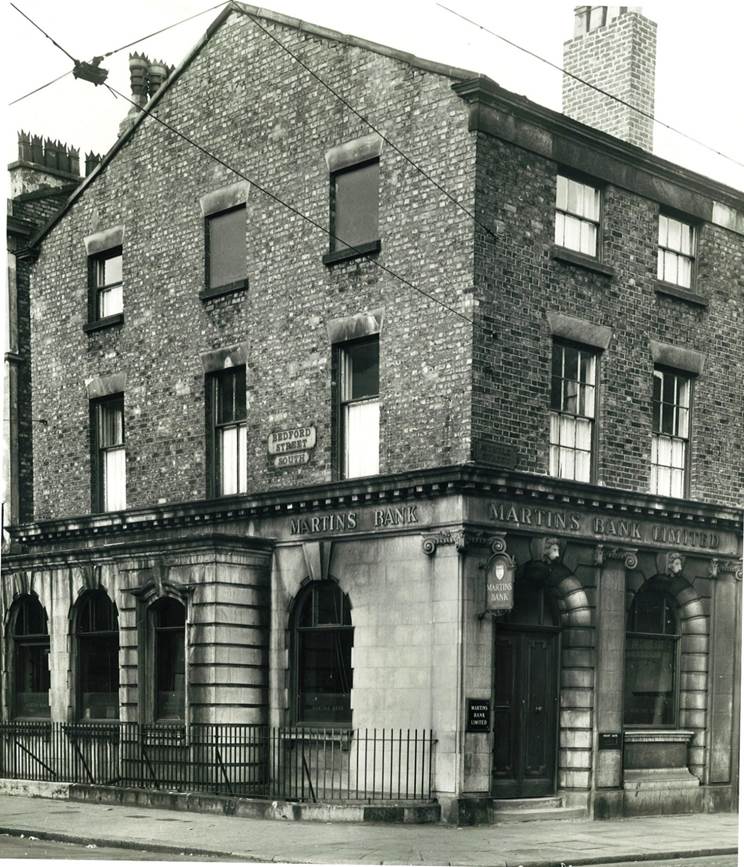 <![endif]>
Image © Barclays Ref: 0030/1675
Title:
Type:
Address:
Index Number and District:
Hours:
Telephone:
Services:
Manager:
Martins Bank Limited 11-22-60 Liverpool Myrtle Street
Self Accounting Sub to 11-81-80 Liverpool University
12 Myrtle Street Liverpool L7 7DR
90 Liverpool
Mon to Fri 1100-1400
Saturday 0930-1100
ROYal 3924
Nightsafe Installed
Mr W G Morris Manager (Liverpool University)
Liverpool Mossley Hill
1899
18 December 1918
3 January 1928
12 December 1969
Opened by the Bank of Liverpool
Bank of Liverpool and Martins
Martins Bank Limited
Closed
Liverpool Old Swan