<![if !vml]>

<![endif]>
<![if !vml]>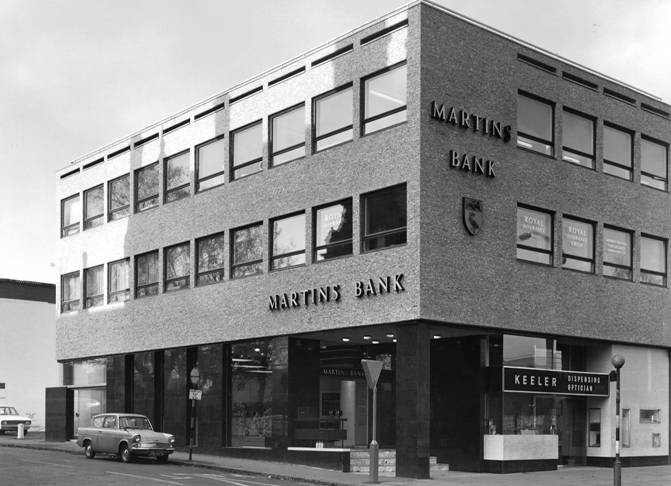 <![endif]>
Image © Barclays Ref 30-3128
<![if !vml]>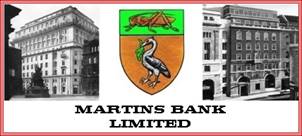 <![endif]>
<![if !vml]>

<![endif]>West Bromwich Branch is opened in August 1949, at 292 High Street.  Less than fifteen years later, the branch is demolished to make way for a much more futuristic building to be known as 290 High Street (shown below). In what, however, should have been a relatively straightforward knock-down and re-build, the Branch staff are "homeless" for more than eighteen months due of all things to a cement shortage! The first of our two features from Martins Bank Magazine visits the staff during the re-build in 1965.  Then our attention turns to the retirement of West Bromwich Manager Mr Edgar Conning in 1960…
<![if !vml]>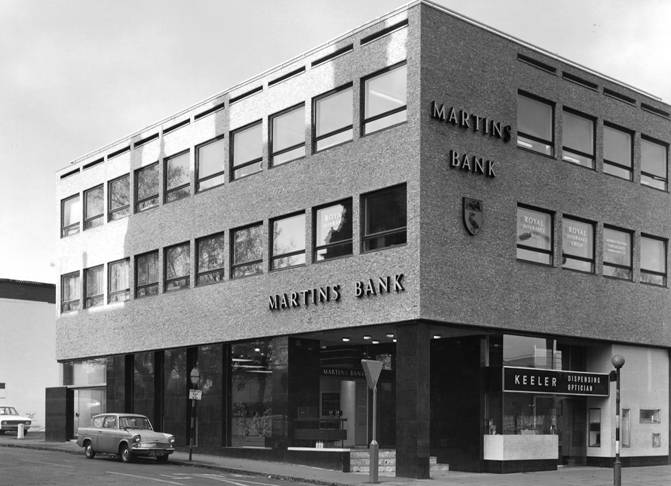 <![endif]>
<![if !vml]>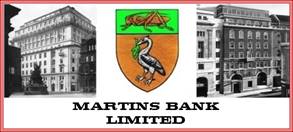 <![endif]>Following our visit to HANLEY, it was a surprise to find everybody at West Bromwich working within normal speaking range, but in temporary premises this can be expected. However, eighteen months is a long time to live in such confined conditions but in June the cement shortage prevented the new office becoming much more than a hole in the ground. Mr T. McLeod who came here from the Manchester District quickly adapted himself to the outlook and demands of this area where back-yard businesses thrive and where bluntness and straight dealing mean business.
<![if !vml]>

<![endif]>
<![if !vml]>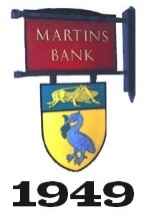 <![endif]>
Image © Barclays Ref 30-3128
<![if !vml]>

<![endif]>
<![if !vml]>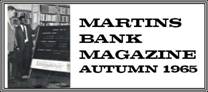 <![endif]>And the business at this branch is richly assorted: pig rearing, funeral furnishing, boat building, box making as well as steel. The town is due for big planning changes and when our new office is completed it will be very well placed in relation to the local 'golden mile'. Already in two branches we had noted the youthfulness of the staff and how the experience and expertise of the seniors linked with the energy and enthusiasm of the younger members to make a formidable team. In this square, box-like office we found the mixture as before, with everyone making the best of what they have despite securities at Dudley and the bonking of steel-hammers outside.
<![if !vml]>

<![endif]>
<![if !vml]>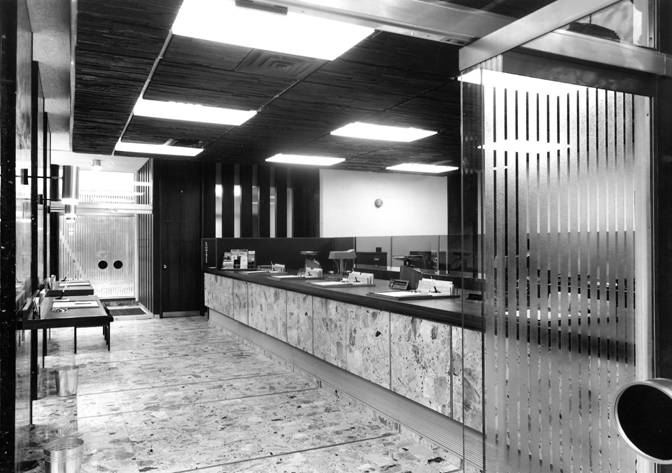 <![endif]>
Image © Barclays Ref 30-3128
<![if !vml]>

<![endif]>
<![if !vml]>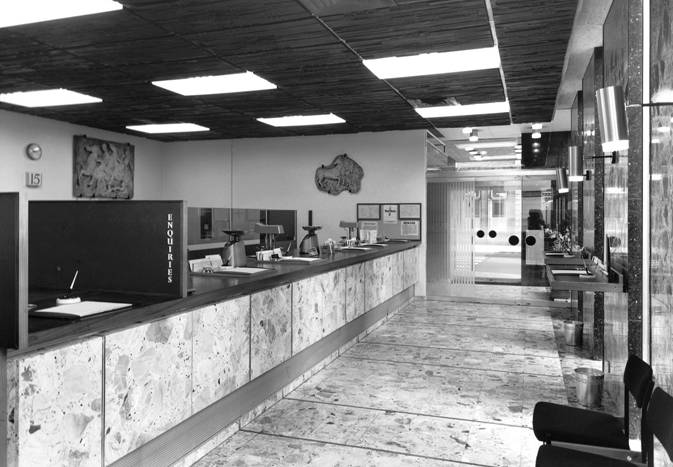 <![endif]><![if !vml]>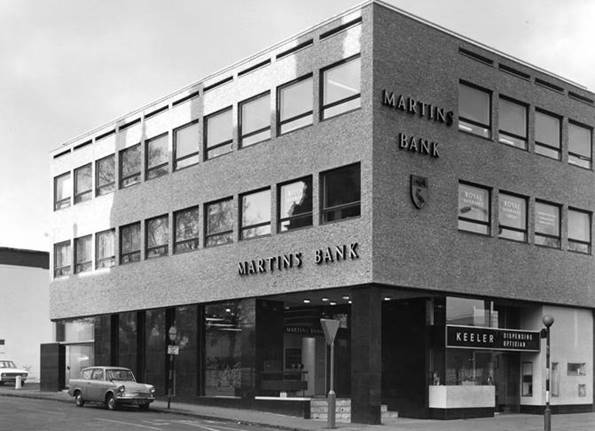 <![endif]>At the end of March, Mr. Edgar Conning retired after 40 years' service and at a gather­ing of over forty past and present colleagues of the Midland District at the New Inns Hotel, Mr. Bardsley, Midland District General Manager, wished him good health and a long and happy retirement, declaring that in the loss of "George" we were all losing a remark­able character who would be much missed in the Midland District.  On behalf of Mr. Conning's friends, Mr. Bardsley presented him with a barometer and a cheque as a mark of the high esteem in which he was held and Mr. Conning was asked to pass on the good wishes of everyone to Mrs. Conning who, unfortunately, could not attend. In character­istic light vein Mr. Conning replied that having come to the end of the course he was now ready to put aside his cares and enjoy his leisure hours to the full. After the formalities had been concluded Mr. Conning provided suitable refreshment for his friends and a pleasant evening was spent by everyone.  Mr. Conning entered the Bank in January, 1920 and served at Head Office, East, Liver­pool City Office, Blundellsands, Formby and Heywoods prior to going to Birmingham in 1936. He was appointed Manager at West Bromwich in August, 1949.
<![if !vml]>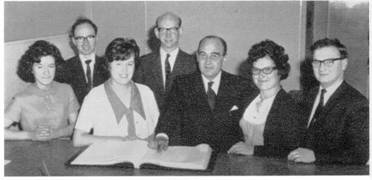 <![endif]>