<![if !vml]>

<![endif]>
<![if !vml]>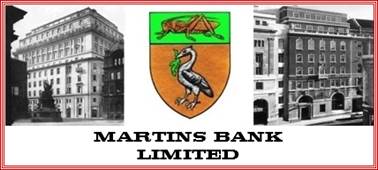 <![endif]>
<![if !vml]>

<![endif]>
<![if !vml]>

<![endif]>Many in the mid to late sixties generation of Martins Bank's new Branches and sub-Branches are built and/or opened because they will form part of a new development such as a shopping precinct, or in the case of Kew Bridge  and Birmingham Edgbaston for example, they are sited in newly constructed business or industrial premises. 
<![if !vml]>

<![endif]>
Most of them look very very new, and whilst tastefully designed, they are nevertheless a significant departure from the bank buildings of the 1930s.   The sub-Branch at Wellswood certainly bucks this trend, by being located in almost as traditional and beautiful a building as its parent Branch at TORQUAY itself…
<![if !vml]>

<![endif]>
<![if !vml]>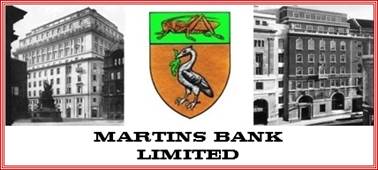 <![endif]>
Image © Barclays Ref 0030/2951
<![if !vml]>

<![endif]>
Many of the South Western District Branches of Martins Bank are housed in handsome looking buildings.  Why not take a look at some of them – BARNSTAPLE, ST HELIER, BATH, CHELTENHAM MONTPELIER, and BRISTOL CITY OFFICE are just a few worthy of mention in this context.  Whilst the Branch is not self accounting, it does have night safe facilities and opens six days a week for full banking hours. 
<![if !vml]>

<![endif]>
This part of Torquay must therefore provide good banking traffic from both traders and personal customers. The building also houses a decent sized interview area, which is most likely used for the Bank's customers - by appointment - to see a visiting manager from the main Branch, or for the privacy of opening new accounts. Wellswood survives the 1969 merger with Barclays, and becomes one of their Branches for a further twenty-three years, the doors close for the final time in September 1992.
<![if !vml]>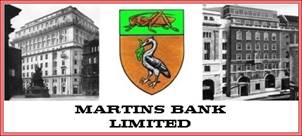 <![endif]>
Images © Barclays Ref 0030/2951
Title:
Type:
Address:
Index Number and District:
Hours:
Telephone:
Services:
Manager:
11-58-80 Wellswood                              
Sub to 11-58-80 Torquay
37 Ilsham Road Wellswood Torquay Devon
151 South Western
Mon to Fri 1000-1500
Saturday 0900-1130
Torquay 27093
Nightsafe Installed
Mr A N L Broderick
1962
15 December 1969
30 September 1992
Currently
Opened by Martins Bank Limited
Barclays Bank Limited 20-87-12 Torquay 59 Fleet Street
Closed
the Riviera Care Group