<![if !vml]>

<![endif]>
<![if !vml]>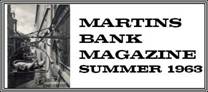 <![endif]><![if !vml]>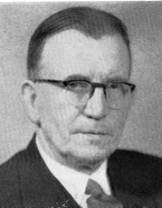 <![endif]>On the occasion of his retire­ment after forty-four years' service with the Bank Mr. F. Cowell (Manager, Great Harwood) enter­tained twenty present and former colleagues to dinner at the Dunkenhalgh Hotel, Clayton-le-Moors. Mr. T. E. Rigby, Mr. Cowell's successor, presented him on behalf of the subscribers with a transistor radio set and a cigarette box and expressed the sincere wishes of all present that Mr. Cowell would enjoy many years of good health and happiness.  Mr. N. R. Manser (Manchester Dis­trict Superintendent of Branches) expressed the thanks and good wishes of the District General Management. In his reply Mr. Cowell said the gifts would remind him of his many happy years in banking and of the friendships he had made during that time. Earlier, Mr. Cowell had lunched with Mr. E. H. Priestley (Manchester District General Manager). After entering the Lancashire and Yorkshire Bank in 1919 Mr. Cowell served at Blackburn and Manchester before entering Man­chester District Office in 1938. The years 1942-46 were spent with H.M. Forces. In 1947 he returned to Blackburn branch as Account­ant and was appointed Manager at Great Harwood in 1950. Active in the affairs of the community, Mr. Cowell was at the time of his retirement Treasurer of Great Harwood U.D.C., Vice-President of the Institute of Bankers (East Lancashire Centre), and Immediate Past President of the Rotary Club of Great Har­wood and Rushton.
<![if !vml]>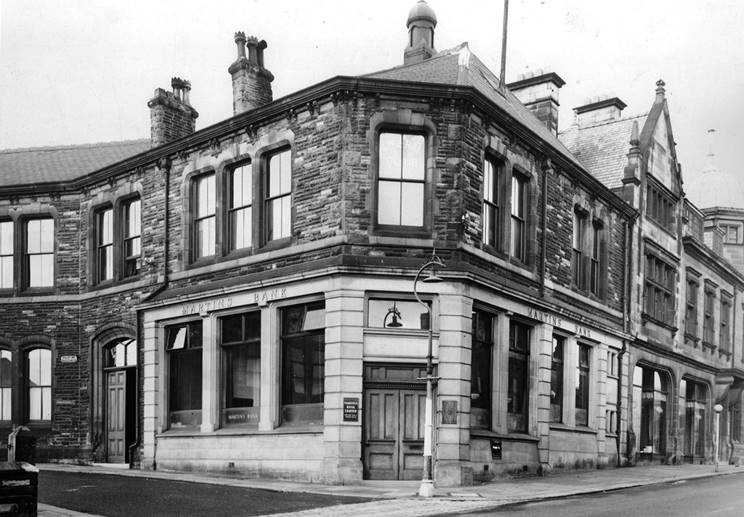 <![endif]>
<![if !vml]>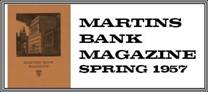 <![endif]>Those were the Days…
<![if !vml]>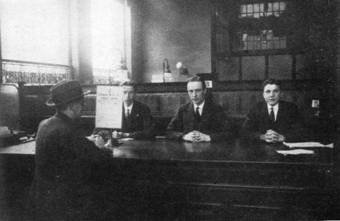 <![endif]>This nostalgic image appears in Martins Bank Magazine in the Spring of 1957, and shows three of the members of the Lancashire and Yorkshire Bank's Great Harwood Staff behind the counter of the Branch in the year 1916…
<![if !vml]>

<![endif]>
There is a fascination about old photographs. We all keep them and when they are periodically brought to light the pages of memory are turned and the flood of reminis­cences brings back the happiness of days gone by. There is gladness in remembrance, and sadness, too, especially when we gaze upon the well-remembered faces of those who are no longer with us. These photographs have been re­ceived following our publication of the first selection in the autumn 1956 issue of the Magazine. They will recall past happiness and will serve to remind us that the institution we have served throughout our working lives has not grown old as we who have served it have aged. It has grown up and increased in stature and is going from strength to strength. In this we have all played our part and the accompanying photographs surely provide evidence of that esprit de corps which is such a valuable leaven in the life of a great business organisation.
<![if !vml]>

<![endif]>
<![if !vml]>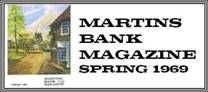 <![endif]><![if !vml]>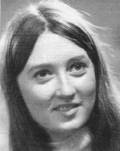 <![endif]>From Marriage Guidance to police work…
<![if !vml]>

<![endif]>
A residential course on youth leadership, lectures on marriage guidance work,  and courses on home nursing and police work.  These were the varied pursuits undertaken by Elaine Barret of Great Harwood Branch to achieve her Duke of Edinburgh Gold Award.  She already has the Bronze and Silver Awards, and the two years' work for her gold involved travelling to Belgium and Germany.  Elaine was presented with her Award at Buckingham Palace on 4 February.
<![if !vml]>

<![endif]>