<![if !vml]>

<![endif]>
<![if !vml]>

<![endif]>
<![if !vml]>

<![endif]>
<![if !vml]>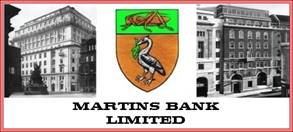 <![endif]>Another imposing  corner-aspect Branch of Martins Bank – 128 Moorgate, opens on 17 February 1938, and lives to see the Second World War, post War austerity AND growth, and of course London's Swinging 60s.  Sadly however, when Barclays and Martins merge, Barclays already has a Branch nearby at 82 Finsbury Pavement, to where the Business of Martins Bank Moorgate is transferred on 12 December 1969. For our London Moorgate feature, we focus on happier times, and the retirement after a very long career in the Bank of Mr W E A Parker, Manager at Moorgate from 1948 to 1964.  As usual, Martins Bank Magazine is there to report on the inevitable cocktail party (which always conjures up for us the denouement of many a "Paul Temple" story!)…
<![if !vml]>

<![endif]>
<![if !vml]>

<![endif]>
<![if !vml]>

<![endif]>
Mr W E A Parker retired at the end of February after more than 44 years' service, and, apart from three years in H.M. Forces, the last 26 had been spent at Moorgate branch from the time of its opening in 1938. He entered the Bank in 1919 and served at several  London branches before joining the Moorgate staff.  He was appointed Pro Manager in 1948.
In Service: 17 February 1938 until 12 December 1969
<![if !vml]>

<![endif]>
<![if !vml]>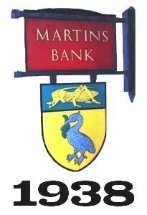 <![endif]>
Images © Barclays Ref 0033-0391
<![if !vml]>

<![endif]>
<![if !vml]>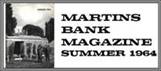 <![endif]>To mark the occasion of his retirement Mr Parker entertained  the staff of the branch along with a number of former colleagues to a cocktail party and although he had asked that the proceedings be entirely informal an opportunity was taken by the Manager, Mr A. W. Sheldrick, to present to him, on behalf of his many friends, a cheque and a book of signatures and to pay tribute to his loyal and conscientious ser­vice over the many years. Mr Parker received messages of good wishes from the District General Manage­ment and also one from Mr T. I. Bond (Assistant General Manager (Administra­tion)) who was on the staff of Moorgate branch when it opened.
<![if !vml]>

<![endif]>
Title:
Type:
Address:
Index Number and District:
Hours:
Telephone:
Services:
Manager:
11-10-60 London Moorgate
Full Branch
128 Moorgate London EC2
442 London
Mon to Fri 1000-1500
Saturday 0900-1130
01 606 7968/9
Nightsafe Installed
Mr D D Staunton Manager
<![if !vml]>

<![endif]>
<![if !vml]>

<![endif]>
London Moorgate is included in Martins' London Account Number Allocation, where Branches due for automation are given "significant  digits" to identify them at the London Computer Centre by account numbers issued. The Branch Customer Accounts will be identified by the significant digits 28 and 29.
London Marylebone Road
17 February 1938
12 December 1969
Opened by Martins Bank Limited
Closed and business transferred to Barclays 82 Finsbury Pavement
London Oxford Circus W1