<![if !vml]>

<![endif]>
<![if !vml]>

<![endif]>
<![if !vml]>

<![endif]>
Frozen in time…
<![if !vml]>

<![endif]>
It's not often we come across a colour image of one of Martins Bank's Branches.  Even less often does a picture convey so much about the time it was taken as this fabulous shot of our Aintree Branch. When so much of the sixties appears in black and white, it is great to see this little piece of our social history which shows "ancient" buildings at one end of the street, and what for 1960 are extremely modern ones at the other.
In Service: April 1893 until 13 November 1992
<![if !vml]>

<![endif]>
<![if !vml]>
<![endif]>
Image © 1960 Michael F Harris
<![if !vml]>

<![endif]>
<![if !vml]>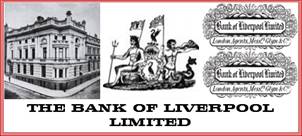 <![endif]>We are indebted to Michael Harris, who was a new member of the branch staff on 1959's Graduate Training Programme, and took this picture early in 1960.  Michael told us a little about his days with Martins Bank…
<![if !vml]>

<![endif]>
"I joined the Bank in 1959 as a graduate trainee, and the six months I spent at Aintree was my first experience of Banking. I remember Mr Shaw the manager well, as well as Mr Jopling, his no. 2 - who I recall sadly died shortly afterwards. I also remember the two girls there - Pauline Brightman and Rosemary Greenhaugh. I later worked with Stan Rocke in Inspection Department, but never knew that he would later be manager at Aintree. I moved down to London District in 1965, and shortly afterwards moved to work abroad in Canada. Browsing through various branches on your site, I recognise many names, but have no idea what became of them later - or indeed if they are still alive"…
<![if !vml]>

<![endif]>
A colourful farewell?
Anyone who worked in Branch Banking in the days when offices were still manned by large numbers of staff, will recall the customary "whip-round" for a gift for someone who was leaving to go and work at a different branch or department. 

<![if !vml]><![endif]>

Any excuse for a celebration, these events ranged from a snapshot of everyone together for the last time, to parties and pub crawls. 

<![if !vml]><![endif]>

When John Quirk leaves Aintree branch at the end of 1963, having worked there for four years, colour film once again captures a moment in time, and allows us to see the staff of the Branch as they were in November 1963.

<![if !vml]><![endif]>

We are especially grateful to Peter Aynsley for supplying this photograph, as it enables us to extract good quality "head and shoulders" images for our staff gallery (below).

<![if !vml]><![endif]>

Saying "cheese!" L to R: Peter Aynsley, Jessica Grimshaw,

Jack Dixon, June Tabarn, Ian Johnson, Deryk Ingham,

Pat Hart, George Shaw, Diane Powell, and John Quirk
<![if !vml]>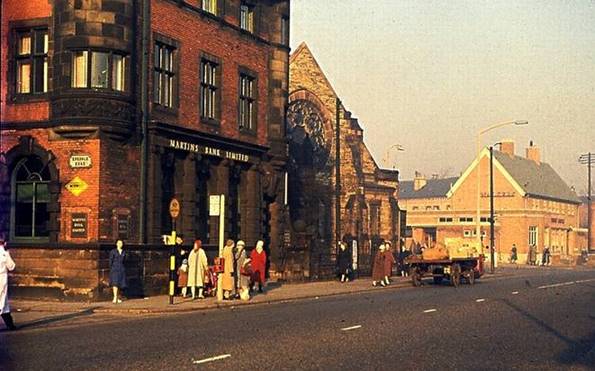 <![endif]>
Goodbye Mr Shaw
<![if !vml]>

<![endif]>
<![if !vml]>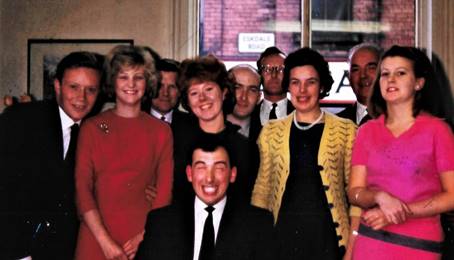 <![endif]><![if !vml]>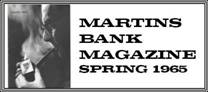 <![endif]>mr shaw's early retirement on health grounds at the end of the year was not marked by any formal ceremony. On Christmas Eve, however, there was a friendly gathering at Aintree branch, of which he had been Manager for the past nine years, when the staff presented him with an automatic watch. During the days prior to his retirement many letters and telephone messages were received by Mr Shaw from colleagues throughout the Bank, wishing him well in retirement. He entered the service at Water Street, Liverpool, in 1925 and the whole of his career was spent at branches on Merseyside. In 1938 he was appointed Clerk-in-Charge at Maghull branch, becoming Manager there in 1946 and Manager at Aintree in 1955.
<![if !vml]>

<![endif]>
Title:
Type:
Address:
Index Number and District:
Hours:
Telephone:
Services:
Manager:
Martins Bank Limited 11-10-00 Liverpool Aintree
Full Branch
499 Rice Lane Aintree Liverpool L9 5PR
3 Liverpool
Mon to Fri1000-1500
Saturday 0900-1130
AINtree 6248/9
Nightsafe Installed
Mr R E J Wess Manager
Liverpool Aigburth
April 1893
18 December 1918
3 January 1928
15 December 1969
13 November 1992
Opened by the Bank of Liverpool
Bank of Liverpool and Martins Limited
Martins Bank Limited
Barclays Bank Limited 20-50-62 Liverpool Aintree
Closed
<![if !vml]>

<![endif]>
Liverpool Allerton Road